Inside the Arizona State National Champion Women's Triathlon Team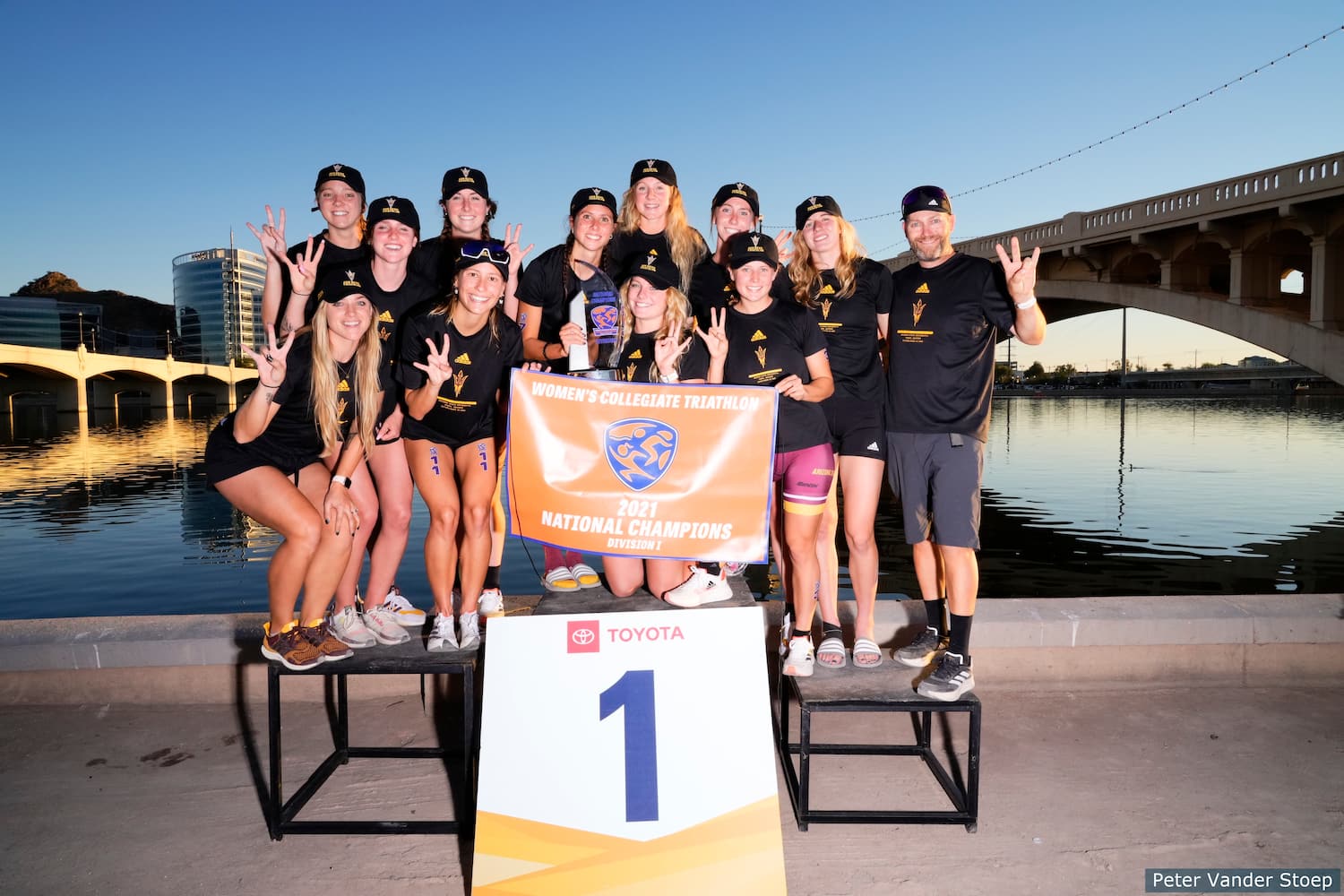 Since fielding their first squad in the fall of 2016, the Arizona State University women's triathlon team has never lost the national championship title. There was even one year, in 2018, when they took all five of the top spots in the individual race.

Now, with the Women's Collegiate Triathlon National Championships race returning to the Tempe campus on Nov. 12 and the field growing with more NCAA Division I schools adding women's teams, we caught up with coach Cliff English to talk about what it's like to be the five-time national champions (there was no race in 2020) and how ASU is looking forward to the increased competition.

English was hired in October 2015 — he got the call from school officials while in Kona coaching his pro athletes — and he set about building up a new college team from scratch, right down to buying helmets and installing a shed on the pool deck. When he was hired, ASU was the ninth school to sign on with a varsity women's triathlon team and the first large DI school. Now, there are 40 schools and more big DI programs joining, like Texas Christian University, University of San Francisco, and University of Arizona just down the road. Queens University, the six-time national champions at the DII level, moved up to compete at DI this season.

"I like to think that we helped kind of paved the way," he said, with everything from answering other coaches' questions to organizing the championship race on campus as a way to promote and grow the sport.

Why did he want to make the move over to college coaching?

It was a chance to get back to working with young athletes and helping them develop as people. When he was the U.S. national team, he used to see the sport lose top recruits to collegiate running and swimming scholarship — something that could be remedied with NCAA triathlon. Plus, growing up in Canada, the prospect of women's triathlon becoming the next official NCAA sport was something entirely new. "We never had NCAA to this level, it was an opportunity we never had," he said.
Of course, running a large DI program isn't all coaching. There's more fundraising and administrative work then he might have imagined, but even that has its pay-offs. That fundraising, for example, helped fund a group of the girls to go down to Ecuador and race a World Triathlon Continental Cup.

"[Taking the job] was the best decision I ever made in my career as a coach," said English.

The majority of NCAA athletes — across all sports, not just triathlon — won't pursue professional sports. They'll get a good education, learn life lessons, and then use those skills in their careers. That's also true even on ASU's winning tri team. But some portion of the girls who come through the program will also try to give pro triathlon a go and hope to represent their country, and he wants to "give them that possibility," too.

Although official NCAA status for women's triathlon still has to be approved and voted on, the ASU women's varsity tri team has been treated as a full NCAA sport on campus since it started — meaning they get all the things the rest of the sports get and have to comply with all the NCAA rules. That's 6.5 scholarships for English to portion out among the team, access to an athletic trainer, and facilities like the pool where Michael Phelps trained for the last Olympics.

The team trains 14-15 hours/week right now, he said, with one day off or optional. They swim every morning Monday-Friday, have three coached rides each week, two coached runs (with a track session), two strength sessions, and additional team talks and skill work. During the season the focus is on quality and not volume, but in the spring they'll work on more of a traditional base and some skills.

What does the ASU team look like this year? There are four sophomores and four freshman, and two of the 13-member squad will be graduating at the end of this semester. There is one student from Mexico, one from Canada, and three more international teammates. It's a young team, said English, and a team that wasn't even fully back on campus until this year. Some of the athletes were recruited without ever visiting.

ASU freshman Heidi Jurankova is starting her collegiate career after coming over from the Czech Republic, where she raced in the elite women's field in European Triathlon Cups. Naomi Ruff picked Tempe after winning the U.S. junior national title. They join a squad full of junior titles and World Triathlon experience. In fact, said English, it used to just be a handful of collegiate athletes testing the waters at Continental Cups, but now there are 25-30 girls racing on the international circuit in the off-season.

With more schools and more athletes coming into the mix, gone are the days that ASU would sweep the whole podium. Almost all of the DI teams now have budgets and training programs to rival the Sun Devils, and the races are now split up by division. In fact, last year the DI championship title went to University of San Francisco's Kira Gupta-Baltazar — but ASU still pulled off the team title. "Our depth saved us," said English.

That rivalry will still be there in two weeks. And they'll be joined in the DI field by the University of Denver and Queens University — the No. 1 ranked team in the DI field (ASU is ranked No. 2) — who they're excited to get to race head-to-head for the first time this season.

"I think it's really cool," he said, to see the sport grow and develop. "It's really an incredible feeling to build something." It's even better to build something that could win its six title this November.