Training Tips
Swim
Youth and Junior
Tips for Building Confidence in Your Swim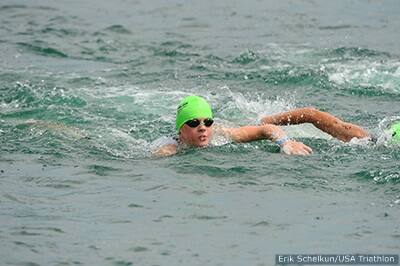 Triathlon is a fun sport but the swim can make some young athletes nervous. Whether you're concerned about swimming the full distance, intimidated by swimming with others or anxious about the unknowns of open water, start building confidence for your next race with these four easy tips.
Go the Distance
To be confident with your race-day swim, you need to be able to safely cover the race distance, which ranges from 50-400 meters depending on your age. If you're new to swimming, start by swimming one length of the pool (25 yards or meters); rest for 10-15 seconds then swim back. Add another lap each swim session until you can cover the race distance plus an additional 100-200 meters. When you're comfortable with the distance, work on reducing the amount of time you rest on the wall.
Join the Crowd
Body contact during the swim can be intimidating. "Swimming with other athletes in the same lane gets you comfortable with other swimmers touching you," says Swim Like a Pro Coach Sara McLarty. She suggests starting with four athletes in a lane and swimming fast to the other side. Rest and repeat.
Keep an Open Mind
Open water swims can be nerve-racking. The best way to gain confidence is to practice in open water as much as possible. With supervision (preferably in-water support), start swimming in waist-deep water so you can stand up if needed. Since athletes do not get the benefit of rest on a pool wall, Coach Sara recommends practicing the continuous effort needed in the open water by pool training with "no walls." That means turning around and swimming the other direction without touching or pushing off the wall. If you can build up to your race distance using this technique, you'll be able to cover the distance in open water, too.
Put Safety First
Coach Sara highly recommends practicing a "safety stroke." This is a stroke other than freestyle that allows you to regain composure and catch your breath. This could be the backstroke, breaststroke, sidestroke or even floating on your back.
Conquering swim nerves and building confidence with pool and open water triathlons takes time. Focus on one of these tips each week, and on race day you will be relaxed and ready to have fun.
Jennifer Hutchison, RD, CSSD, LDN is a USA Triathlon Level III and Youth and Junior Certified Coach as well as a sport dietitian. Jennifer is Florida's Regional Athlete Development Coordinator and the co-founder and coach for the Triton Elite Multisport Junior High Performance Team. For more information visit tritonelitemultisport.com.
The views expressed in this article are the opinion of the author and not necessarily the practices of USA Triathlon. Before starting any new diet or exercise program, you should check with your physician and/or coach.