Americans Win Four Titles, Seven Medals at Paratriathlon Worlds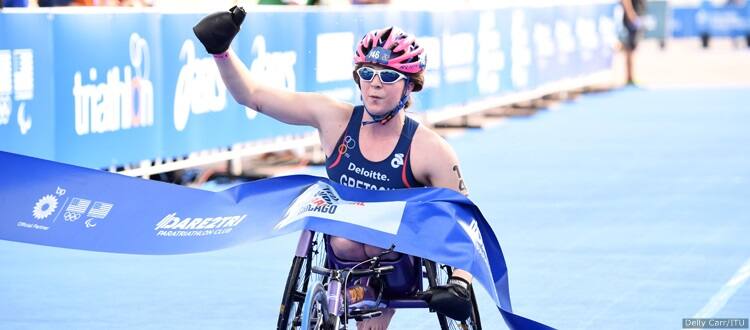 ROTTERDAM, The Netherlands — World champions Kendall Gretsch, Allysa Seely, Grace Norman and Aaron Scheidies led the U.S. to seven total medals on Sunday at the ITU Paratriathlon World Championships.
Competing on a 750-meter swim, 20-kilometer bike, 5-kilometer run course, U.S. athletes, including members of the U.S. Paralympic Triathlon Team and the USA Paratriathlon National Team, raced to four gold medals, two silver and one bronze. The Americans bring home more medals than any other nation, ahead of Spain's five total medals and France's four medals.
Gretsch (Madison, Wis.) picked up her third consecutive title among PT1/wheelchair women, finishing in 1 hour, 18 minutes and 4 seconds. Gretsch's win, which was more than 5 minutes and 30 seconds ahead of the silver medalist, extends a streak of victories that began in May 2014.
In the men's PT1 sport class, Krige Schabort (Rome, Ga.) added to his world championship medal collection with a silver medal in 1:01:46. He finished 1:45 down from gold medalist Jetze Plat of the Netherlands and more than a minute ahead of Plat's teammate and bronze medalist Geert Schipper.
Seely (Glendale, Ariz.) also successfully defended her world title in the women's PT2/severe impairment sport class, clocking in at 1:23:46, 50 seconds ahead of Finland's Liisa Lilja. Seely's Paralympic Games teammate Hailey Danisewicz (Chicago, Ill.) was third in 1:25:11.
Mark Barr (Houston, Texas) raced to his first world championships medal since 2013, picking up a silver medal in the men's PT2 sport class. Barr posted a time of 1:10:12 and had the fastest swim among the PT2 men. Andrew Lewis of Great Britain won the sport class in 1:08:09.
Norman (Jamestown, Ohio) captured her first world title in the women's PT4/mild impairment sport class with a time of 1:10:02, which was 4 minutes and 30 seconds ahead of silver medalist Gwladys Lemoussu of France. Norman's 5k run split of 19:08 was essential on her path to victory as the fastest run split among PT4 women by more than a minute.
Scheidies (Seattle, Wash.) continued his own win streak from May 2014 with his fifth world title in the men's PT5/visual impairment sport class. Scheidies crossed the line in 1:06:28 for the win, ahead of Vasyl Zakrevskyi of Ukraine, who finished in 1:07:42, and Spain's Héctor Catalá Laparra, who finished in 1:08:02.
Schabort, Seely, Danisewicz, Barr and Norman are among the 10-member U.S. Paralympic Triathlon Team and will compete in the debut of paratriathlon at the Paralympic Games on Sept. 10-11 at Copacabana Beach. Seely and Norman also qualified to compete in track events in Rio. For more on the U.S. Olympic and Paralympic Triathlon Teams, visit usatriathlon.org/rio2016.
Rotterdam ITU Paratriathlon World Championships
750m swim, 20k bike, 5k run
U.S. Finishers — Complete Results
PT1 Women
1. Kendall Gretsch (Madison, Wis.), 1:18:04
4. Mary Kate Callahan (La Grange, Ill.), 1:27:54
PT1 Men
2. Krige Schabort (Rome, Ga.), 1:01:46
14. Geoffrey Kennedy (Rio Grande, Puerto Rico), 1:14:22
PT2 Women
1. Allysa Seely (Glendale, Ariz.), 1:23:46
3. Hailey Danisewicz (Chicago, Ill.), 1:25:11
PT2 Men
2. Mark Barr (Houston, Texas), 1:10:12
PT3 Men
7. Andre Cilliers (Washington, D.C.), 1:15:08
PT4 Women
1. Grace Norman (Jamestown, Ohio), 1:10:02
7. Ruth Ann Reeves (Hattiesburg, Miss.), 1:21:18
PT4 Men
6. Chris Hammer (Salt Lake City, Utah), 1:04:56
10. Jamie Brown (Carlsbad, Calif.), 1:06:42
PT5 Women
5. Amy Dixon (Greenwich, Conn.), 1:19:01
PT5 Men
1. Aaron Scheidies (Seattle, Wash.), 1:06:28