Barr, Seely Cap Undefeated Seasons with ITU Paratriathlon World Titles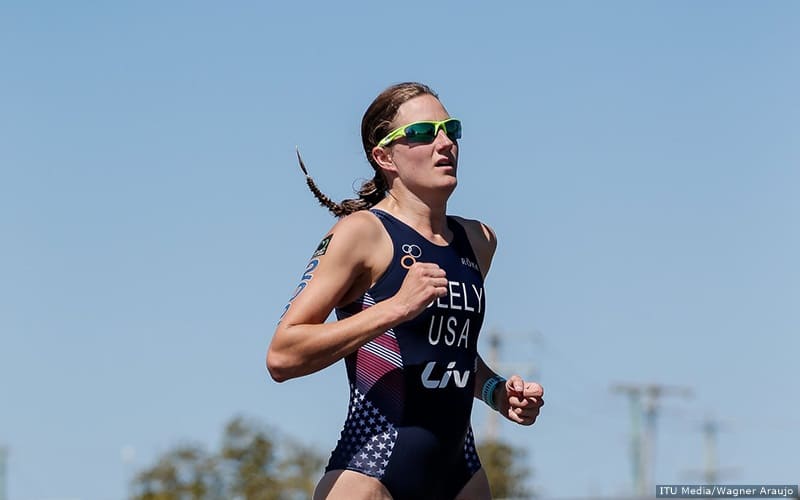 GOLD COAST, Australia — Mark Barr and Allysa Seely rounded out their undefeated elite paratriathlon seasons on a high note Saturday in Gold Coast, Australia, earning gold medals at the ITU Paratriathlon World Championships. U.S. paratriathletes earned five medals overall on the day, including a silver and two bronzes.

Barr and Seely were victorious in every stop of the ITU World Paratriathlon Series this season, sweeping the three races in Yokohama, Japan; Iseo, Italy; and Edmonton, Canada. At the World Championships here in the Australian city, both athletes won their divisions handily.

In the men's PTS2 race, Barr (Houston, Texas) had an excellent swim that put him more than a minute ahead of the field at the first transition. While defending world champion Andy Lewis of Great Britain cut Barr's lead slightly on the bike, it was not enough to bridge the gap. The American broke the tape on the 750-meter swim, 20-kilometer bike, 5-kilometer run course in a total time of 1 hour, 6 minutes, 35 seconds. The win is Barr's first at the ITU Paratriathlon World Championships.

"You've got to race scared whenever you have a world champion on your heels, and everyone else in our category is so competitive. People were coming in hard on the bike, and I could tell they were closing ground on me," Barr said. "You just hammer as much as you can, and you just can't let off the gas pedal the whole way. It was an exciting race."

Seely (Glendale, Ariz.) also had a race-leading swim, but was overtaken on the bike by Great Britain's Fran Brown. Though she headed out onto the run in second place, she caught back up to her rival within the first mile and stormed to the win in 1:17:54. Brown took the silver in 1:19:44, and U.S. teammate Hailey Danz (Wauwatosa, Wis.) claimed bronze in 1:20:44.

With the victory, Seely adds a third world title to her collection. The result was one she had been yearning for since her runner-up finish in 2017, when she was not in top form due to a late-season health issue.

""That was all I wanted today, redemption from last year," Seely said. "I had a really tough end of the year after a great start last year, and I was pretty disappointed with uncontrollable circumstances. This year, I was really excited to be able to come into this race healthy and trained and fit, and just be able to put it all out there."

Adding to the U.S. medal haul Saturday was Aaron Scheidies (Seattle, Wash.), who took silver in the men's PTVI class with guide Ben Collins. The pair came out of the water in second, executed a race-leading bike and held onto the podium spot on the run, crossing the line in 1:02:08 behind only Great Britain's Dave Ellis.

The performance marks Scheidies' 10th ITU Paratriathlon World Championships podium.

In the women's PTS5 division, 2016 and 2017 world champion Grace Norman (Jamestown, Ohio) earned the bronze medal. Norman was solidly in third throughout the race, coming through the finish in 1:09:52. Two British athletes, Lauren Steadman and Claire Cashmore, won gold and silver respectively in 1:07:27 and 1:08:50.

Norman, who won a gold medal in paratriathlon's debut at the Rio 2016 Paralympic Games, said she is pleased to see the competition in her division increasing in the lead-up to the Tokyo 2020 Paralympics.

"It's a tough field, (but) we want to have the most competitive field going into the Games," Norman said. "The Brits have really stepped up their game a lot. They're very strong athletes, and I love competing with them because there's that camaraderie — we're going to push each other."

Also earning top-five finishes on Saturday were Mohamed Lahna (Colorado Springs, Colo., PTS2), Elizabeth Baker (Signal Mountain, Tenn., PTVI) and guide Jillian Petersen; Ahalya Lettenberger (Glen Ellyn, Ill., PTWC); and Kelly Elmlinger (San Antonio, Texas, PTS4), who was competing in her first-ever international paratriathlon race.

For a complete description of ITU paratriathlon sport classifications, click here.

The ITU Paratriathlon World Championships are part of the four-day ITU World Triathlon Grand Final, which concludes Sunday in Gold Coast. The Grand Final marks the culmination of the ITU World Triathlon Series by crowning the men's and women's elite world champions, while also featuring world championship events for elite paratriathletes, U23s, juniors and age-group athletes. Visit usatriathlon.org for coverage of all races.

ITU Paratriathlon World Championships

750m swim, 20k bike, 5k run
Complete Results

U.S. Finishers


PTVI Men
2. Aaron Scheidies (Seattle, Wash.), 1:00:11

PTVI Women
5. Elizabeth Baker (Signal Mountain, Tenn.), 1:11:19
7. Amy Dixon (Encinitas, Calif.), 1:13:19

PTWC Men
11. Howie Sanborn (Colorado Springs, Colo.), 1:14:30

PTWC Women
5. Ahalya Lettenberger (Glen Allyn, Ill.), 1:15:14
10. Mary Kate Callahan (Chicago, Ill.), 1:25:23


PTS2 Men
1. Mark Barr (Houston, Texas), 1:06:35
4. Mohamed Lahna (Colorado Springs, Colo.), 1:09:18
10. Allan Armstrong (Colorado Springs, Colo.), 1:15:01

PTS2 Women
1. Allysa Seely (Glendale, Ariz.), 1:17:54
3. Hailey Danz (Wauwatosa, Wis.), 1:20:44
7. Melissa Stockwell (Chicago, Ill.), 1:27:16

PTS4 Men
11. Joel Rosinbum (Austin, Texas), 1:10:37
12. Omar Bermejo (Casper, Wy.), 1:12:29


PTS4 Women
5. Kelly Elmlinger (San Antonio, Texas), 1:22:41

PTS5 Men
7. Chris Hammer (Salt Lake City, Utah), 1:02:47


PTS5 Women
3. Grace Norman (Jamestown, Ohio), 1:09:52

About USA Triathlon
USA Triathlon is proud to serve as the National Governing Body for triathlon, as well as duathlon, aquathlon, aquabike, winter triathlon, off-road triathlon and paratriathlon in the United States. Founded in 1982, USA Triathlon sanctions more than 4,300 events and connects with more than 400,000 members each year, making it the largest multisport organization in the world. In addition to its work with athletes, coaches, and race directors on the grassroots level, USA Triathlon provides leadership and support to elite athletes competing at international events, including International Triathlon Union (ITU) World Championships, Pan American Games and the Olympic and Paralympic Games. USA Triathlon is a proud member of the ITU and the United States Olympic Committee (USOC).