Features
State Championships
Team USA
5 Reasons to Race Your State Championship in 2023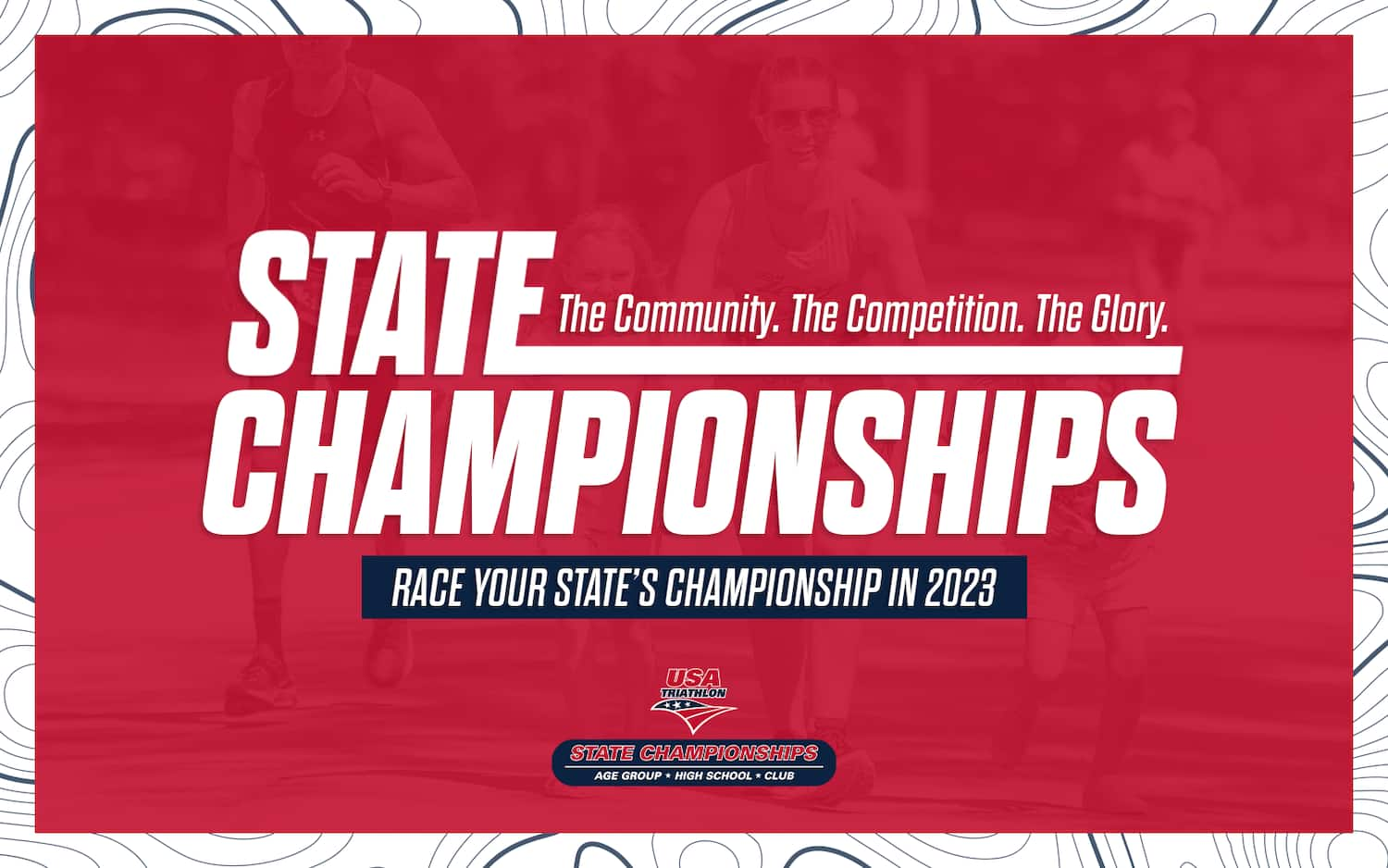 State Championships season is coming!
Triathlon season is nearly here state pride is on the line at USA Triathlon State Championships.
Here are five reasons to race your State Championship in 2023!
State pride baby! As an age group athlete, you can compete at your state's State Championship for the opportunity to earn the title of state champion!
2. Increase your odds to qualify for USA Triathlon
Nationals
Have you always wanted to qualify and race at Sprint and Olympic Distance National Championships? Racing your State Championship is a great way to qualify!
State championships qualify the top 35% or top five (5) finishers in an age group (whichever is greater). Normal qualification standards are the top 15% or top two (2) in your age group (whichever is greater).
So, you have better odds to qualify at a State Championship!
Note that you may only qualify for Olympic-distance Nationals by placing in the Olympic distance State Championship race or Sprint Nationals by placing in the sprint distance State Championship race.
And as a bonus, any state championship after June 1, 2023 will qualify you for BOTH 2023 AND 2024 USA Triathlon Nationals. Will we see you in Milwaukee Aug. 4-6 for the 2023 USA Triathlon Nationals?
3. Support your local events and race
directors
There's nothing like racing local. You're there with your friends and family members. In your hometown or visiting a city in your state. Supporting local businesses. And supporting your local race directors, who are the lifeblood of the sport. Support local races in your state!
4. High Schoolers - be a State
Champion!
High school athletes, rep your school and race for a State High School Championship! Each State Championship also features the State High School Championship, so round up your friends and come race together! As a bonus: All high school athletes who finish any State High School Championships will automatically qualify for 2023 Sprint-distance Nationals in Milwaukee. (Athletes must be at least 15 years old as of Dec. 31, 2023 to compete at Age Group National Championships).
As always, we love the swag — especially medals! Race for a special State Championship medal at your State Championship this year!
Check out the 2023 State Championships
Schedule
Please check individual race websites for the most up-to-date information. Race dates and locations subject to change.
To view the full calendar of 2023 State Championships, visit USA Triathlon's State Championships calendar here.
State
Date
Event
City
Alabama
July 8
Mountain Lakes Triathlon
Guntersville, Ala.
Alaska
TBA
TBA
TBA
Arizona
April 30
Cactus Man Triathlon
Tempe, Ariz.
Arkansas
June 4
Walmart Ozark Valley Triathlon
Fayetteville, Ark.
California
April 30
Orange County Triathlon
Mission Viejo, Calif.
Colorado
July 22
Tri Boulder
Boulder, Colo.
Connecticut
June 17
Pat Griskus Olympic Triathlon
Middlebury, Conn.
Delaware
Aug. 6
Lum's Pond Triathlon
Bear, Del.
Florida
May 21
305 Triathlon
Miami, Fla.
Georgia
Sept. 16
Tugaloo Triathlon
Lavonia, Ga.
Hawaii
TBA

TBA
TBA
Idaho
June 18
Treasure Valley Triathlon
Boise, Idaho
Illinois
June 3
Tri-Shark Classic Triathlon and Duathlon
Hudson, Ill.
Indiana
June 4
Leon's Triathlon
Hammond, Ind.
Iowa
May 27
Tri Clear Lake
Clear Lake, Iowa
Kansas
July 9
Shawnee Mission Triathlon & Duathlon
Shawnee, Kan.
Kentucky
July 23
Tri Louisville
Louisville, Ky.
Louisiana
May 6
Louisiana Triathlon
New Roads, La.
Maine
June 25
Sebago Lake Triathlon
Standish, Maine
Maryland
June 3
Rock Hall Triathlons
Rock Hall, Md.
Massachusetts
June 10
Hyannis 1 Triathlon
Centerville, Mass.
Michigan
July 15
Ann Arbor Tri
Pinckney, Mich.
Minnesota
Aug. 25
Maple Grove Triathlon
Maple Grove, Minn.
Mississippi
June 17
Southern Firecracker Triathlon
Grenada, Miss.
Missouri
May 21
St. Louis Triathlon
St. Louis, Mo.
Montana
June 18
Bozeman Triathlon
Bozeman, Mont.
Nebraska
July 16
Omaha Triathlon
Omaha, Neb.
Nevada
Sept. 30
Las Vegas Triathlon
Boulder City, Nev.
New Hampshire
Aug. 26
Live Free & Tri
Feeedom, N.H.
New Jersey
July 15
New Jersey State Triathlon
West Windsor, N.J.
New Mexico
June 10
City of Lakes Triathlon
Santa Rosa, N.M.
New York
Aug. 26
Rochester Triathlon
Rochester, N.Y.
North Carolina
Sept. 9
White Lake Fall International & Sprint
White Lake, N.C.
North Dakota
June 17
BISMAN Triathlon
Bismark, N.D.
Ohio

June 4

July 16

Deer Creek Triathlon and Duathlon(Age Group & High School)

Mt. Sterling, Ohio

Cincinnati, Ohio

Oklahoma
July 22
Territorial Olympic/Sprint Triathlon
Guthrie, Okla.
Oregon
Sept. 9
Best in the West Triathlon Festival
Sweet Home, Ore.
Pennsylvania
June 10
Poconos Triathlon
Hawley, Pa.
Rhode Island
Sept. 12
Newport Triathlon
Newport, R.I.
South Carolina
June 24
Clemson Triathlon
Clemson, S.C.
South Dakota
Sept. 9
Wildlife Loop Triathlon
Custer, S.D.
Tennessee
June 4
Eddie Ferrell Music City Triathlon
Nashville, Tenn.
Texas
Sept. 17
Disco Triathlon & Duathlon
Valley View, Texas
Utah
Sept. 16
Kokopelli Triathlon
Hurricane, Utah
Vermont
June18
Salisbury, Vt.
Virginia
July 8
REV3 Williamsburg
Williamsburg, Va.
Washington
July 8
Lake Whatcom Triathlon
Bellingham, Wash.
West Virginia
July 9
Richwood's Scenic Mountain Triathlon
Richwood, W.V.
Wisconsin
June 25
Pleasant Prairie Triathlon
Pleasant Prairie, Wis.
Wyoming
TBA
TBA
TBA


Stephen Meyers is USA Triathlon's Communications & Content Senior Manager and editor in chief of USA Triathlon Magazine.