Features
Team USA
Duathlon
Off-Road
The fun of racing multisport - on display at Multisport World Championships in Ibiza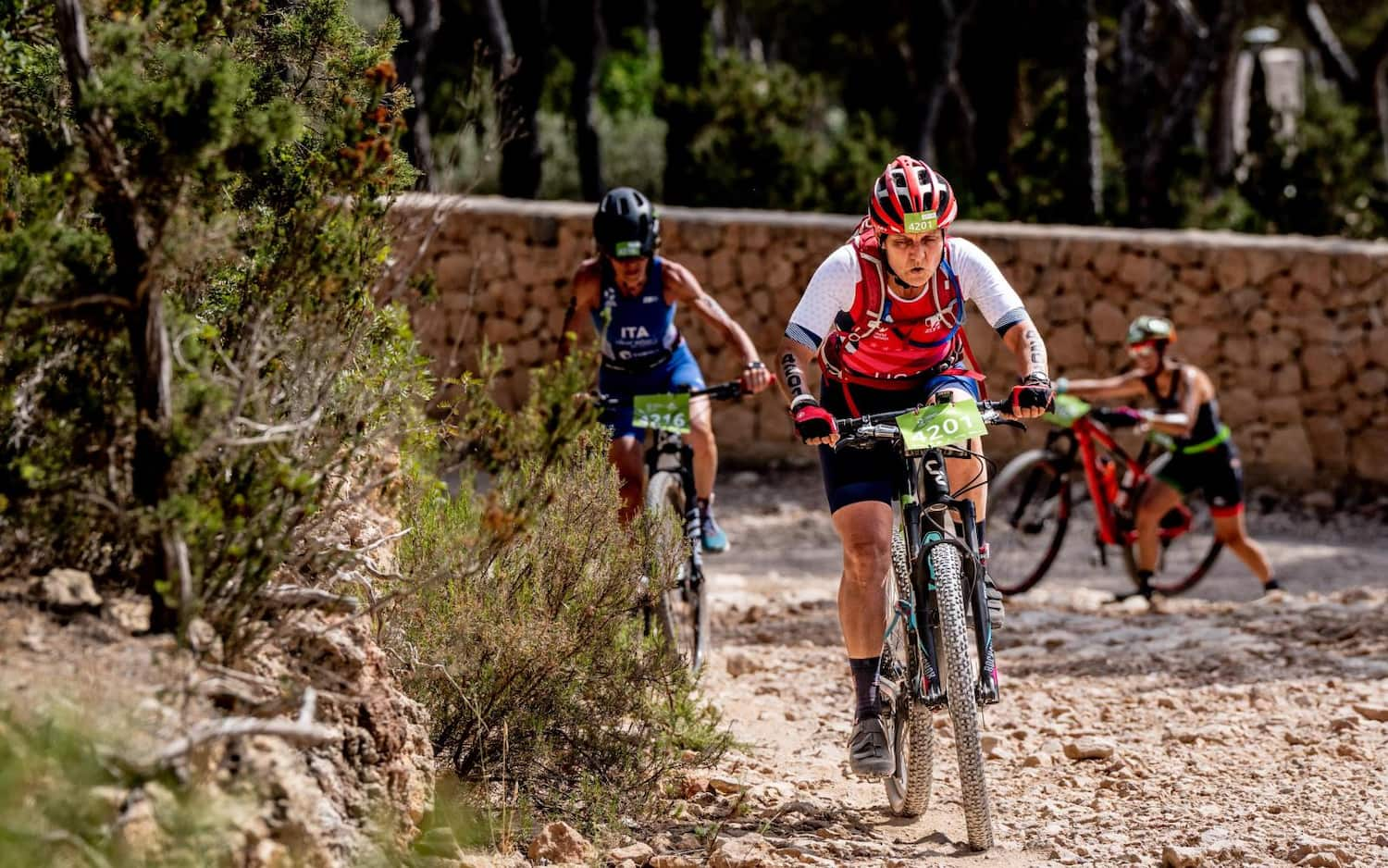 Welcome to the world of multisport; a place where one event doesn't quite cut it for you.
There's always another race to be done, another PR to break, and another event to be tried. Race multisport and there are some new disciplines on the rise that you may want to try.

Let's start with cross triathlon, aka triathlon's adventurous twin sister. Cross triathlon came onto the scene in 1996 in Maui, Hawaii. Over the years it has developed into a high caliber race with Olympic athletes like Bermuda's Flora Duffy crossing over to compete.
What differentiates cross triathlon from triathlon is that it's made up of open water swimming, mountain biking, and trail running; key words being open water, mountain, and trail. Cross triathlon became the XTERRA series, which hosts off-road triathlons around the world and a championship series every September/October.
Although this area of multisport isn't entirely new, it's recently become an area of focus for many athletes rather than a fun afterthought. Distances vary from race to race with some of the most coming being short course, 800m swim - 20km bike - 5km run, and full course, 1.5km swim - 30 km bike - 10km run.
In 2011, ITU held its first Cross Triathlon World Championship event in Extremadura, Spain. Now, over a decade later, there are a number of avenues for one to give cross triathlon a go.
USA Triathlon member and age group Team USA athlete May-li Cuypers has been competing in off-road racing since 2001. She began with road-triathlons in 1985, raced on team USA in the 2000 Perth ITU Triathlon World Championships, then quickly moved to off-road racing.

"I joined the organization really early, when it was still named Triathlon Federation USA (Tri Fed) as it was the triathlon governing body of the time," Cuypers said. "I switched to off-road racing in 2001 doing off-road Ironman-distance, XTERRA regionals, as well as worlds races."

Impressively, Cuypers is racing for Multisport Worlds Legend at the 2023 World Triathlon Multisport Championships, which is the title earned by any athlete who races and completes five or more races at the event. In the past, the title was awarded to athletes who completed four events, but from 2023 athletes will need to complete at least five races to earn the title.



"I like the fact they added one event, because you can now get this title only if you race one of the cross events," Cuypers said. "I think that this embodies the idea of a Multisport Legend, someone who can go short, who can go long, and who can handle the off-road."
In Ibiza, Cuypers is racing sprint duathlon, aquathlon, cross duathlon, cross triathlon and the long distance aquabike.

Cross Duathlon
If you're not into the swimming portion of cross-tri or would like to focus on two disciplines rather than three, then cross duathlon is for you. Uniformly, cross duathlon hails as the adventurous twin sister to duathlon.

The event follows the same format as your typical road based duathlon, run-bike-run, or bike-run, but is rather done completely off-road. Distances vary depending on race venue. For example, a shorter cross-du might consist of a 1km run - 10km bike - 4km run, a full distance race might be a 6km run - 26km bike - 10km run, and a bike - run race could be a 27.5km bike - 8 km run. In short, there's something for everyone.

Team USA athlete Carol Whipple entered her first duathlon in 1996 when her best friend was entered in a local triathlon and suggested she come along and compete. Whipple entered the race and won.

"I was hooked from the get-go," Whipple said. "But my legs felt like they were going to fall off."

After the race, Whipple researched more about the sport and entered as many local events as she could find, including the Colorado State Games where she won the gold medal.

"I always enjoyed running and cycling so finding a sport that combined the two disciplines fueled my competitive nature and it was a challenge to see how far I could go in the sport."

Whipple quickly found USA Triathlon and began signing up and traveling to sanctioned races so that she could qualify for USAT championship events.

"Experienced duathletes and coaches all said it would take approximately three years to develop into an elite age group competitor, ready to compete at the World Championships – and they were right," Whipple said. "My first World Duathlon Championships were in 1999. Since then, I've been on Team USA and competed in 20+ world championships from the sprint to long course distances and in approximately 15 different countries."

In 2022, Whipple found an email in her inbox from the USA Triathlon World Triathlon Organization. It was an invitation to compete at the first ever World Duathlon Championships in Romania. She accepted.

"Up until that point, I had really never tried mountain biking, didn't own one, and the challenge of doing something new really intrigued me," Whipple said. "At my age most have hung up their mountain bikes and there are very few women in the 65+ that continue to ride and race."

"The sport takes me back to being a kid riding my stingray over dirt jumps and forest paths before MTB was an actual sport," Whipple said.
Not keen on the biking portion of these events? Perhaps the aquathlon is for you. The discipline has many benefits such as its affordability and relatively short distance which allows you to race more frequently due to less needed recovery time between events.

The official distances raced at the ITU Aquathlon World Championships are a 2.5km run - 1km swim - 2.5km run, however there are many other formats out there. For instance, the cold water aquathon, when water is below 71.6 degrees Fahrenheit, involves a 1km swim - 5km run. Long course aquathon involves a 2km swim - 10km run.

The bones of aquathlon date back to the early 20th century where ocean lifeguards would hold competitions. Today you can find aquathlons attached to most triathlon events along with the other disciplines mentioned in this article.

Team USA athlete and masters legend, Joni Briganti, who will also be competing at the Multisport World Champs in the 65-70 age category, let us in on her journey with the discipline.

"I have always been a swimmer," Briganti said. "After my second child was born in 1982, it seemed harder to drop the baby weight, so I took up running. I absolutely loved doing run, swims. We lived in Hawaii at the time and they were called biathlons."

Briganti, who now lives in Fredericksburg, Virginia continued, "My love for open water swimming (OWS) began when we lived in Hawaii and I'd race the North Shore Swim Series and the Waikiki Roughwater Swim each year starting in 1983. OWS is so much more fun than the pool. And no flip turns! Add running into the mix and for me it's the perfect combination."

The stories continued to flow out of Briganti. From swimming with alligators at Miami Man to completing eight, going on nine, Ironman distance triathlons, it's no wonder she's a USA Triathlon Lifetime Achievement Award winner and four year USAT Foundation National Ambassador.

"I feel very deeply about being on the team as I have seen lives transformed right in front of me through sport," Briganti said. "I believe in the three pillars of the foundation and support them 100% not just through fundraising on their behalf but by being an example of how sport can change your life.

As a USA Triathlon Certified Coach, Briganti now gives back to the sport she holds so dearly.

"I had a client last summer who went from a near drowning experience at age 17 to completing her first sprint triathlon in open water," Briganti said. "It was exhilarating for me. Giving back to the sport I love so much and being a positive representative to encourage, inspire and ignite the mind, body and heart to excel means the world to me."

Aquabike
Aquabike is as simple as it sounds; a swim and bike race. Like all of the other multi-sport disciplines, aquabike varies in length. The most common distance is a 1.9km swim - 90km bike which also happens to be the USAT National Championship distance.
Other distances include the olympic standard distance, 1.6km swim - 40km bike, and the ironman distance, 3.8km swim - 180km bike.

The event originated in the United States and is relatively new to the multi-sport world.

Amber Smolik, the 2022 age group world championship winner, gives us the down-low on the event and how its image has changed over the last couple of years.

"A lot of athletes looked down at aquabike when it first became an event because it didn't include a run so therefore not a real triathlon event and many athletes that competed in it were injured (from running)" Smolik said. "I don't seem to get that vibe anymore since it has been around a few years and a larger number of athletes are competing in the discipline. I think it's a fantastic event and holds its own."

One of the huge benefits of aquabike is being able to stay engaged in the multi-sport world while reducing the amount of impact from running which can lead to knee, joint, and achilles injuries. If you're a triathlete who's reading this, chances are you've dealt with these issues.

Smolik, the 39 year old Oklahoma City based athlete, got into aquabike for those very reasons.

"I ended up getting injured and hurt my achilles during a trail run series and the only training I could do was swimming and cycling for a few months," Smolik said. "I actually found that training for two sports was a lot more manageable and fun. I got a lot stronger on the bike and started road racing and having a swim background it seemed like the right event for me to continue with. I really enjoy aquabike and that is my preferred event now!"

Like all of the other women interviewed for this article, Smolik will be competing for team USA at the 2023 World Championships in Ibiza, Spain.

The event kicks off with the sprint duathlon on April 29th and finishes with the long distance triathlon on May 7th.

Finally, if you need a push to give any of these disciplines a go, let the master of all help you out.

"I challenge any athlete to get out of their comfort zone, to try a new adventure, a new discipline, would it be road or cross duathlon, aquathlon or aquabike," Cuypers said. "It will open your horizons and you might be surprised at how well it suits you."