Katie Zaferes Crowned ITU Triathlon World Champion in Lausanne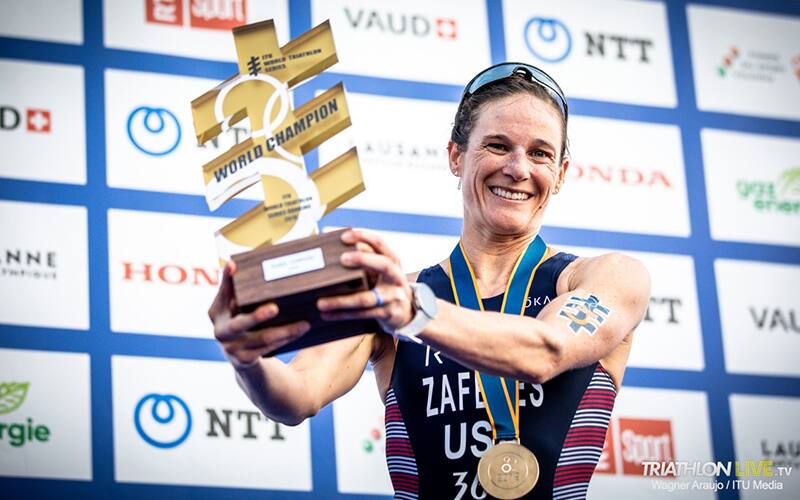 LAUSANNE, Switzerland — Katie Zaferes was crowned world champion Saturday after winning the overall ITU World Triathlon Series title, capping a stellar season with a gold medal at the ITU World Triathlon Grand Final. Zaferes (Santa Cruz, Calif.) becomes the first U.S. elite triathlon world champion since Gwen Jorgensen won in 2014 and 2015 and went on to become the 2016 Olympic gold medalist.

The ITU World Triathlon Series (WTS) is a season-long battle for the world championship crown, and the leader at the end of the series is named world champion. The Grand Final is the last race of the series and is weighted more heavily than regular-season WTS races.

The world title is years in the making for Zaferes, who finished fifth in the ITU World Triathlon Series in 2015, fourth in 2016, third in 2017 and second in 2018.

"The 5, 4, 3, 2, 1 was both amazing and nerve-wracking beforehand, because I set myself up so well to get this and I really just didn't want to mess it up," Zaferes said. "To have my parents and (my husband) Tommy here, I mean there are so many people who were a part of this and who make it special. When I was on the podium, I was thinking about so many people who I just want to thank for getting me here."

Zaferes won five of the eight WTS races this season, including the Grand Final, and earned silver in a sixth. She shares the overall series podium with Great Britain's Jessica Learmonth (silver) and Georgia Taylor-Brown (bronze), who finished in that same order in the Grand Final race.

In today's Grand Final, Zaferes was eighth out of the 1,500-meter swim. She joined a lead pack of five for the hilly and technical 40-kilometer bike course, pushing the pace alongside Learmonth, Taylor-Brown, Bermuda's Flora Duffy and Brazil's Vittoria Lopes. On the 10-kilometer run, Zaferes, Learmonth and Taylor-Brown ran shoulder-to-shoulder ahead of the field for nearly the entire course. Zaferes ultimately outsprinted Learmonth in the finish chute, crossing the line in 2 hours, 2 minutes, 45 seconds to Learmonth's 2:02:49. Taylor-Brown rounded out the podium in 2:03:03.

After a dominant start to the season, Zaferes was met with adversity in the two races leading up to the Grand Final. In the last regular-season WTS race in Hamburg, Germany, she crashed on the bike, but was able to continue the race and finish 35th. At the Tokyo ITU World Olympic Qualification Event on Aug. 15 — which marked the first opportunity to auto-qualify for the 2020 U.S. Olympic Triathlon Team — Zaferes crashed again and was unable to continue, ending up with a broken nose and 23 stitches in her mouth.

Two weeks later, she won a world title.

"It's just amazing because obviously the last two races really haven't gone like I wanted them to, and I think mentally it made me have a lot more doubt coming into this one," Zaferes said. "Physically I knew I was capable of doing really good things, but mentally I wasn't sure whether I was in the right place or not. I just wanted to have a safe ride, but also be still assertive and be a racer and still be in the race."

Fellow American Taylor Spivey (Redondo Beach, Calif.) recorded a ninth-place finish in today's race with a time of 2:05:40. Also representing the U.S. were Taylor Knibb (Washington, D.C.), who was 14th in 2:07:10; Summer Rappaport (Thornton, Colo.), 16th in 2:07:44; and Tamara Gorman (Rapid City, S.D.), 21st in 2:09:02.

Zaferes, a 2016 U.S. Olympian who placed 18th in Rio, leads a strong U.S. women's contingent heading into the 2020 Olympic year. Spivey rounds out the 2019 WTS season ranked fourth overall. Rappaport, who qualified for the 2020 U.S. Olympic Team at the Tokyo test event, finished the series in fifth.

For the complete women's WTS overall standings, click here.

In the men's Grand Final, also held Saturday, Morgan Pearson (Boulder, Colo.) was the top U.S. finisher in 11th. Pearson is in just his second season as an elite triathlete. A former NCAA Division I track and cross-country runner at the University of Colorado, he was recruited to the sport through USA Triathlon's Collegiate Recruitment Program — the same program that discovered Jorgensen, Zaferes, Spivey, Rappaport and fellow men's U.S. National Team member Matt McElroy (Huntington Beach, Calif.).

Pearson had a strong swim that put him in position to ride with a group of about 20 leaders on the bike. He went on to run a 32:52 10k, with brought him across the line in 1:52:56. Norway's Kristian Blummenfelt broke the tape in 1:50:47, followed by Spain's Mario Mola (1:51:03) and Fernando Alarza (1:51:18) in second and third, respectively.

"Top-10 was kind of what I thought was an achievable goal, and I got 11th. I was working hard the whole way and it was a missed opportunity at the end, but I was just out of gas," Pearson said. "I wish I had that last gear, but I've got to look at the big picture. I know I can run with the top guys if I run to my potential, so I'm just thinking long-term. To be honest, the goal is never to be top American, the goal is always to be top of the world. If all the U.S. men are just worried about being top American, we're racing each other and not the top guys."

Also racing for the U.S. men were McElroy, who took 28th in 1:55:28, and Eli Hemming (Kiowa, Colo.), 30th in 1:55:47.

Pearson completes the WTS season as the top-ranked American in 23rd, with McElroy just behind him in 24th. France's Vincent Luis took the overall series crown, joined on the podium by silver medalist Mola and bronze medalist Javier Gomez Noya, also of Spain.

For the complete men's WTS overall standings, click here.

Racing at the ITU World Triathlon Grand Final wraps up tomorrow with the ITU Age Group Standard Triathlon World Championships and the ITU Paratriathlon World Championships. For a complete event schedule and more information, visit lausanne.triathlon.org.

ITU World Triathlon Grand Final
1,500m swim, 40k bike, 10k run

Elite Women — Complete Results
1. Katie Zaferes (Santa Cruz, Calif.), 2:02:45
2. Jessica Learmonth (GBR), 2:02:49
3. Georgia Taylor-Brown (GBR), 2:03:03

U.S. Finishers
1. Katie Zaferes (Santa Cruz, Calif.), 2:02:45
9. Taylor Spivey (Redondo Beach, Calif.), 2:05:40
14. Taylor Knibb (Washington, D.C.), 2:07:10
16. Summer Rappaport (Thornton, Colo.), 2:07:44
21. Tamara Gorman (Rapid City, S.D.), 2:09:02
Chelsea Burns (Seattle, Wash.), DNF

Elite Men — Complete Results
1. Kristian Blummenfelt (NOR), 1:50:47
2. Mario Mola (ESP), 1:51:03
3. Fernando Alarza (ESP), 1:51:18

U.S. Finishers
11. Morgan Pearson (Boulder, Colo.), 1:52:56
28. Matt McElroy (Huntington Beach, Calif.), 1:55:28
30. Eli Hemming (Kiowa, Colo.), 1:55:47
Kevin McDowell (Phoenix, Ariz.), DNF

About USA Triathlon
USA Triathlon is proud to serve as the National Governing Body for triathlon, as well as duathlon, aquathlon, aquabike, winter triathlon, off-road triathlon and paratriathlon in the United States. Founded in 1982, USA Triathlon sanctions more than 4,300 events and connects with more than 400,000 members each year, making it the largest multisport organization in the world. In addition to its work at the grassroots level with athletes, coaches, and race directors — as well as the USA Triathlon Foundation — USA Triathlon provides leadership and support to elite athletes competing at international events, including International Triathlon Union (ITU) World Championships, Pan American Games and the Olympic and Paralympic Games. USA Triathlon is a proud member of the ITU and the United States Olympic & Paralympic Committee (USOPC).