Toyota USA Triathlon Age Group Nationals Weekend Kicks off with Open Water Swim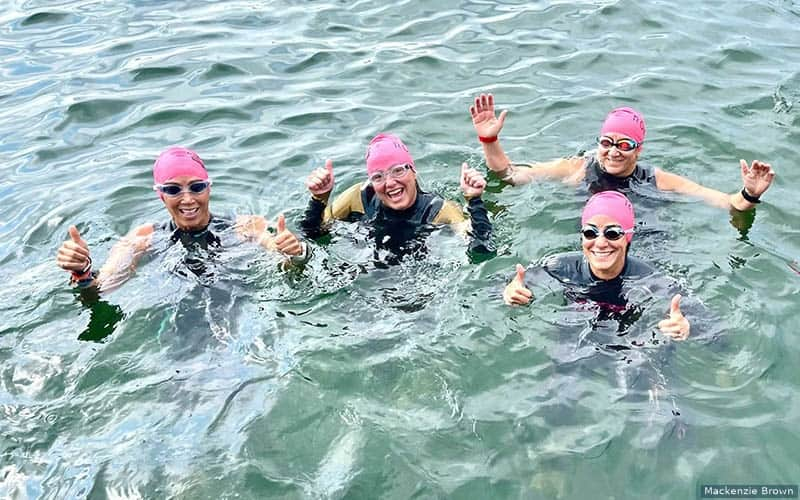 MILWAUKEE — Racing action kicked off Friday at the Toyota USA Triathlon Age Group National Championships, as more than 200 athletes took to Lake Michigan for the Open Water Swim competition. The 750-meter swim doubled as a pre-race tune-up for overall winners Miguel Mattox and Jordyn Bloode, both of whom are competing later this weekend in the National Championship events.
Age Group Nationals is USA Triathlon's largest and longest-running National Championship event. Contested since 1983, the event annually draws the nation's fastest age-group triathletes. A record field of more than 6,000 athletes is expected overall for this weekend's events — hailing from all 50 states and Washington, D.C., as well as nine countries and five territories. The youngest athlete is 15, and the oldest is 88.
The Open Water Swim is a new addition to Age Group Nationals weekend. The event gave triathletes the ability to test the waters in a competitive setting ahead of Saturday's and Sunday's races, while providing the chance for single-sport swimmers to participate in race weekend.
Mattox (Mill Valley, Calif.), 25, earned top honors in the men's event, completing the course in 9 minutes, 36 seconds. He is also competing in tomorrow's Olympic-Distance National Championships.
"I felt good," Mattox said. "I did it to get acquainted with the course. The focus is the Olympic distance this weekend. I have a swimming background and didn't want to disappoint my coach or team, so I went in with the mentality of winning, but I also wanted to conserve some energy. It was a perfect day. Smooth water, good temperature to wear a wetsuit, and I went out very hard and strong just to see what the competition was like. I maintained the pace for a couple hundred yards and turned around shortly after the bridge and realized I was alone out there. I really shut it down at that point to help save myself for tomorrow."
Taking second place for men was Kasey Copley (Cedar Park, Texas) in 9:53, followed by Aaron Helander (Harrison Township, Mich.) in third in 10:01.
In the women's race, 21-year-old Bloode (New Carlisle, Ind.), a current student an NCAA swimmer at Carthage College in Kenosha, Wisconsin, took the win with a time of 10:20.
"It's awesome to be back racing, especially after last year with COVID when we didn't get to do very many races," Bloode said. "So, it's been fun this summer to be racing again and be back in Milwaukee. I was going for the win — I always want to do the best I can, everyone does, but this was definitely one of my goals."
Stephanie Oechsner (St. Peters, Mo.) and Brooke Kelley (Keeseville, N.Y.) both finished with a time of 10:25, with Oeschner narrowly taking the runner-up spot and Kelley rounding out the podium.
Milwaukee returns as the host of Age Group Nationals after welcoming the event for three consecutive years from 2013-15. The previous Age Group Nationals participation record of 5,789 was also in Milwaukee, in 2014. The main venue for all races is adjacent to the Milwaukee Art Museum, Henry Maier Festival Park and Discovery World along the shore of Lake Michigan.
Triathlon racing gets underway Saturday at 7 a.m. with the Olympic-Distance National Championships (1,500m swim, 40k bike, 10k run), followed by Sunday's Sprint National Championships (750m swim, 20k bike, 10k run), also at 7 a.m. Both events require qualification via a competitive age-group finish in a previous USA Triathlon-sanctioned event. Both the Olympic- and sprint-distance races also have a beginner-friendly Time to Tri Open wave, which does not require qualification and is not included in the National Championship results. Sunday's sprint race also features a PC Open/Adaptive division, with challenged athletes from the myTEAM TRIUMPH Wisconsin chapter taking part.
LIVESTREAM AND TRACKING APP: The Toyota USA Triathlon Age Group National Championships will be livestreamed starting at 6:50 a.m. CT for both the Olympic-distance and Sprint events at this link and at youtube.com/usatriathlon. An archive of both event livestreams will also be available at youtube.com/usatriathlon after the races. Media, friends and family can also follow the action at Age Group Nationals with the USA Triathlon Events App. The app features athlete tracking, event schedules, live leaderboards and more, and is available for download on iPhone and Android devices. Live race coverage will also be available on Twitter @USATLive and Instagram @usatriathlon.
MEDIA CREDENTIALS: Media interested in covering the events in Milwaukee should contact Caryn Maconi, USA Triathlon Marketing & Public Relations Senior Manager, at caryn.maconi@usatriathlon.org or 443-534-5954 to obtain a credential.
For more information about the Toyota USA Triathlon Age Group National Championships, visit usatriathlon.org/agnc2021 or download the digital event program.
Age Group Nationals Open Water Swim Competition
750m — Complete Results
Overall Male: Miguel Mattox (Mill Valley, Calif.), 9:36
Overall Female: Jordyn Bloode (New Carlisle, Ind.), 10:20
Male 15-39: Miguel Mattox (Mill Valley, Calif.), 9:36
Female 15-19: Jordyn Bloode (New Carlisle, Ind.), 10:20
Male 40-59: Dougin Walker (Tampa, Fla.), 10:14
Female 40-59: Kate Elliott (Decorah, Iowa), 11:41
Male 60+: Bruce Williams (Loveland, Ohio), 11:21
Female 60+: Robyn Williams (Loveland, Ohio), 12:00
About USA Triathlon
USA Triathlon is proud to serve as the National Governing Body for triathlon, as well as duathlon, aquathlon, aquabike, winter triathlon, off-road triathlon and paratriathlon in the United States. Founded in 1982, USA Triathlon sanctions more than 4,000 events and connects with more than 400,000 members each year, making it the largest multisport organization in the world. In addition to its work at the grassroots level with athletes, coaches, and race directors — as well as the USA Triathlon Foundation — USA Triathlon provides leadership and support to elite athletes competing at international events, including World Triathlon Championships, Pan American Games and the Olympic and Paralympic Games. USA Triathlon is a proud member of World Triathlon and the United States Olympic & Paralympic Committee (USOPC).