U.S. Wins Mixed Relay Gold at World Triathlon Championship Series Montreal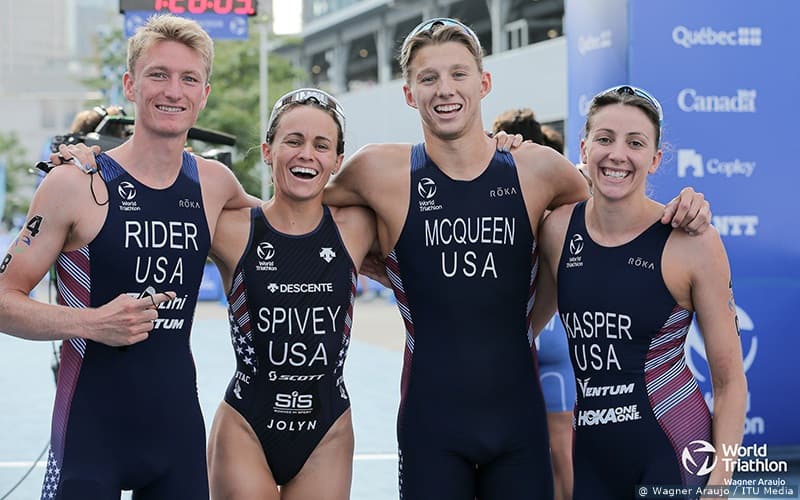 MONTREAL — Proving it is a force to be reckoned with in the mixed relay no matter what the lineup, the United States won gold in the mixed relay at the World Triathlon Championship Series Montreal on Sunday with a team of two women and two men who had never before competed together.

Taylor Spivey (Redondo Beach, Calif.), Seth Rider (Germantown, Tenn.), Kirsten Kasper (North Andover, Mass.) and Chase McQueen (Columbus, Ind.) finished the race in 1 hour 25 minutes, 27 seconds, with New Zealand taking silver in 1:25:32 and Italy the bronze in 1:25:46 for its first World Triathlon mixed relay medal.

Sunday's gold is a return to the top of the podium for the U.S. — long a mainstay on the mixed relay medal stand — as the U.S. last won gold in the event at the World Triathlon Mixed Relay Series Nottingham in June 2018. Kasper was part of that team and the one that won the 2016 World Championships title, but this was the first mixed relay win for Spivey, Rider and McQueen at this level.
A completely different team of Katie Zaferes (Cary, N.C.), Kevin McDowell (Geneva, Ill.), Taylor Knibb (Washington, D.C.) and Morgan Pearson (Boulder, Colo.) claimed the silver medal last month in Tokyo in the event's Olympic debut.

The mixed relay in Montreal marked the third and final day of an exhausting weekend of racing for triathletes that included as many as two super-sprint qualification races on Friday and up to three super-sprint final stages on Saturday.

With each athlete racing a 300-meter swim, 6.6-kilometer bike and 1.9-kilometer run in the traditional female-male-female-male format, Spivey led for the Americans. Fresh off a bronze medal in the women's race from one day earlier, Spivey set the U.S. team up for success from the start.

The 30-year-old was third out of the water, second out of the first transition and then, before long, took the lead on the bike. Switzerland's Alissa Konig took the pace out fast on the run, but Spivey was able to keep up and eventually finished her race in 22:21, two seconds behind New Zealand's Nicole van der Kaay.

"It definitely wasn't easy to back up three days of racing, but I think a lot of us were in the same boat," Spivey said. "I gave it my all for this team and I'm so proud of how the U.S. team raced as a whole. It's just a testament to how strong these athletes are."

Rider, 24, took over from there with a great dive into the water, staying on New Zealand's Dylan McCullough shoulder and passing him by the time they emerged. The 2014 Youth Olympian was first out of the transition and then stayed in a lead group of McCullough and Italy's Gianluca Pozzatti. That trio helped each other out to maintain a strong lead pace that was 23 seconds ahead of the chase group of Czech Republic, Germany and Switzerland by the end of the bike. As it would turn out, the U.S., New Zealand and Italy would remain in a league of their own through the remainder of the race.

Working hard for his two teammates to come, Rider, who placed ninth for his career-best men's finish on Saturday, broke away to lead New Zealand and Italy by six seconds after the first of two laps on the run. He gave Kasper a seven-second lead over New Zealand with his 20:10 leg.

"When you get on the start line and you're racing for your team, you don't feel anything anymore," Rider said. "You just dive in and you just go for it and you just give everything you have. Today was great, I found myself in a group of three and I got on the run knowing this was my last race of the weekend, finally, and I just gave everything I have to try to set it up well for the team."

Kasper, 29 and the most experienced American in this event with six previous World Triathlon mixed relays under her belt, maintained the lead from Rider and was 17 seconds ahead of Ainsley Thorpe (NZL) and Alice Betto (ITA) after the swim. Through lap one of two on the bike, Kasper held a five-second lead over Thorpe and Betto with the chase trio still 33 seconds behind them. Thorpe and Betto caught up to Kasper with a half-lap to go, though the American continued to pace them. Kasper lost some time during the second transition and ended her 22:51 leg nine seconds back from leader Italy and five out from New Zealand. Still, she gave McQueen a 28-second lead over fourth-place Germany, setting him up to bring home a medal.

"These two did a great job setting me up well," Kasper said of Spivey and Rider. "I just tried to hold on to that lead as long as I could and get this guy (McQueen) the best position I could. It was really a team effort and I'm so proud of everyone."

McQueen, the youngest on the U.S. team at 23 years old and competing in his first mixed relay at this level, had perhaps the race of his life. With a massive dive into the water and a strong swim to follow, he made up the deficit and emerged from the water with Alessandro Fabian of Italy, with New Zealand's Saxon Morgan three seconds behind.

After placing 25th in the men's final on Saturday, McQueen erased any doubt by taking turns with Fabian and Morgan to lead on the bike, eventually finishing two seconds ahead of them. With the fastest run in the 40-athlete field (5:02), McQueen quickly established a five-second gap ahead of his competitors and never looked back until the finish line was in sight. His 20:03 leg was the fastest for the U.S. McQueen is a member of USA Triathlon's Project Podium, a men's elite development program based at Arizona State University in Tempe, Arizona.
"It feels really good," McQueen said. "The team set me up super well, so I knew I couldn't let them down. Luckily I was in group with two so I didn't have to bike by myself, and then I took all I had to the finish line, so I'm super happy to pull it out for the team."

The 2021 World Triathlon Championship Finals will close the season next Saturday, Aug. 21, with the elite men's and women's races in Edmonton, Alberta, while Bermuda will host the 2021 World Championships for both super-sprint and mixed relay, Oct. 15-17.

2021 World Triathlon Mixed Relay Series Montreal
4x 300m swim, 6.6k bike, 1.9k run I Complete Results

1. United States (Taylor Spivey, Seth Rider, Kirsten Kasper, Chase McQueen), 1:25:27
2. New Zealand (Nicole van der Kaay, Dylan McCullough, Ainsley Thorpe, Saxon Morgan), 1:25:32
3. Italy (Beatrice Mallozzi, Gianluca Pozzatti, Alice Betto, Alessandro Fabian), 1:25:46
4. Germany (Marlene Gomez-Islinger, Valentin Wernz, Nina Eim, Jonas Schomburg), 1:26:06
5. Switzerland (Alissa Konig, Adrien Briffod, Lisa Berger, Sylvain Fridelance), 1:26:40

About USA Triathlon
USA Triathlon is proud to serve as the National Governing Body for triathlon, as well as duathlon, aquathlon, aquabike, winter triathlon, off-road triathlon, paratriathlon, and indoor and virtual multisport events in the United States. Founded in 1982, USA Triathlon sanctions more than 4,000 events and connects with more than 400,000 members each year, making it the largest multisport organization in the world. In addition to its work at the grassroots level with athletes, coaches, and race directors — as well as the USA Triathlon Foundation — USA Triathlon provides leadership and support to elite athletes competing at international events, including World Triathlon Championships, Pan American Games and the Olympic and Paralympic Games. USA Triathlon is a proud member of World Triathlon and the United States Olympic & Paralympic Committee (USOPC).