Brad Snyder Wins Gold for First U.S. Men's Paratriathlon Medal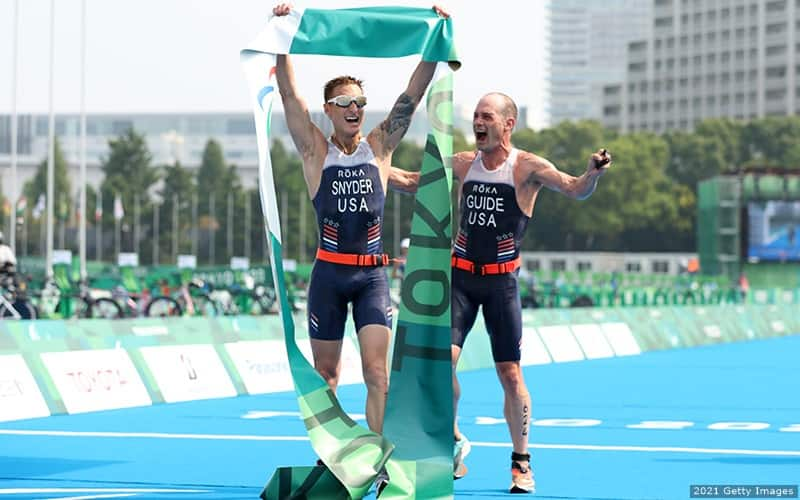 TOKYO — Competing at his third Paralympic Games, but first in paratriathlon, Brad Snyder (Baltimore, Md.) won the men's PTVI race Saturday morning at the Paralympic Games Tokyo 2020 with guide Greg Billington (San Francisco, Calif.).

Snyder is the first U.S. man to win a Paralympic — or Olympic — medal in an individual event in triathlon. He is also the first male Paralympic gold medalist in the visually-impaired category, which made its Paralympic debut in Tokyo for the men after the category was only contested for women at the 2016 Paralympic Games in Rio.
Snyder and Billington won in a time of 1 hour, 1 minute and 16 seconds, followed by Spain's silver medalist Héctor Catalá Laparra with guide Gustavo Rodriguez Iglesias in 1:02:11 and Japan's Satoru Yoneoka with guide Kohei Tsubaki in 1:02:20 for bronze.
Kyle Coon (Colorado Springs, Colo.), with guide Andy Potts (Colorado Springs, Colo.), finished fifth in his Paralympic debut in a time of 1:03:00.
U.S. Navy veteran Snyder, one of the most preeminent Paralympians of the past decade, lost his eyesight in a 2011 IED explosion while serving in Afghanistan. He made his Paralympic debut in swimming at the London 2012 Games, where he won 100-meter freestyle S11 gold, 50-meter freestyle S11 silver and 400-meter freestyle S11 gold, the latter coming on the one-year anniversary of the fateful explosion. He was selected by teammates as the United States' Closing Ceremony flag bearer in London.
Four years later in Rio, Snyder successfully defended his two gold medals in the 100 and 400 freestyle, upgraded to gold in the 50 freestyle and a silver in the 100-meter backstroke S11.
"It's a big moment, obviously, because you spend so much time visualizing and hoping and preparing for it," Snyder said of his paratriathlon win. "Just like in Rio and just like in London, there's no way you can possibly imagine how good it's going to feel — and it was really a good feeling."
He announced his plan to transition from Para swimming to paratriathlon in 2018, and while it took until the Tokyo Games for his first win at a fully international race, the now 37-year-old found success relatively quickly. He took bronze at the 2018 Sarasota-Bradenton CAMTRI Paratriathlon American Championships and placed fifth at his first ITU World Paratriathlon Series event in Yokohama, Japan. The following year, he earned his first ITU World Paratriathlon Series medal with bronze in Yokohama, then finished sixth at his World Championships debut.
Peaking at the right time, Snyder's first elite victory came earlier this summer at the Americas Triathlon Para Championships.
Snyder and Billington, a 2016 Olympian who placed 37th in Rio, began racing together in early June. They led the Paralympic race from start to finish at Odaiba Marine Park on Saturday.
Snyder's impressive swimming background helped him to a lead of 1 minute, 14 seconds over Yoneoka after the 750-meter swim. Spain's Jose Luis Garcia Serrano, with guide Pedro Jose Andujar Bastida, was close behind in third.
The 29-year-old Coon, competing with 2004 Olympian and renowned IRONMAN and IRONMAN 70.3 athlete Potts, was fourth through the first transition but moved up to second on the second lap of the four-lap, 20-kilometer bike ride. Coon is a two-time World Cup medalist and member of the Toyota U.S. Paratriathlon Resident Team in Colorado Springs, Colorado.
They held on to that position through the second transition, while Snyder and Billington maintained their lead, 1:47 up on their compatriots heading into the run while Garcia Serrano and Andujar Bastida were third.
"We designed it where we wanted to go into the run with that kind of a gap," Snyder explained. "I did not think we were going to hold it. To have that gap and maintain it was really a cool feeling, and to come into that chute, grab that tape and throw it into the air is not something we've been able to do a lot and it was really awesome, for sure."
The silver and bronze medalists were determined during the four-lap, 5-kilometer run, often viewed as the leg on which to win or lose a triathlon.
Another Spaniard, Catalá Laparra with guide Iglesias Rodriguez, vaulted from sixth to second on the second lap and stayed there through the finish. Yoneoka improved from fourth entering the run to third halfway through. France's Thibault Rigaudeau, with guide Cyril Viennot, moved up a spot to fourth, while Coon and Potts slipped to fifth.
"First ever men's medal in triathlon for Team USA — I'm so proud of Brad and Greg, so amazing," Coon said. "As soon as we heard that Brad won, it lit the fire back up in me. I'm so happy and so proud."
The women's PTVI race was dominated by Spain's Susana Rodriguez, a three-time World champion who finished fifth in the PT5 competition five years prior in Rio.
Rodriguez and guide Sara Loehr paced the 12-woman field from the start and claimed gold in 1:07:15, 3 minutes, 56 seconds ahead of Italy's Anna Barbaro, who took silver in 1:11:11 with guide Charlotte Bonin. France's Annouck Curzillat earned bronze with guide Celine Bousrez in 1:11:45.
Competing in her second Paralympic Games, Elizabeth Baker (Signal Mountain, Tenn.) was sixth with guide Jillian Elliott (Gig Harbor, Wash.) — a former U.S. national team athlete — in 1:14:45. The 47-year-old Baker, a seven-time World Paratriathlon Event medalist, was fourth at both the 2016 Paralympic Games and 2019 World Championships.
Amy Dixon (Encinitas, Calif.) made her Paralympic debut at age 45 and finished 12th with guide Kirsten Sass (McKenzie, Tenn.), a 10-time age-group world champion. Dixon has competed at six World Championships since 2014, placing as high as fifth, and has medaled at nine World Paratriathlon Events, including a silver in February 2020.
"It feels amazing," Dixon said of being a Paralympian. "I was fighting for my life in the ICU eight months ago, and here I am on the start line of the biggest race in the world. I'm just so honored to represent my country, and to be able to start this race and finish it well with a smile on my face. I'm proud of our effort and, really, we had fun out there.
"There were so many USA cheers! We felt like celebrities the whole time. There were more cheers for us than I've ever heard. It was so uplifting and so wonderful to be a part of."
The U.S. earned three paratriathlon medals on the first of two days of competition in Tokyo, including gold from Allysa Seely (Glendale, Ariz.) and silver from Hailey Danz (Colorado Springs, Colo.) in the women's PTS2 category.
"This entire team is one of the coolest teams I've ever been on in my life, and it meant a lot to be up on that podium and hear our teammates off to my right," Snyder said. "I really feel like we represent the best of Team USA and I feel like that culture is embodied by triathlon for sure."
Paratriathlon competition at the Paralympic Games Tokyo 2020 concludes Sunday in Tokyo with the men's and women's PTWC races at 6:30 a.m. local time (5:30 p.m. ET Saturday) and men's and women's PTS5 competitions at 8:30 a.m. (7:30 p.m. ET Saturday).
Paralympic Games Tokyo 2020

750m swim, 20k bike, 5k run
Men's PTVI
—
Complete Results
1. Brad Snyder (Baltimore, Md.), with guide Greg Billington (San Francisco, Calif.), 1:01:16
2. Héctor Catalá Laparra (ESP), with guide Gustavo Rodriguez Iglesias, 1:02:11
3. Satoru Yoneoka (JPN), with guide Kohei Tsubaki, 1:02:20
U.S. Finishers

1. Brad Snyder (Baltimore, Md.), with guide Greg Billington (San Francisco, Calif.), 1:01:16
5. Kyle Coon (Colorado Springs, Colo.), with guide Andy Potts (Colorado Springs, Colo.), 1:03:00
Women's PTVI
—
Complete Results
1. Susana Rodriguez (ESP), with guide Sara Loehr, 1:07:15
2. Anna Barbaro (ITA), with guide Charlotte Bonin, 1:11:11
3. Annouck Curzillat (FRA), with guide Celine Bousrez, 1:11:45
U.S. Finishers

8. Elizabeth Baker (Signal Mountain, Tenn.), with guide Jillian Elliott (Gig Harbor, Wash.), 1:14:45
12. Amy Dixon (Encinitas, Calif.), with guide Kirsten Sass (McKenzie, Tenn.), 1:22:06