USA Triathlon Weekend Notebook Team USA Represented Across the Board in the Pro Field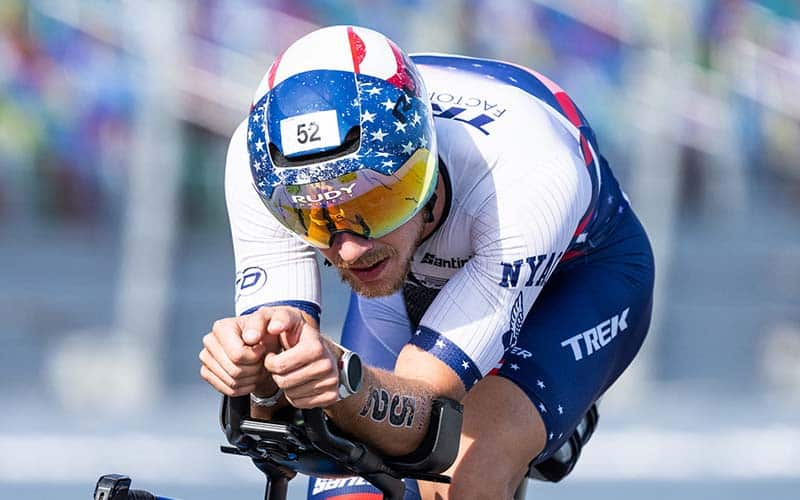 XTERRA World Championship
The XTERRA World Championship race, that was held in Maui, Hawaii brought a set of surprising challenges for the athletes after the swim was canceled for the first time in 25 years since the inaugural 1996 race on Maui due to massive surf and hazardous rip currents. The race was then made into a run-bike-run duathlon that started with a three-kilometer trail run and followed with a 31K mountain bike ride and finished with an 11K trail run through forest trails and beach sand.
Flora Duffy of Bermuda claimed victory in the women's race, solidifying an unstoppable season by becoming the Tokyo 2020 Olympic champion, World Triathlon Championship Series champ and now XTERRA world champion. While on the men's side, the win went to New Zealand's Hayden Wilde, who earned the overall time of 2 hours, 18 minutes and 24 seconds.

The U.S. had a great showing in Hawaii. Seth Rider (Germantown, Tenn.) finished just off the podium in fourth place.

But the spotlight of the race for Team USA was on Josiah Middaugh (Vail, Colo.), the 2015 XTERRA World Champion, who with a sixth-place overall finish is retiring from elite competition.

Check out this article from Triathlete that talked about Middaugh's decision to retire.

The top U.S. finisher on the women's side was Suzie Snyder (Boulder, Colo.) who had a time of 3:01:43 and finished fifth.
View this post on Instagram
CLASH Daytona
An exciting finish on the run brought home the inaugural CLASH Daytona title for USA's Jackie Hering (Cottage Grove, Wis.). She put forth a massive performance, showcasing her speed on the run after trailing nearly five minutes after T2. She cut the gap to Great Britain's Lucy Hall stride by stride and eventually on the final lap was able to pass her and claim the victory with a 23-second margin.

She finished the 2K swim, 80Km bike and 18Km run in 3:32:50.

Four of the top ten athletes on the men's side went to U.S. finishers:

4. Matt Hanson (Atlanta) 3:12:47
6. Ben Kanute (Phoenix, Ariz.) 3:16:12
8.Andrew Starykowicz (Long Grove, Ill.) 3:20:46
10.Nicholas Chase (St. George) 3:21:53

IRONMAN 70.3 Indian Wells La Quinta
A huge pro field showed up in La Quinta, California on Sunday for the IRONMAN 70.3 race.
Just off the podium, Chris Leiferman and Chris Foley were the top U.S. finishers on the men's side, placing fifth and sixth respectively.
On the women's side, USA's Danielle Lewis took the pro crown, clocking a 1:24:28 time. Joining her on the podium was American Ali Brauer.
USATF Half Marathon Championship
Tokyo 2020 Olympian and Mixed Relay Bronze Medalist Morgan Pearson focused on his running legs this past weekend by racing in the USATF Half Marathon Championships in Dardeeville, South Carolina.
His time did not disappoint. He clocked a 1:01:47 overall time, placing him eighth in the field. But his 4:43/mile time gave Pearson a time that was only a 1:08 from the Championship winner. That is fast!