2020 U.S. Paralympic Triathlon Team to be Named Tuesday, July 6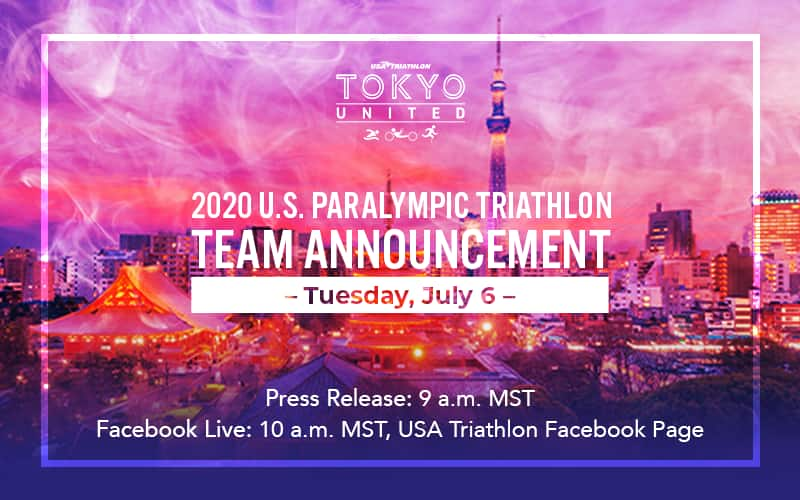 COLORADO SPRINGS, Colo. — USA Triathlon will announce its complete 2020 U.S. Paralympic Triathlon Team on Tuesday, July 6, unveiling the roster of athletes who will represent the United States at the Paralympic Games Tokyo 2020 this summer. The announcement will be made via press release and on USA Triathlon's social channels at 9 a.m. MT. An hour later, the athletes will appear on Facebook Live to share their reactions and discuss preparations for the Tokyo Games, joined by Rocky Harris, USA Triathlon CEO; Amanda Duke Boulet, USA Triathlon Paralympic Program Director; and Dedra DeLilli, Group Manager, Sponsorship, Integration & Auto Shows, Toyota Motor North America. Bob Babbitt, USA Triathlon and IRONMAN Hall of Famer, Co-Founder of the Challenged Athletes Foundation and USA Triathlon Foundation Trustee, will act as emcee.

Athletes will be available for interviews on Zoom starting at 10:30 a.m. MT (women), and 11 a.m. MT (men). Click here to RSVP and to request specific athletes (contingent on their being named to the team on July 6). Attendees must be members of the media; Zoom links will follow.

U.S. PARALYMPIC TRIATHLON TEAM ANNOUNCEMENT TIMELINE
Tuesday, July 6 (All Times MT)

USA Triathlon will provide media with photos, and videos if available, of all U.S. Paralympic Triathlon Team members upon request. To request photo and video, or to schedule interviews outside of the July 6 media availability, contact Caryn Maconi, USA Triathlon Marketing & Public Relations Senior Manager, at caryn.maconi@usatriathlon.org or 443-534-5954.

Triathlon at the Paralympic Games
Paratriathlon made its debut as a medal event at the Paralympic Games Rio 2016. The U.S. fielded a team of 10 athletes who earned four total medals, including a podium sweep in the women's PT2 category — Seely taking gold, Danz silver and Stockwell bronze — and a gold for Norman in the women's PT4 category. (The paratriathlon sport classes have been revised since Rio; for a complete explanation of paratriathlon sport classes, visit triathlon.org/paratriathlon/categories).

At the Paralympic Games, triathletes will cover a 750-meter swim, non-drafting 20-kilometer bike and 5-kilometer run. All races will be held at Tokyo's Odaiba Marine Park, the same venue as the Olympic triathlon competitions.

The Paralympic triathlon events will take place Friday, Aug. 27, and Saturday, Aug. 28, at 5:30 p.m. ET in the U.S. (Saturday, Aug. 28, and Sunday, Aug. 29 at 6:30 a.m. in Tokyo). Paratriathlon medal events in Tokyo include PTWC men and women, PTVI men and women, PTS4 men, PTS2 women and PTS5 men and women. Athletes whose classifications are not included in the Tokyo Games are permitted to "class up" and race in a higher category against athletes with less severe impairments, provided they meet qualification and selection criteria.
To learn more about USA Triathlon at the Olympic and Paralympic Games, visit usatriathlon.org/tokyo2020. USA Triathlon's Tokyo 2020 Media and Fan Guide will be produced and distributed in the coming weeks.
About Tokyo United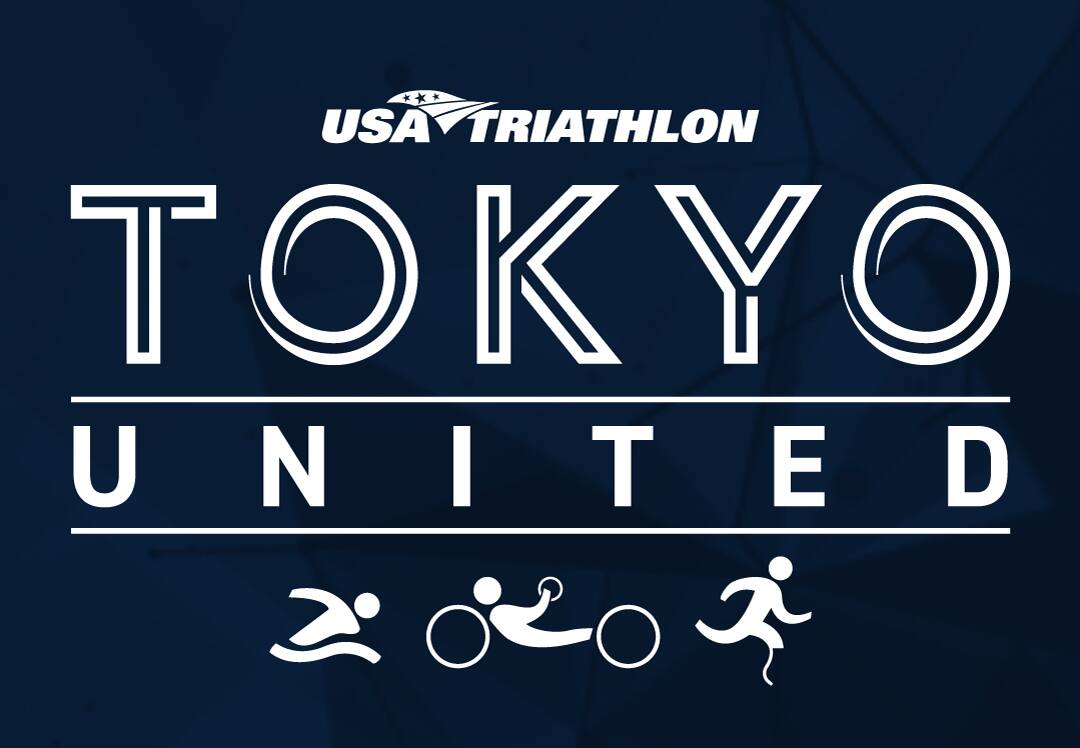 USA Triathlon is promoting its elite athletes in the lead-up to, during and beyond the Tokyo Olympic and Paralympic Games with its Tokyo United campaign. Tokyo United showcases the resilience, determination and teamwork shown by U.S. Olympians and Paralympians, and the communities surrounding them, on their path to the Games. Tokyo United also refers to the common experience shared by the USA Triathlon family over the last year — from amateur athletes, race directors, coaches and clubs whose racing plans were upended, to U.S. Olympic and Paralympic hopefuls whose dreams were deferred — and the many ways we lifted each other up in hopes of a more promising 2021. The three-phased campaign begins with United to Tokyo, showcasing each U.S. Olympic and Paralympic triathlon hopeful's journey from childhood to the biggest stage in sport — along with the family and support systems that
helped them along the way. The second phase, United in Tokyo, brings together the entire multisport community and the global Olympic and Paralympic family to support Team USA at the pinnacle of competition, and to revel in the long-awaited Olympic and Paralympic moment. The final phase, United Beyond Tokyo, will celebrate the achievements of the 2020 U.S. Olympic and Paralympic Teams before passing the torch to aspiring triathletes with Olympic and Paralympic dreams for the Paris 2024 and Los Angeles 2028 Games.
About USA Triathlon
USA Triathlon is proud to serve as the National Governing Body for triathlon, as well as duathlon, aquathlon, aquabike, winter triathlon, off-road triathlon and paratriathlon in the United States. Founded in 1982, USA Triathlon sanctions more than 4,000 events and connects with more than 400,000 members each year, making it the largest multisport organization in the world. In addition to its work at the grassroots level with athletes, coaches, and race directors — as well as the USA Triathlon Foundation — USA Triathlon provides leadership and support to elite athletes competing at international events, including World Triathlon Championships, Pan American Games and the Olympic and Paralympic Games. USA Triathlon is a proud member of World Triathlon and the United States Olympic & Paralympic Committee (USOPC).