USA Triathlon, Toyota and CAF to Again Offer Professional Prize Purse at Toyota USA Paratriathlon National Championships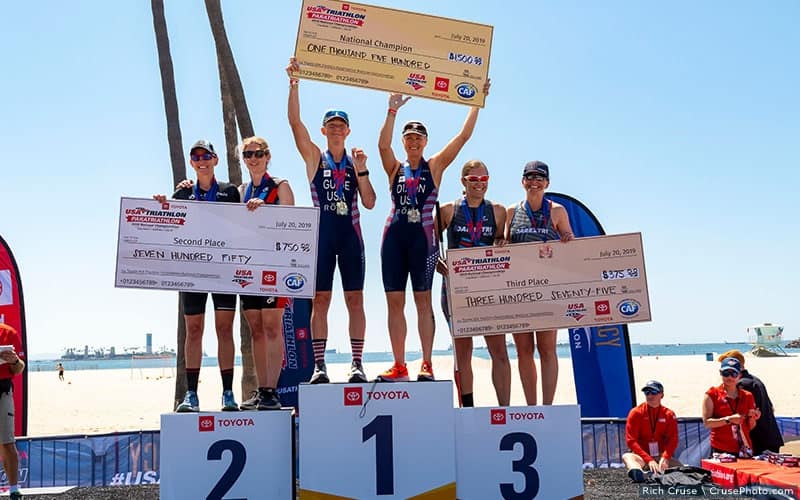 The women's PTVI podium at the 2019 Toyota USA Paratriathlon National Championships.
COLORADO SPRINGS, Colo. — USA Triathlon, in partnership with Toyota and the Challenged Athletes Foundation (CAF), today announced that for the second year a professional prize purse will be offered for athletes who medal at the Toyota USA Paratriathlon National Championships. The $36,750 total purse, to be provided in equal amounts by USA Triathlon, Toyota and CAF, will be presented to the podium finishers in each sport class.

The National Championships will be held Sunday, July 18, in Long Beach, California, in conjunction with the second running of the Toyota Legacy Triathlon. The race will take place at Alamitos Beach, the proposed site of the triathlon competitions for the Olympic and Paralympic Games Los Angeles 2028. Athletes will compete for national titles in six paratriathlon sport classes.

National champions will receive $1,500 each, runners-up will receive $750, and third-place finishers will receive $375. Sighted guides competing alongside athletes with visual impairments will also receive equivalent winnings.

A professional prize purse was introduced at Paratriathlon Nationals for the first time ever in 2019; the 2020 event was canceled due to COVID-19.

USA Triathlon, with support from World Triathlon and the U.S. Olympic & Paralympic Committee, has played a leading role in professionalizing the sport of paratriathlon, including being the first country in the world to offer prize money for an elite World Triathlon paratriathlon race. Toyota also continues to support the Toyota U.S. Paratriathlon Resident Team, now in its fourth year at the U.S. Olympic & Paralympic Training Center in Colorado Springs.

"Along with our partners at Toyota and CAF, USA Triathlon is committed to professionalizing the sport of paratriathlon while providing increased exposure and promotion for U.S. athletes," said Amanda Duke Boulet, Paralympic Program Director at USA Triathlon. "We are proud to offer a prize purse for the second year at Paratriathlon Nationals, and we hope to add more professional racing opportunities with financial incentive in the years leading into the Paris 2024 and Los Angeles 2028 Paralympic Games."

"CAF has always been a leader in providing great opportunities for challenged athletes," said Bob Babbitt, CAF Co-Founder. "To team up with Toyota and USA Triathlon to create the largest prize purse in paratriathlon history in order to support some of the greatest athletes on the planet is another giant step forward for our sport."

Toyota is USA Triathlon's Exclusive Mobility & Automotive Partner and the title partner of the Toyota U.S. Paratriathlon National Team. The company is directly supporting USA Triathlon's top elite athletes leading into this summer's Olympic and Paralympic Games Tokyo 2020, and has shown unparalleled commitment to the organization's paratriathlon program.

"Toyota is thrilled to partner with USA Triathlon and Challenged Athletes Foundation to once again award a prize purse to medalists at this year's Toyota USA Paratriathlon National Championships," said Dedra DeLilli, group manager, sponsorship, integration & activation Toyota Motor North America. "The participants competing in this event have overcome incredible obstacles in their pursuit of becoming elite athletes, and as a company committed to inclusivity through mobility, it's important they are recognized for their achievements. We're passionate about helping increase awareness of the sport of paratriathlon and look forward to watching the athletes compete."

Prize purse recipients must hold a current paratriathlete or elite paratriathlete USA Triathlon membership valid through July 18. In addition, they must either be a U.S. citizen or U.S. National able to represent the United States at World Triathlon competitions immediately.

For more information about the Toyota USA Paratriathlon National Championships, visit the event homepage at thelegacytriathlon.com. Legacy Triathlon weekend, which runs from July 16-18, will also include the USA Triathlon Aquathlon National Championships, the age-group Toyota Legacy Triathlon, an Open Water Swim competition, and the elite Americas Triathlon Cup Long Beach.

To learn more about USA Paratriathlon and its grassroots, military and elite programming, visit usaparatriathlon.org.

About Toyota
Toyota (NYSE:TM) has been a part of the cultural fabric in North America for more than 60 years, and is committed to advancing sustainable, next-generation mobility through our Toyota and Lexus brands plus our 1,800 dealerships.

Toyota has created a tremendous value chain and directly employs more than 47,000 in North America. The company has contributed world-class design, engineering, and assembly of more than 40 million cars and trucks at our 14 manufacturing plants, 15 including our joint venture in Alabama that begins production in 2021.

Through its Start Your Impossible campaign, Toyota highlights the way it partners with community, civic, academic and governmental organizations to address our society's most pressing mobility challenges. We believe that when people are free to move, anything is possible. For more information about Toyota, visit www.toyotanewsroom.com.

About the Challenged Athletes Foundation
The Challenged Athletes Foundation® (CAF) is a world leader in helping people with physical challenges lead active, healthy lifestyles. CAF believes that participation in physical activity at any level increases self-esteem, encourages independence and enhances quality of life. Since 1994, more than $134 million has been raised and over 35,000 funding requests from people with physical challenges in all 50 states and dozens of countries have been satisfied. Additionally, CAF's outreach efforts impact another 60,000 individuals each year. Whether it's a $2,500 grant for a handcycle, helping underwrite a carbon fiber running foot not covered by insurance, or arranging enthusiastic encouragement from a mentor who has triumphed over a similar challenge, CAF's mission is clear: give opportunities and support to those with the desire to live active, athletic lifestyles. To learn more, visit challengedathletes.org or call 858-866-0959.

About USA Triathlon
USA Triathlon is proud to serve as the National Governing Body for triathlon, as well as duathlon, aquathlon, aquabike, winter triathlon, off-road triathlon and paratriathlon in the United States. Founded in 1982, USA Triathlon sanctions more than 4,000 events and connects with more than 400,000 members each year, making it the largest multisport organization in the world. In addition to its work at the grassroots level with athletes, coaches, and race directors — as well as the USA Triathlon Foundation — USA Triathlon provides leadership and support to elite athletes competing at international events, including World Triathlon Championships, Pan American Games and the Olympic and Paralympic Games. USA Triathlon is a proud member of World Triathlon and the United States Olympic & Paralympic Committee (USOPC).