Toyota Legacy Triathlon Returns to Long Beach this Weekend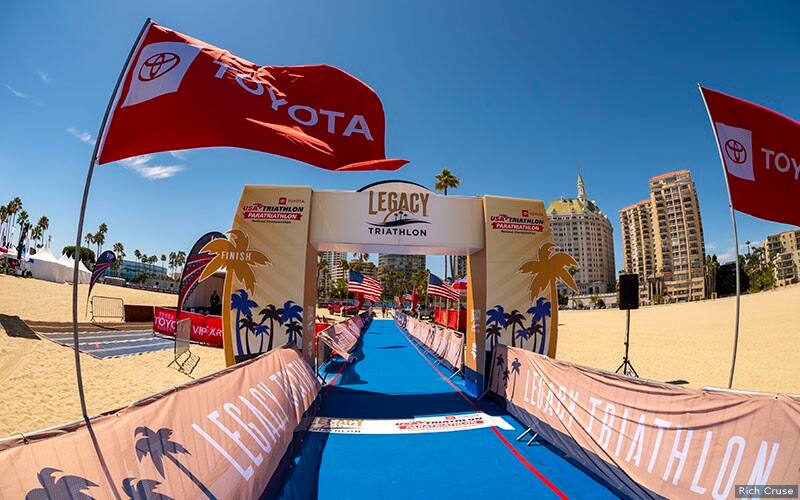 LONG BEACH, Calif. — The second Toyota Legacy Triathlon hosted by USA Triathlon returns to Long Beach this Friday-Saturday with an action-packed schedule of amateur, elite, paratriathlon and youth multisport events. The course for all races is set at Alamitos Beach, the proposed site of the triathlon competitions for the Olympic and Paralympic Games Los Angeles 2028. The event was held for the first time in 2019, as USA Triathlon became the first National Governing Body in the U.S. Olympic and Paralympic Movement to bring a new annual event to the Los Angeles footprint ahead of the 2028 Games.

The action starts Friday afternoon with a youth community giveback event, rowing (erg) competition, open water swim race and the USA Triathlon Aquathlon (swim-run) National Championships. On Saturday, age-group athletes will compete in the second running of the Legacy Triathlon, which includes an Olympian Pro-Am Relay event. Sunday's events include the Toyota USA Paratriathlon National Championships and an elite race, the Americas Triathlon Cup Long Beach.

FOR MEDIA
Requests for media credentials and media parking passes are due by noon PT on Friday, July 16. To request credentials, please contact Caryn Maconi, USA Triathlon Marketing & Public Relations Senior Manager, at caryn.maconi@usatriathlon.org or 443-534-5954.
Media parking (pass required) will be at the Long Beach Convention & Entertainment Center at 300 E. Ocean Blvd. Parking passes will be emailed to media in advance of race day and must be printed and presented at the Convention Center parking lot. Media should print parking passes for each day that they plan to attend the Legacy Triathlon.
The onsite media contact at the Legacy Triathlon will be Stephen Meyers, USA Triathlon Content Manager, at stephen.meyers@usatriathlon.org or 970-778-7743.
The race venue is at Alamitos Beach, near Marina Green, 386 E. Shoreline Dr., Long Beach, CA 90803
USA Triathlon will provide photos, video b-roll and athlete quotes on request for each race day.
Friday, July 16
USA Triathlon Foundation / Ready, Set Gold! Youth Event, 4 p.m.
The USA Triathlon Foundation has partnered with the LA Sports Council's Ready, Set, Gold! program, which helps youth discover healthy and active lifestyles while learning Olympic and Paralympic ideals. The USA Triathlon Foundation and Ready, Set, Gold! will host a youth clinic on Friday afternoon at the race venue at Alamitos Beach. Ninety children ages 8-15 will learn the basics of triathlon, race-walking and rowing directly from members of the Long Beach Rowing Association (led by former US Rowing National Team member Jack Nunn) and the Olympians competing in Saturday's Pro-Am Relay wave. All proceeds from Saturday's Olympian Pro-Am Relay wave will be donated to the USA Triathlon Foundation and the Ready, Set, Gold! program.

USA Triathlon Aquathlon National Championships and Open Water Swim Race, 6:45 p.m. PT
Athletes will compete for national titles at the Aquathlon National Championships, which feature a 1,000-meter swim off the coast of Alamitos Beach, followed by a 5-kilometer run along the shore. Top finishers in each age group will earn the opportunity to represent USA Triathlon's amateur Team USA at the 2022 World Triathlon Aquathlon Championships in Townsville, Australia. Friday night's schedule also includes an open water swim competition with 1,000m and 1,500m distance options.

Saturday, July 17
Legacy Triathlon and Olympian Pro-Am Relay, 6:45 a.m. PT
This age-group race starts with a 750m swim. The scenic course then takes athletes down Queens Highway and Shoreline Drive for 22k on the bike, before finishing with an out-and-back 5k run along the shore. Approximately 850 athletes are set to compete.

The Olympian Pro-Am Relay will feature nine three-person teams, each comprised of one Olympian and two amateur athletes. The amateur athletes made a donation to the USA Triathlon Foundation for the opportunity to participate, with proceeds going toward the USA Triathlon Foundation's youth pillar and the LA Sports Council's Ready, Set, Gold! program. In the relay, each athlete will complete one leg of the triathlon before tagging off to their next teammate. Nine Olympians from four different Olympic sports are set to participate, including:
Allen James, Race-Walking, 1992 and 1996 U.S. Olympian
Michellie Jones, Triathlon, 2000 Australian Olympic silver medalist, 2016 Australian Paralympic gold medalist (guide)
Barb Lindquist, Triathlon, 2004 U.S. Olympian
Joe Maloy, Triathlon, 2016 U.S. Olympian
Giddeon Massie, Track Cycling, 2004 U.S. Olympian
John Moffett, Swimming, 1984 U.S. Olympian, Qualified for Boycotted 1980 Olympics
John Naber, Swimming, 1976 U.S. Olympian, four-time gold medalist, 1-time silver medalist
Andy Potts, 2004 U.S. Olympian, 2020 U.S. Paralympian (guide)
Joanna Zeiger, 2000 U.S. Olympian
The Legacy Triathlon will also feature a Physically Challenged (PC) Open division for athletes who do not meet qualification criteria or time standards for the Toyota USA Paratriathlon National Championships.

Sunday, July 18
Toyota USA Paratriathlon National Championships, 6:30 a.m. PT
The nation's fastest paratriathletes — including six who will represent Team USA at the Paralympic Games Tokyo 2020 later this summer — will race for national titles in six paratriathlon sport classes. For the second time in history at the Toyota USA Paratriathlon National Championships, the race will feature a professional prize purse of $36,750, provided in equal parts by USA Triathlon, Toyota and the Challenged Athletes Foundation (CAF). Competitors will cover a 750m swim, 22k bike and 5k run.

Top finishers also have the opportunity to qualify for the Toyota USA Paratriathlon Development Team, designed to identify and develop athletic potential leading into the Paralympic Games Paris 2024. Approximately 35 elite paratriathletes are scheduled to race, including Tokyo-bound athletes Eric McElvenny (Pittsburgh, Pa., PTS4), Kelly Elmlinger (San Antonio, Texas, PTS4), Amy Dixon (Encinitas, Calif., PTVI) with guide Kirsten Sass (McKenzie, Tenn.), and Brad Snyder (Baltimore, Md.) with guide Greg Billington (San Francisco, Calif.).

Americas Triathlon Cup Long Beach (Elite Event), 8 a.m. PT (women), 9:30 a.m. PT (men)
For the first time, Long Beach will host an Americas Triathlon Cup race featuring elite triathletes and Paris 2024 Olympic hopefuls. The multi-loop course is held in the draft-legal format, in which athletes work together in tight packs on the bike. Athletes will cover a 750m swim, 20k bike and 5k run. Top U.S. men include U.S. National Team athlete Matt McElroy (Huntington Beach, Calif.), an alternate for the Olympic Games Tokyo 2020, and Darr Smith (Atlanta, Ga.), Chase McQueen (Columbus, Ind.), Austin Hindman (Wildwood, Mo.), Drew Shellenberger (Indianapolis, Ind.) and Keller Norland (Corvallis, Ore.), members of USA Triathlon's Project Podium men's elite development squad.

Top U.S. women include Junior and Under-23 World Champion Tamara Gorman, four-time World Triathlon Cup champion Renée Tomlin (Ocean City, N.J.), three-time U23 World Championships competitor Erika Ackerlund (Missoula, Mont.), 2021 Sarasota-Bradenton Elite Cup winner Gina Sereno (Madison, Wis.), and 2019 Junior National Champion Gillian Cridge (Indianapolis, Ind.). Click here for the complete men's start list, and here for the complete women's start list.

For complete Legacy Triathlon information, including a schedule of events and course maps, download the digital event program and visit the event website at thelegacytriathlon.com.

About USA Triathlon
USA Triathlon is proud to serve as the National Governing Body for triathlon, as well as duathlon, aquathlon, aquabike, winter triathlon, off-road triathlon and paratriathlon in the United States. Founded in 1982, USA Triathlon sanctions more than 4,000 events and connects with more than 400,000 members each year, making it the largest multisport organization in the world. In addition to its work at the grassroots level with athletes, coaches, and race directors — as well as the USA Triathlon Foundation — USA Triathlon provides leadership and support to elite athletes competing at international events, including World Triathlon Championships, Pan American Games and the Olympic and Paralympic Games. USA Triathlon is a proud member of World Triathlon and the United States Olympic & Paralympic Committee (USOPC).

About the USA Triathlon Foundation
The USA Triathlon Foundation was created in 2014 by the USA Triathlon Board of Directors as an independent tax-exempt 501(c)(3) entity. Under the leadership of its Trustees and Committee members, the Foundation serves as a means to create a healthier America through triathlon and seeks to transform lives by opening up new pathways to the sport for all, especially those who are otherwise underserved. The USA Triathlon Foundation operates with the belief that every child should have the chance to participate, every paratriathlete should have the opportunity to compete, and every aspiring elite athlete should be able to chase his or her Olympic dream. Since the Foundation's inception, more than $1.9 million has been provided to worthy causes and organizations that support its mission. Donations to the USA Triathlon Foundation ensure America's youth are introduced to the benefits and fun of a multisport lifestyle, athletes with disabilities receive the training, support and gear to be able to participate and excel, and the best aspiring young athletes have a chance to pursue their Olympic Dreams. Visit usatriathlonfoundation.org to learn more and donate today.

About Ready, Set, Gold!
Ready, Set, Gold! is a 501(c)(3) non-profit, community health and fitness program that promotes healthy and active lifestyles to children in Southern California schools. This one-of-a kind program launched in 2006 with the mission to promote fitness and life-long healthy habits by pairing Olympians and Paralympians with schools throughout Southern California. Ready, Set, Gold! Olympians and Paralympians work with students to educate them on the importance of the growth mindset while teaching them how to adopt healthy habits into their daily lifestyle. Ready, Set, Gold! aims to help students of all backgrounds, encouraging them to achieve their dreams and live their best life.