Multisport Legends, Industry Leaders to Present Pre- and Post-Race Commentary on Facebook Live for Olympic and Paralympic Triathlon Events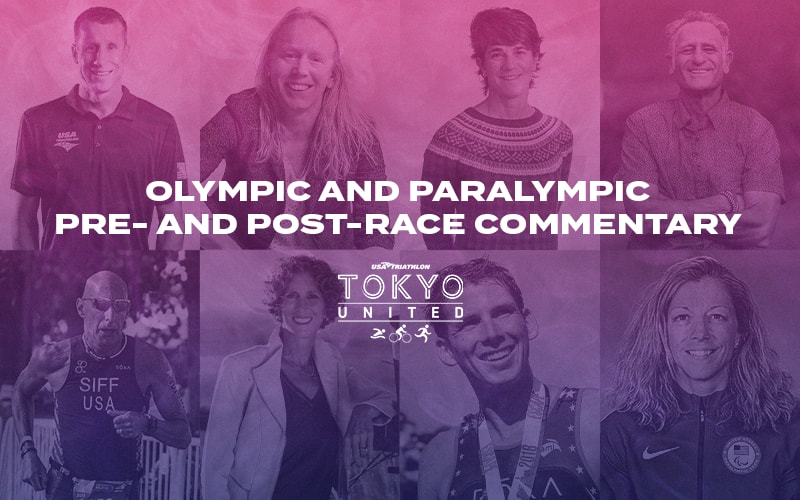 COLORADO SPRINGS, Colo. — As part of USA Triathlon's Tokyo United campaign, USA Triathlon and Triathlete today announced a lineup of eight triathlon legends and industry leaders who will present pre- and post-race commentary on Facebook Live for the triathlon competitions at the Olympic and Paralympic Games Tokyo 2020:

Hunter Kemper, Four-Time U.S. Olympian

Barry Siff, Former USA Triathlon Board of Directors President and World Triathlon Executive Board Member

Kelly O'Mara, Triathlete Editor-In-Chief

Joanna Zeiger, 2000 U.S. Olympian

Barb Lindquist, 2004 U.S. Olympian, Former USA Triathlon Collegiate Recruitment Program Manager

Joe Maloy, 2016 U.S. Olympian, USA Triathlon Development Manager

Bob Babbitt, USA Triathlon and IRONMAN Hall-of-Famer, Challenged Athletes Foundation Co-Founder

Patty Collins, 2016 U.S. Paralympian



On each race day, commentators will go live on USA Triathlon's Facebook Page for 30 minutes pre-race to preview the races and spotlight athletes to watch and notable storylines. After the races, commentators will return to Facebook Live to share their reactions, in-depth analysis and a breakdown of the competition. Viewers can pose questions to the commentators in real-time, and recorded versions of all conversations will be housed USA Triathlon's Facebook page and YouTube channel.

For the Olympic races themselves, fans can tune into USA Network for the live TV broadcast or NBCOlympics.com for livestreaming. Click here for NBC's complete Olympic Games broadcast schedule (Paralympic Games details to follow).

USA Triathlon and Triathlete will also provide live coverage on social media during all Olympic and Paralympic races. Follow @usatriathlon on Facebook, Twitter, and Instagram, and @triathletemag on Twitter and Instagram, to join the conversation.

Sunday, July 25: Olympic Men's Individual
Pre-Race Commentary: 4:45-5:15 p.m. ET, Post-Race Commentary: 8-8:30 p.m. ET
Race scheduled for 5:30 p.m. ET on USA Network and streaming at NBCOlympics.com

Competing Athletes: Kevin McDowell, Morgan Pearson
Pre- and Post-Race Commentators: Hunter Kemper & Barry Siff

About Kemper: Hunter Kemper is the most decorated U.S. male triathlete in history. He is the only American and one of only two male triathletes in history to have represented his country at the first four Olympic triathlon competitions, competing at the Sydney 2000, Athens 2004, Beijing 2008 and London 2012 Games with a best finish of seventh in 2008 (Beijing). He also represented the U.S. at two Pan American Games, taking home silver in 1999 and gold in 2003. He earned a record seven USA Triathlon Elite National Championship titles and is one of only two American men to be ranked No. 1 in the world, which he accomplished in 2005. He was named the 2005 U.S. Olympic & Paralympic Committee Sportsman of the Year, is a five-time U.S. Olympic & Paralympic Committee Triathlete of the Year and was inducted into the USA Triathlon Hall of Fame in 2018. Kemper continues to be involved in the multisport community, volunteering and promoting youth triathlons across the country and participating in Olympic-themed community events in his hometown of Colorado Springs.
About Siff: Barry Siff started his triathlon career in 1986, and since then has done just about everything related to the sport. As a triathlete, he has raced a dozen IRONMANs including the 1988 IRONMAN World Championship in Kona, and he has raced on Team USA three times internationally. Siff and his wife, Jodee, produced one of the most successful and popular triathlon race series in America from 2004-2009, the "5430 Sports Triathlon Series," before selling it to IRONMAN. He has written for nearly every triathlon magazine over the past two decades and has co-authored two books. He served on the Board of Directors of USA Triathlon from 2012-19, including as President from 2014-19. He served on the World Triathlon Executive Board from 2014-19 and continues to serve on its Age-Group Commission and Equity, Diversity and Inclusion Commission.
Monday, July 26: Olympic Women's Individual
Pre-Race Commentary: 4:45-5:15 p.m. ET, Post-Race Commentary: 8-8:30 p.m. ET
Race scheduled for 5:30 p.m. ET on USA Network and streaming at NBCOlympics.com

Competing Athletes: Taylor Knibb, Summer Rappaport, Katie Zaferes
Pre- and Post-Race Commentators: Kelly O'Mara & Joanna Zeiger

About O'Mara: Kelly O'Mara is the editor-in-chief at Triathlete Magazine. She previously worked for a variety of companies in the endurance sports space as a reporter, editor and consultant. Her work has appeared in LAVA, espnW, Outside and Competitor. She most recently was a producer at KQED, the NPR station in San Francisco. She also races a lot.
About Zeiger: Dr. Joanna Zeiger, MS, PhD, raced as a professional triathlete from 1998-2010. She placed fourth in the inaugural triathlon event at the Olympic Games Sydney 2000 and won the 2008 IROMAN 70.3 World Championship in world-record time. She is a seven-time U.S. Olympic Trials qualifier in three sports — marathon (3), triathlon (3) and swimming (1). She still pursues her passion for sports as a top Masters runner. When she is not training for running events, Dr. Zeiger works as a cannabis epidemiologist and the Founder & CEO of the nonprofit organization Canna Research Foundation. Through her company RaceReady Coaching, Dr. Zeiger works with endurance athletes of all ages and abilities reach their athletic goals with training plans that develop physical fitness and hone mental skills. Her book "The Champion Mindset: An Athlete's Guide to Mental Toughness" (St. Martin's Press) was published in February 2017.
Friday, July 30: Olympic Mixed Relay
Pre-Race Commentary: 5:45-6:15 p.m. ET, Post-Race Commentary: 8:30-9 p.m. ET
Race scheduled for 6:30 p.m. ET on USA Network and streaming at NBCOlympics.com

Competing Athletes: TBD (2 Women, 2 Men)
Pre- and Post-Race Commentators: Barb Lindquist & Joe Maloy

About Lindquist: Barb Metz Lindquist is a 2004 U.S. Olympian who raced as a professional triathlete from 1996-2005. Of her 134 pro career starts, she won 33 races (25%), stood on the podium 86 times (64%), and had 114 top 10 finishes (85%) covering all distances from sprint to IRONMAN, specializing in the Olympic distance. She was a member of the USA Triathlon World Championship Team for 10 straight years with her best finish being a silver medal in 2002 at Cancun, Mexico. The pinnacle of her career was representing the USA at the 2004 Olympics in Athens. Lindquist was inducted into the USA Triathlon Hall of Fame in 2010 and the ITU Hall of Fame in 2017. In 2009, Lindquist launched and led the USA Triathlon Collegiate Recruitment Program, where she identified athletes from NCAA swimming and running programs to talent ID for the Olympic pipeline. In 2019 she left USA Triathlon to spend more time with her family and homeschool her children, Bjorn and Zane.
About Maloy: Joe Maloy is a 2016 U.S. Olympian and was a member of the United States' first world champion Mixed Relay team in 2016 with Gwen Jorgensen, Ben Kanute and Kirsten Kasper. He was a member of USA Triathlon's National Team from 2012-2016 and currently works for USA Triathlon as Development Manager, overseeing elite athlete identification and development. He is a 2008 graduate of Boston College, where he was a four-year NCAA varsity swimmer. Maloy lives with his wife, Jenn, and their daughter, Brooke, in Carlsbad, California.
Friday, Aug. 27 and Saturday, Aug. 28: Paralympic Games
Pre-Race Commentary: 4:45-5:15 p.m. ET, Post-Race Commentary: 8-8:30 p.m. ET
Races scheduled for 5:30 p.m. ET, broadcast information TBD

Competing Athletes: Elizabeth Baker (with guide Jillian Elliott), Jamie Brown, Kyle Coon (with guide Andy Potts), Hailey Danz, Amy Dixon (with guide Kirsten Sass), Kelly Elmlinger, Kendall Gretsch, Chris Hammer, Eric McElvenny, Grace Norman, Allysa Seely, Brad Snyder (with guide Greg Billington), Melissa Stockwell

Pre- and Post-Race Commentators: Bob Babbitt & Patty Collins

About Babbitt: Bob Babbitt is the Co-Founder of Competitor Magazine, the Creator of the Muddy Buddy Ride and Run Series, and the Co-Founder of the Challenged Athletes Foundation. CAF, established in 1994, funds the equipment, training and travel that challenged athletes need to stay in the game of life through sport. Over 35,000 grants have been distributed to challenged athletes in 73 countries and in all 50 states during that time. Babbitt is also the author of five books on the sport of triathlon including the 40th Anniversary Coffee Table Book on the IRONMAN World Championship. He currently hosts 'Breakfast with Bob' on YouTube as well as 'CAF's Heroes of Sport. He is an inductee into the Carlsbad 5000 Hall of Fame, the USA Triathlon Hall of Fame, the Ironman Triathlon Hall of Fame and has been honored by the Paralysis Project of America for his long-time support of wheelchair sports. He is also a member of the USA Triathlon Foundation Board of Trustees. Babbitt raced his first triathlon in 1978, has completed over 300 triathlons during that team and is proud to be competing in his 10th age division in 2021.
About Collins: Patty Collins has been an avid triathlete since 1989 and began her paratriathlon career in 2012. She competed in paratriathlon's debut at the Paralympic Games Rio 2016, placing 10th. Collins is a three-time World Paratriathlon Championships medalist, two-time USA Paratriathlon National Champion, and holds the world record for a female amputee in an IRONMAN 70.3 triathlon (5 hours, 36 minutes). Collins is a 25-year U.S. Army veteran, serving nine of those years as an amputee, including deployments to Afghanistan and returning to parachuting status. She retired with the rank of Colonel. Collins is currently the Deputy Director of the Government Publishing Office headquartered in Washington, D.C.
About Tokyo United
USA Triathlon is promoting its elite athletes in the lead-up to, during and beyond the Tokyo Olympic and Paralympic Games with its Tokyo United campaign. Tokyo United showcases the resilience, determination and teamwork shown by U.S. Olympians and Paralympians, and the communities surrounding them, on their path to the Games. Tokyo United also refers to the common experience shared by the USA Triathlon family over the last year — from amateur athletes, race directors, coaches and clubs whose racing plans were upended, to U.S. Olympic and Paralympic hopefuls whose dreams were deferred — and the many ways we lifted each other up in hopes of a more promising 2021. The three-phased campaign begins with United to Tokyo, showcasing each U.S. Olympic and Paralympic triathlon hopeful's journey from childhood to the biggest stage in sport — along with the family and support systems that helped them along the way. The second phase, United in Tokyo, brings together the entire multisport community and the global Olympic and Paralympic family to support Team USA at the pinnacle of competition, and to revel in the long-awaited Olympic and Paralympic moment. The final phase, United Beyond Tokyo, will celebrate the achievements of the 2020 U.S. Olympic and Paralympic Teams before passing the torch to aspiring triathletes with Olympic and Paralympic dreams for the Paris 2024 and Los Angeles 2028 Games.

About USA Triathlon
USA Triathlon is proud to serve as the National Governing Body for triathlon, as well as duathlon, aquathlon, aquabike, winter triathlon, off-road triathlon and paratriathlon in the United States. Founded in 1982, USA Triathlon sanctions more than 4,000 events and connects with more than 400,000 members each year, making it the largest multisport organization in the world. In addition to its work at the grassroots level with athletes, coaches, and race directors — as well as the USA Triathlon Foundation — USA Triathlon provides leadership and support to elite athletes competing at international events, including World Triathlon Championships, Pan American Games and the Olympic and Paralympic Games. USA Triathlon is a proud member of World Triathlon and the United States Olympic & Paralympic Committee (USOPC).

About Triathlete
Triathlete is the resource for performance-driven triathletes who want to train smarter, race faster, and achieve their highest potential. Published six times a year in print and every day on the web, we deliver practical advice on everything from gear and nutrition to training and racing. With behind-the-scenes profiles of top professionals and compelling photography, we aim to provide you with an in-depth look at the people, the industry, and the trends — to take you inside the sport of triathlon.