USA Triathlon Unveils 2020 U.S. Olympic and Paralympic Triathlon Team Uniforms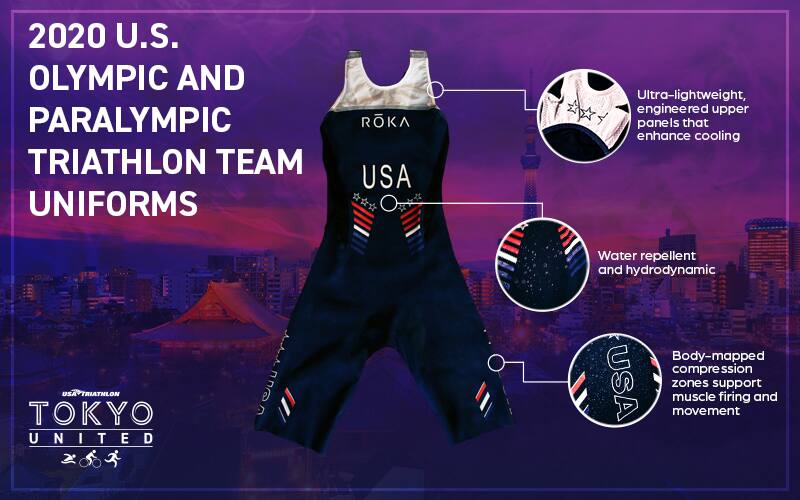 COLORADO SPRINGS, Colo. — USA Triathlon and ROKA today unveiled the race uniforms that members of the 2020 U.S. Olympic and Paralympic Triathlon Teams will wear in competition at this summer's Olympic and Paralympic Games Tokyo 2020.

The uniforms, designed and created by ROKA, have been built specifically for the hot and humid conditions Olympians and Paralympians will face in Tokyo — and detailed aero- and hydrodynamic elements help athletes maximize their performance on sport's biggest stage at the Games.

The kit features core fabric panels that provide water repellency and hydrodynamics, along with ultra-lightweight, engineered upper panels that enhance cooling on the bike and run. Body-mapped compression zones support muscle firing and movement in all three triathlon disciplines, while cooling and wicking finishes help pull and diffuse heat to assist with temperature control. The fit and construction is customized for each member of the Tokyo-bound U.S. Olympic and Paralympic Teams.

Click here for a video from ROKA introducing the uniforms and the technology behind them.

"The level of detail that has gone into testing, designing and creating the uniforms for our Tokyo-bound triathletes — over several years and countless iterations — demonstrates ROKA's dogged commitment to performance," said Ryan Bolton, USA Triathlon High Performance Advisor. "Our U.S. Olympic and Paralympic Teams will toe the line in Tokyo knowing they will not lose a single second due to uniform concerns — and, in fact, they will be empowered to maximize their potential through ROKA's world-class technology."

"Our mission is to unlock human potential. We believe we have reached our target with this product for these incredible athletes," said Kurt Spenser, ROKA Co-Founder. "They will be competing in the most advanced, innovative and tested triathlon uniform on the planet — specifically designed for the racecourse in Tokyo. We are grateful for the opportunity and commitment of USA Triathlon over the last several years. The design team, staff and athletes, whose blood, sweat and tears lay on the floor of the environmental chamber, on the track and on the streets, are to be commended for their contribution to the process."

ROKA experimented with more than 20 different fabrics and multiple construction variations in hot, dynamic race conditions to perfect the kit's design. Tokyo hopeful triathletes tested the uniform during workouts at the U.S. Olympic & Paralympic Training Center in Colorado Springs, Colorado, in a training room in which climate settings (temperature, humidity level and altitude) were adjusted to expected race-day conditions in Tokyo.

"ROKA is always pushing the limits to make sure they have the perfect product for whatever conditions you find yourself in. They have done the same with the Tokyo suits," said Katie Zaferes, 2016 and 2020 U.S. Olympian, 2019 World Champion and ROKA-sponsored athlete. "The suits are engineered for the specific conditions in Tokyo. They are fast, lightweight, comfortable and with cooling features to make sure that on race day, we can make the most of our fitness and readiness."

Triathlon at the Olympic Games
The five members of the 2020 U.S. Olympic Triathlon Team are Taylor Knibb, Summer Rappaport and Katie Zaferes on the women's side, and Kevin McDowell and Morgan Pearson on the men's side. All are first-time Olympians except for Zaferes, who competed at the Rio 2016 Games. Triathlon at the Tokyo Olympic Games will include individual competitions for men and women, as well as a Mixed Relay, which makes its debut as an Olympic medal event. In the individual events, athletes cover a 1,500-meter swim, 40-kilometer bike and 5-kilometer run. In the Mixed Relay, four athletes from the same country (two men, two women) compete on a team. Each athlete covers a 300m swim, 6.8k bike and 2k run before tagging off to the next teammate, with the fastest combined time winning the race. The U.S. is historically strong in the Mixed Relay format, winning five World Championship medals including gold in 2016.

The Olympic men's triathlon competition is scheduled for Sunday, July 25, at 5:30 p.m. ET (Monday, July 26 at 6:30 a.m. Tokyo time). The Olympic women's event is set for Monday, July 26, at 5:30 p.m. ET (Tuesday, July 27 at 6:30 a.m. Tokyo time). The Mixed Relay is set for Friday, July 30, at 6:30 p.m. ET (Saturday, July 31 at 7:30 a.m. Tokyo time).

Triathlon at the Paralympic Games
Paratriathlon made its debut as a medal event at the Paralympic Games Rio 2016. The U.S. fielded a team of 10 athletes who earned four total medals, including a podium sweep in the women's PT2 category — Allysa Seely taking gold, Hailey Danz silver and Melissa Stockwell bronze — and a gold for Grace Norman in the women's PT4 category. (The paratriathlon sport classes have been revised since Rio; for a complete explanation of paratriathlon sport classes, visit triathlon.org/paratriathlon/categories).

The 2020 U.S. Paralympic Triathlon Team includes 17 athletes. Seely, Danz, Stockwell and Norman head into Tokyo as defending medalists, while 2016 U.S. Paralympians Elizabeth Baker (with guide Jillian Elliott) and Chris Hammer also return to the Games. Brad Snyder makes his Paralympic triathlon debut (with guide Greg Billington, a 2016 U.S. Olympian), after winning seven medals in swimming at the London 2012 and Rio 2016 Games. Kendall Gretsch will compete at her first summer Paralympics after winning two golds in Nordic skiing at the PyeongChang 2018 Winter Games. First-time Paralympians include Jamie Brown; Kyle Coon (with guide Andy Potts, a 2004 U.S. Olympian); Amy Dixon (with guide Kirsten Sass); Kelly Elmlinger; and Eric McElvenny.

At the Paralympic Games, triathletes will cover a 750m swim, non-drafting 20k bike and 5k run. All races will be held at Tokyo's Odaiba Marine Park, the same venue as the Olympic triathlon competitions.

The Paralympic triathlon events will take place Friday, Aug. 27, and Saturday, Aug. 28, at 5:30 p.m. ET in the U.S. (Saturday, Aug. 28, and Sunday, Aug. 29 at 6:30 a.m. in Tokyo). Paratriathlon medal events in Tokyo include PTWC men and women, PTVI men and women, PTS4 men, PTS2 women and PTS5 men and women. Athletes whose classifications are not included in the Tokyo Games are permitted to "class up" and race in a higher category against athletes with less severe impairments, provided they meet qualification and selection criteria.

About ROKA
ROKA started in a garage in Austin, Texas with humble beginnings and laser-beam focus. ROKA's mission is to unlock human potential. To equip, empower, inspire and ignite. ROKA serves those who seek to redefine the standard, to push themselves to the limit – whatever and wherever that may be.

Since its launch in 2013, ROKA athletes have won over a dozen world titles and have been instrumental in the design and development of an unprecedented collection of patented and award-winning products. In 2016, ROKA was proud to send 18 athletes to the Rio Olympics, taking home Gold and Bronze. In PyeongChang, ROKA continued the tradition, taking home Olympic Gold and Bronze in their Advanced Performance eyewear. 2018 has seen elite athletes around the globe in running, cycling, triathlon, speed skating, beach volleyball, and off-road endurance events trusting ROKA eyewear for their most important performances on the biggest of stages.

ROKA products are available worldwide at www.roka.com and through select retailers. Visit us online to learn more about our growing lines of premium performance eyewear. Follow ROKA on social media at Facebook, Twitter, and Instagram.

About USA Triathlon
USA Triathlon is proud to serve as the National Governing Body for triathlon, as well as duathlon, aquathlon, aquabike, winter triathlon, off-road triathlon and paratriathlon in the United States. Founded in 1982, USA Triathlon sanctions more than 4,000 events and connects with more than 400,000 members each year, making it the largest multisport organization in the world. In addition to its work at the grassroots level with athletes, coaches, and race directors — as well as the USA Triathlon Foundation — USA Triathlon provides leadership and support to elite athletes competing at international events, including World Triathlon Championships, Pan American Games and the Olympic and Paralympic Games. USA Triathlon is a proud member of World Triathlon and the United States Olympic & Paralympic Committee (USOPC).