McDowell Sixth in Huatulco, McElvenny Takes Silver in Besancon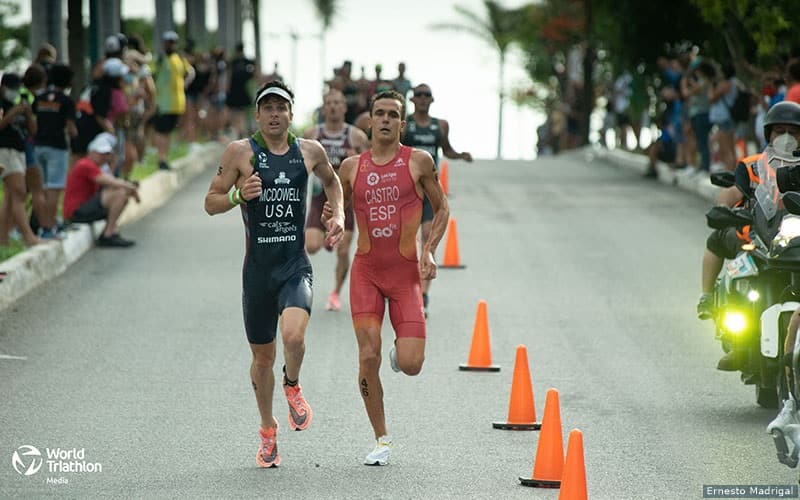 HUATULCO, Mexico — Kevin McDowell (Geneva, Ill.) was the top American man Sunday at the World Triathlon Cup Huatulco, placing sixth in the final stop of the elite race calendar before the Tokyo Olympic Games. Across the world in France, Eric McElvenny (Pittsburgh, Pa.) earned a silver medal at the World Triathlon Para Cup Besancon.

World Triathlon Cup Huatulco
The elite men battled stifling heat in Huatulco, covering a sprint-distance 750-meter ocean swim, 20-kilometer bike and 5-kilometer run. Russia's Igor Polyanskiy was first out of the water in 8 minutes, 25 seconds — but Darr Smith (Atlanta, Ga.), McDowell, Tony Smoragiewicz (Rapid City, S.D.) and Austin Hindman (Wildwood, Mo.) were all within 20 seconds.

Without much separation in the swim, a pack of more than 40 athletes formed on the bike. Eventual winner Tyler Mislawchuk of Canada pushed the pace at the front, along with Sweden's Gabriel Sandor and Hungary's Gabor Faldum. McDowell positioned himself well as the group approached the second transition — and heading onto the 5k run, he was in third behind Faldum and Mislawchuk.

Halfway through the 5k run course, Mislawchuk had a five-second lead on Spain's David Castro Fajardo, with McDowell and Brazilians Manoel Messias and Miguel Hidalgo just steps behind.

Mislawchuk continued to gain ground over the final 2.5k. He ultimately took the win in 53 minutes, 9 seconds, successfully defending his 2019 Huatulco title with a 12-second lead on the rest of the field. Messias and Hidalgo ended in a sprint finish for silver and bronze, with Messias battling his Brazilian teammate to the line to take second place.

McDowell was just seven seconds off the podium, taking sixth in 53:29 for his best international performance so far this season. Smith finished 20th in 54:11, followed by Smoragiewicz in 22nd (54:13). Hindman rounded out the U.S. contingent in 26th with a time of 54:27.

2021 World Triathlon Cup Huatulco
750m swim, 20k bike, 5k run

Elite Men — Complete Results
1. Tyler Mislawchuk (CAN), 53:09
2. Manoel Messias (BRA), 53:21
3. Miguel Hidalgo (BRA), 53:22

U.S. Finishers
6. Kevin McDowell (Geneva, Ill.) 53:29
20. Darr Smith (Atlanta, Ga.), 54:11
22. Tony Smoragiewicz (Rapid City, S.D.), 54:13
26. Austin Hindman (Wildwood, Mo.), 54:27

Olympic Qualification Process
The complete U.S. Olympic Triathlon Team will be named on Wednesday, June 16. Click here for a detailed timeline of Wednesday's announcement, including a press release, Facebook Live event and media availabilities.

USA Triathlon designated two Auto-Selection Events for the U.S. Olympic Triathlon Team, in which athletes had the opportunity to auto-qualify for Tokyo by meeting specific criteria. The two Auto-Selection events were the 2019 ITU World Olympic Qualification Event on Aug. 4, 2019, and the 2021 World Triathlon Championship Series Yokohama on May 15. Summer Rappaport (Thornton, Colo.) became the first woman to qualify for the U.S. Olympic Team with a fifth-place finish at the 2019 Tokyo event. Taylor Knibb (Washington, D.C.) joined Rappaport on the women's roster by way of her victory May 15 in Yokohama, Japan, while Morgan Pearson (Boulder, Colo.) claimed the first spot on the men's team thanks to a bronze-medal performance in Yokohama.

All remaining spots on the 2020 U.S. Olympic Triathlon Team, including at least one male and one female, will be selected via discretion by USA Triathlon's Games Athlete Selection Committee and announced on June 16.

World Triathlon Para Cup Besancon
Two U.S. paratriathletes competed in Besancon, France, on Sunday, racing over a sprint-distance 750m swim, 20k bike and 5k run. McElvenny impressed in the men's PTS4 category, taking silver in one of the most competitive races of the day. While France's Alexis Hanquinquant dominated the field with a time of 1:03:22, McElvenny crossed the line second in 1:09:02 — besting bronze medalist Joe Kurt of Luxembourg by 26 seconds.

In the men's PTWC category, Howie Sanborn (Denver, Colo.) placed sixth with a time of 1:19:18. Sanborn is set to race again next weekend, as the only American on the start list for the World Triathlon Para Cup A Coruna in Spain.

2021 World Triathlon Para Cup Besancon
750m swim, 20k bike, 5k run — Complete Results

PTWC Men
6. Howie Sanborn (Denver, Colo.), 1:19:18

PTS4 Men
2. Eric McElvenny (Pittsburgh, Pa.), 1:09:02

About USA Triathlon
USA Triathlon is proud to serve as the National Governing Body for triathlon, as well as duathlon, aquathlon, aquabike, winter triathlon, off-road triathlon and paratriathlon in the United States. Founded in 1982, USA Triathlon sanctions more than 4,000 events and connects with more than 400,000 members each year, making it the largest multisport organization in the world. In addition to its work at the grassroots level with athletes, coaches, and race directors — as well as the USA Triathlon Foundation — USA Triathlon provides leadership and support to elite athletes competing at international events, including World Triathlon Championships, Pan American Games and the Olympic and Paralympic Games. USA Triathlon is a proud member of World Triathlon and the United States Olympic & Paralympic Committee (USOPC).