Registration Now Open for Power Within Virtual Tri to Tokyo Presented by MANSCAPED™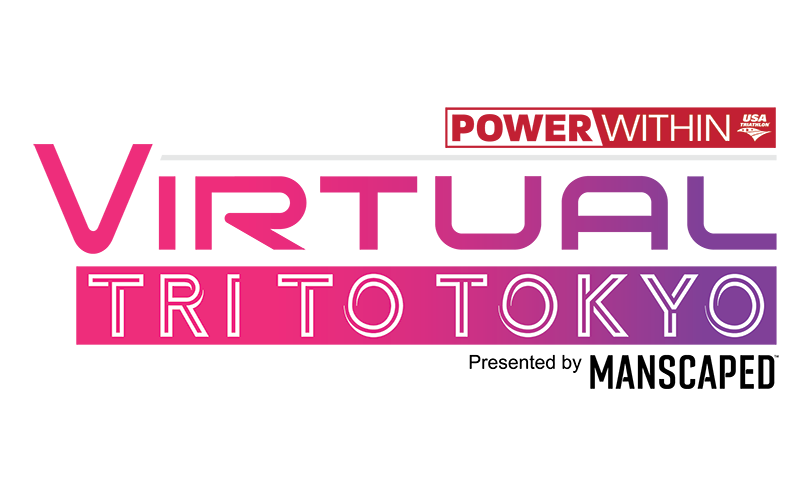 COLORADO SPRINGS, Colo. — USA Triathlon today announced the opening of registration for the Power Within Virtual Tri to Tokyo Presented by MANSCAPED™, a team-based virtual multisport event that runs from Monday, July 19, through Sunday, Sept. 12.

Teams are challenged to swim, bike and run a total of 5,483 miles — the distance from the training center in Colorado Springs, Colorado to Tokyo's Odaiba Marine Park, which will host the triathlon competitions this summer.

The eight-week challenge is USA Triathlon's longest virtual event to date, both in total mileage goal and in time to complete the challenge. Upon registration, athletes can join an existing team on the Virtual Tri to Tokyo platform, or captain a new team. There is no limit to team size. individuals who wish to join the challenge but do not have a designated team are invited to join pre-existing nationwide teams based on age group, or one of two teams captained by U.S. Olympic and Paralympic triathlon alumni Manny Huerta (2012) and Jarrod Shoemaker (2008). Athletes can also connect with fellow multisport enthusiasts and recruit new team members on the challenge's Facebook Page.

The event is free to enter. Participants may select the $35 option to receive a custom finisher's medal, while advancing the USA Triathlon Foundation's high performance initiatives and helping support future elite athletes. A $55 option is also available, which comes with the benefits of the $35 package plus an exclusive USA Triathlon-branded medal hanger.

"The Power Within Virtual Tri to Tokyo encourages the multisport community to find inspiration in USA Triathlon's elite athletes as they prepare to compete on sport's biggest stage," said Thomas Lenneberg, Marketing Director at USA Triathlon. "And true to the inclusive nature of our sport, this challenge welcomes all athletes regardless of experience and skill level as participants can contribute to their team's overall success in myriad ways. We also encourage participants to take advantage of this unique opportunity to connect with fellow multisport enthusiasts near and far as they work toward a common goal and share in the virtues of our sport. We can't wait to see which teams can harness their power within to successfully cover the distance to Tokyo."

Supporting partners of the challenge include Toyota, TrueForm and InsideTracker, while Compeed is a contributing partner.

Participants will have the opportunity to win more than $8,000 in prizes from USA Triathlon's corporate partners throughout the challenge, including a Wahoo Fitness Elemnt Rival GPS Watch and Elemnt Bolt GPS Bike Computers; Newton Running shoes; Rudy Project Wingspan helmets; and Hand & Stone Massage gift cards. Additionally, teams that complete the entire 5,483-mile challenge will be eligible to win a $2,000 prize pack from InsideTracker.

During registration, business owners and employees are also invited to join the Makers Wanted Corporate Challenge Presented by Elk Grove Village, USA Triathlon's Exclusive Entrepreneur Community. Corporate teams will have exclusive opportunities to win NA beer for the office courtesy of Athletic Brewing Company, and 25 sets of saddle bags, bike locks and light sets from BV.

Challenge Details
Athletes can contribute to their team's total mileage goal over multiple swim, bike and run workouts, at their own pace and from anywhere in the world.

Swim, bike and run activities may be uploaded to the Power Within Virtual Tri to Tokyo platform, powered by FitRankings, at any time throughout the challenge. Run and bike activities can be synced to the platform automatically via most GPS-enabled fitness devices, smartphone apps and smartwatches — including Wahoo, Garmin, Apple Watch, FitBit, MisFit, Polar, Suunto, Google Fit, RunKeeper, Apple Health and MapMyFitness. Manual uploads are also available. Workouts may be completed indoors or outdoors; spin bikes and stationary bikes, bike trainers and treadmills are all acceptable.

How do I join a team?
Register for the event

Click the Teams tab, then search by name for the team you wish to join

Click the team and then click the green 'Join Team' button

You are all set and will be contributing to your team's cumulative results!
How do I create a team?
Register for the event

Click the Teams tab, then click the green '+ New Team' button on the right

Pick your team name, upload your team logo/photo and pick a team motto

Click 'Create My Team' and you are all set! You are the first person on your team.

You can edit your team name, logo, and motto by clicking the blue 'View Team' button on the Teams page.

There is no limit on how many people can join your team. Get your friends and family to join!
When can I sign up, and when does the challenge begin?

Registration is open starting Wednesday, June 23. Click here to register.
The challenge officially kicks off on Monday, July 19, and concludes on Sunday, Sept. 12.
Athletes are encouraged to share their team's progress throughout the challenge with members of the nationwide multisport community by using the hashtag #TriToTokyo and tagging @usatriathlon on social media. For more information about the Power Within Virtual Tri to Tokyo Presented by MANSCAPED, visit virtual-tri.com.

About USA Triathlon
USA Triathlon is proud to serve as the National Governing Body for triathlon, as well as duathlon, aquathlon, aquabike, winter triathlon, off-road triathlon and paratriathlon in the United States. Founded in 1982, USA Triathlon sanctions more than 4,000 events and connects with more than 400,000 members each year, making it the largest multisport organization in the world. In addition to its work at the grassroots level with athletes, coaches, and race directors — as well as the USA Triathlon Foundation — USA Triathlon provides leadership and support to elite athletes competing at international events, including World Triathlon Championships, Pan American Games and the Olympic and Paralympic Games. USA Triathlon is a proud member of World Triathlon and the United States Olympic & Paralympic Committee (USOPC).

About MANSCAPED™
Founded by Paul Tran in 2016, San Diego, California-based MANSCAPED is the global leader in men's grooming and hygiene below-the-waist, trusted by over 2 million men worldwide. The product range includes only the best tools, formulations, and accessories for a simple, effective, and elevated male grooming routine. MANSCAPED offers a one-stop-shop at manscaped.com and direct-to-consumer shipping in more than 30 countries, spanning the United States, Canada, Australia, New Zealand, the United Kingdom, the European Union, Norway, and Switzerland. Select products and unique bundles can also be found on Amazon with Prime and pickup options available. Retail placement includes Target and Best Buy stores throughout the U.S. and Hairhouse locations in Australia. For more information, visit the website or follow on Facebook, Instagram, Twitter, TikTok, YouTube, and Triller.