USA Triathlon Announces Six 2020 Coaches of the Year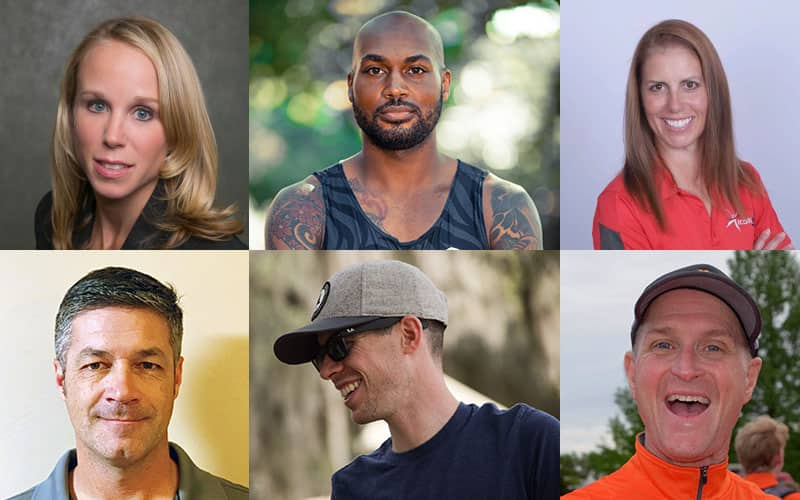 COLORADO SPRINGS, Colo. — USA Triathlon today recognized six of its most influential coaches as 2020 Coaches of the Year for their contributions during the unusual 2020 triathlon season. The awards for 2020 focused on athlete development, community impact, volunteer service and coaching education — areas where awardees provided immense value during a season in which most elite and national racing was put on pause due to the COVID-19 pandemic.

Stephanie Grasky, Marcus Fitts, Shelly O'Brien, Brian Grasky, James Petersen and Dan Engelhard received Coach of the Year honors across four categories. Nominations were open to the public, and category winners were determined by a USA Triathlon selection panel of coaching and sport education professionals.

Community Impact Award: Stephanie Grasky and Marcus Fitts

The Community Impact Award honors a coach or coaches who have demonstrated significant impact in their community, and who epitomize the USA Triathlon mission of growing and inspiring the triathlon/multisport community.

Stephanie Grasky is the founder and head coach of the Junior Elite Triathlon Squad (JETS), a USA Triathlon High Performance Team and youth triathlon club in Tucson, Arizona, as well as a co-owner of two bike/triathlon shops and a Physician's Assistant in Family Practice. Though the team typically takes athletes to USA Triathlon Youth & Junior Nationals and other races throughout the year, in the COVID-19 environment of 2020, Grasky shifted almost immediately to a focus on foundational development training versus racing.

After a short period when group training was shut down entirely, Grasky was able to restart some training sessions with stringent safety and health protocols in place in collaboration with local pools and training venues. Not a single child or parent on the team contracted COVID-19, and she was able to construct a modified summer and fall sport season with several intersquad triathlons and time trials.

In addition to her junior squad, Grasky also coaches several adult athletes in the community and often volunteers to help community athletes with cyclocross or bike handling skills, swim and run mechanics and transition skills. Her tireless efforts to prioritize safety during the COVID-19 pandemic while ensuring athletes of all ages have a sense of normalcy and a positive outlook in sport have been especially impactful on the local triathlon community.

Marcus Fitts is the founder of GRIT USA, a Washington, D.C.-based adult triathlon club whose mission is to advance people to new limits, inspire communities and enact socio-cultural change. Fitts was featured on the covers of USA Triathlon Magazine in summer 2020 and Triathlete in January 2021 for his work to amplify black voices in triathlon and multisport.

In the spring of 2020, GRIT USA members participated in The Speed Project DIY, the virtual version of a highly coveted running race across Death Valley. Club members dedicated the run to raising money for five nonprofit organizations that address inequalities in health, fight systemic injustice and create pathways to opportunity in underserved communities. The team spent 31 hours, 15 minutes — the current record on the official Death Valley course — running the boundary stones of Washington, D.C., collecting pledges per kilometer run to be donated equally across the five organizations. Between all participating teams, GRIT USA raised $85,385. Fitts and GRIT USA also collaborated with the organizers of Run the Polls during election season, leading multiple community runs/walks to increase voter participation.

Fitts continues to work toward introducing new triathletes to the sport, creating a community for black and minority athletes to feel welcomed, and finding pathways to introduce urban youth and adults to collegiate and high school-level programs and teams, coaching opportunities, clinics and camps.

Coach Educators of the Year: Shelly O'Brien and Brian Grasky

The Coach Educator of the Year award honors a Coach Educator or American Development Model (ADM) Sport Educator who has made an impact in the coaching education space.

Shelly O'Brien is the head coach of IconOne Multisport in San Antonio, Texas, and has taught at more than 50 USA Triathlon coach certifications during her career as a coach educator. In 2020, O'Brien hosted a two-day run/swim clinic for coaches in Clermont, Florida; recorded a podcast interview with USA Triathlon about coaching athletes during the COVID-19 pandemic; presented an online course on periodization as part of USA Triathlon's Level II coaching certification; wrote content for USA Triathlon's Performance Coaching Newsletter; and coached virtual swim sessions for USA Triathlon's Select Junior Triathlon Camp. She also launched her own IconOne Multisport YouTube channel that now features seven episodes for athletes and coaches.

O'Brien personally coaches Kelly Elmlinger, a Toyota U.S. Paratriathlon National Team member and hopeful for the postponed Tokyo 2020 Paralympic Games. Although Elmlinger's PTS4 classification is not included as a medal event in Tokyo, she is on track to qualify for the Games in the PTS5 category, with competitors whose impairments are less severe.

Brian Grasky is the head coach of Grasky Endurance Coaching in Tucson, Arizona, routinely coaching his athletes to USA Triathlon National Championships and IRONMAN All-World Athlete honors. Grasky presented on run mechanics at USA Triathlon's inaugural Endurance Exchange conference, held in January 2020 in Tempe, Arizona. He was the primary presenter for a USA Triathlon Level I clinic and a key presenter and advisor for a Level III clinic held in Tempe alongside Endurance Exchange.

His 2020 coach educator contributions also include working with the USA Triathlon Coaching Education staff on strategic changes to the Level I and Level II coach certification course layout and materials. He presented in-person at a Level I coach certification in March in San Diego, before consulting with USA Triathlon on the development of a completely online format to adapt to COVID-19. He then presented at virtual Level I clinics in August, September, October, November and December.

Grasky is a member of the USA Triathlon National Coaching Committee, providing feedback and advising USA Triathlon staff on topics related to coaching education and staff. He mentors two Tucson-based coaches as well as several coaches online. He has taught clinics for Tucson-area local triathlon clubs and is a regular speaker, presenter and coach for the local youth and junior USA Triathlon High Performance Team.

Developmental Coach of the Year: James Petersen

The Developmental Coach of the Year award honors a coach at the youth club, high school or junior level, or a coach who is directly responsible for training athletes to reach the junior and/or elite level. James Petersen is the head coach of JP Elite, a New England-based professional and elite development squad focused on World Triathlon and IRONMAN racing.

Petersen is recognized in part for his unique considerations in support of athletes during the COVID-19 pandemic. When the pandemic first caused shutdowns in the U.S. in the spring of 2020, the JP Elite team was training together in a full-time Daily Performance Environment. The team at the time voted to remain together and continue training as possible according to local restrictions throughout the year. Petersen was able to develop a plan and logistics for the team that would allow them to train together while following COVID-19 safety guidelines and best practices from the Centers for Disease Control and Prevention (CDC). Petersen's conscientious approach earned buy-in from team members that led the squad to a healthy and successful year in 2020.

Petersen and the JP Elite team also saw the need for increased conversation and accountability to combat racism in the summer of 2020. In a proactive effort to foster diversity, equity, inclusion and access in triathlon and multisport, the team hosted a fundraiser benefiting two NCAA collegiate triathlon programs at Historically Black Colleges and Universities (HBCUs) as well as the International Association of Black Triathletes.

JP Elite athletes were able to compete in select races in 2020 with impressive results. Grace Alexander was the overall champion — besting the entire men's and women's field and becoming the first female amateur athlete in IRONMAN history to do so — at IRONMAN 70.3 Gulf Coast in November. Garen Merter and Mia Meydrich captured wins at the Capital Well Sunapee Triathlon in September. Alexander, Merter and Meydrich all earned their USA Triathlon Elite licenses in 2020.

Volunteer Coach of the Year: Dan Engelhard

The Volunteer Coach of the Year award honors a coach who does not receive payment in any form for their involvement in coaching at any level.

Dan Engelhard is the head coach of the St. Louis High School Triathlon Club — better known simply as High School TriClub — a non-competitive, participation-based club whose goal is to address the health crisis in America by teaching youth how to take care of their bodies.

Engelhard has continued to grow youth participation despite the challenges of the past year. He has organized outdoor training and activities allowing for social distancing and encouraging parent participation. With the help of parents who convinced their neighborhood association to allow a private event under strict COVID-19 safety protocols, Engelhard was able to coordinate, organize and recruit volunteers to host a sprint-distance triathlon for members of the High School TriClub. Engelhard's enthusiasm has caused the High School TriClub to grow annually.

To find a USA Triathlon Certified Coach who can help you reach your goals, visit usatriathlon.org/findacoach. Interested in becoming a certified coach? Click here to learn more.

USA Triathlon is committed to providing its certified coaches unparalleled resources to ensure they are qualified, confident and successful throughout their coaching career. The coaching education department develops prospective coaches, cultivates the need for coaches within the multisport community and assists coaches in turning their passions into vocations. USA Triathlon's coaching certification program provides standards of quality and credibility in the marketplace, encourages the need for coaches within the triathlon community, prepares and motivates coaches to be leaders among youth, high school, collegiate, NCAA women's programs and underserved groups, and helps turn passions into careers.

About USA Triathlon
USA Triathlon is proud to serve as the National Governing Body for triathlon, as well as duathlon, aquathlon, aquabike, winter triathlon, off-road triathlon, paratriathlon, and indoor and virtual multisport events in the United States. Founded in 1982, USA Triathlon sanctions more than 4,300 events and connects with more than 400,000 members each year, making it the largest multisport organization in the world. In addition to its work at the grassroots level with athletes, coaches, and race directors — as well as the USA Triathlon Foundation — USA Triathlon provides leadership and support to elite athletes competing at international events, including World Triathlon Championships, Pan American Games and the Olympic and Paralympic Games. USA Triathlon is a proud member of World Triathlon and the United States Olympic & Paralympic Committee (USOPC).