Kirsten Kasper Takes Bronze at World Triathlon Cup Lisbon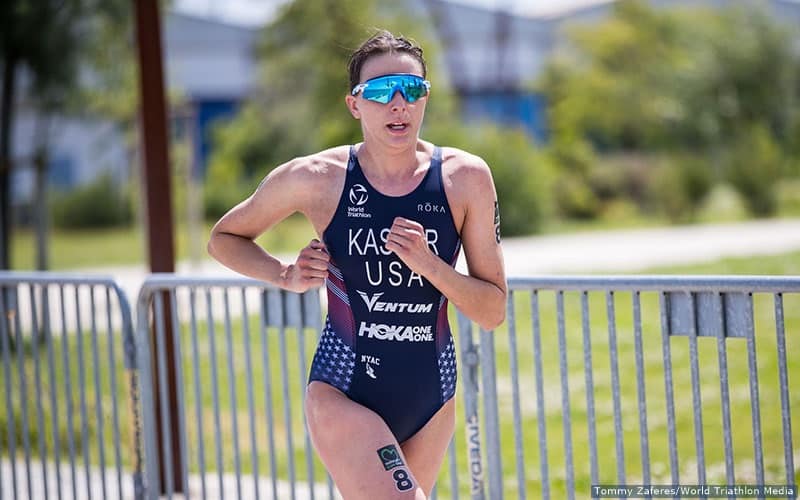 LISBON, Portugal — Kirsten Kasper (North Andover, Mass.), a 29-year-old Georgetown University graduate and U.S. Triathlon National Team member, returned to the World Cup podium for the first time since 2018 Sunday with a bronze medal in Lisbon, Portugal.

Qualified 2020 U.S. Olympian Summer Rappaport (Thornton, Colo.) also had a strong race, placing ninth.

The Lisbon event marked the first World Triathlon Cup of 2021, and featured a 1,500-meter swim, 40-kilometer bike and 10-kilometer run. Rappaport was first out of the water in 19 minutes, 31 seconds, with Kasper just six seconds behind her in ninth.

Both women joined a lead pack of nine on the bike, with international stars including 2016 Olympic bronze medalist Vicky Holland of Great Britain, Natalie Van Coevorden of Australia and Melanie Santos of Portugal. About halfway through the ride, the chasers — led by Switzerland's 2012 Olympic champion Nicola Spirig and the Netherlands' Rachel Klamer — were able to bridge the gap, forming one lead pack of 19. The race would come down to a test of endurance on the run.

Ireland's Carolyn Hayes was the first to break away on the run, while Spirig stayed close behind in second. Both Kasper and Rappaport were in contention early, running shoulder-to-shoulder with Canada's Amelie Kretz — but as Rappaport and Kretz started to fade, Kasper surged to move into the bronze-medal position. Spirig caught Hayes in the final 2k, crossing the line for gold with a time of 1 hour, 59 minutes, 5 seconds. Hayes took silver in 1:59:17, and Kasper completed the podium in 1:59:39.

Rappaport ultimately took ninth in 2:00:30, less than a minute behind Kasper. Also racing for the U.S. women was Gina Sereno (Madison, Wis.), who placed 44th in her second career World Cup start with a time of 2:11:51.

While Kasper has nine career World Cup medals, a string of injuries kept her off the international podium for the last two years. Prior to Sunday's race in Lisbon, her most recent World Cup podium had been in 2018 in Sarasota-Bradenton, Florida.

Kasper placed 14th last weekend at the World Triathlon Championship Series opener in Yokohama, Japan, missing her last chance to auto-qualify for the 2020 U.S. Olympic Triathlon Team. With Rappaport and 23-year-old Taylor Knibb (Washington, D.C.) now qualified for Tokyo, the third and final spot on the team will be named via discretion by USA Triathlon's Games Athletes Selection Committee after June 14.

"It means a lot to come back after Yokohama and have a better run, and honestly show what I know I'm capable of," Kasper said.

Kasper is originally from North Andover, Massachusetts, where she was a nine-time high school state champion across three sports (swimming, cross-country and track & field). She went on to run cross-country and track & field at Georgetown University, where she became a scoring member of the NCAA Cross-Country National Championship team.

Three U.S. men also raced at the World Triathlon Cup Lisbon, with Eli Hemming (Kiowa, Colo.) finishing as the top American in 24th place. Austin Hindman (Wildwood, Mo.) placed 26th, and Darr Smith (Atlanta, Ga.) was 41st. For complete results from the men's race, which took place on Saturday, click here.

The elite season heads next to Arzachena, Italy, for a sprint-distance World Cup on May 29.

2021 World Triathlon Cup Lisbon
1,500m swim, 40k bike, 10k run

Elite Women — Complete Results
1. Nicola Spirig (SUI), 1:59:05
2. Carolyn Hayes (IRL), 1:59:17
3. Kirsten Kasper (North Andover, Mass.), 1:59:39

U.S. Finishers
3. Kirsten Kasper (North Andover, Mass.), 1:59:39
9. Summer Rappaport (Thornton, Colo.), 2:00:30
44. Gina Sereno (Madison, Wis.), 2:11:51

Elite Men — Complete Results
1. Kristian Blummenfelt (NOR), 1:42:33
2. Max Studer (SUI), 1:42:41
3. Genis Grau (ESP), 1:42:55

U.S. Finishers
24. Eli Hemming (Kiowa, Colo.), 1:44:29
26. Austin Hindman (Wildwood, Mo.), 1:44:32
41. Darr Smith (Atlanta, Ga.), 1:45:20

About USA Triathlon
USA Triathlon is proud to serve as the National Governing Body for triathlon, as well as duathlon, aquathlon, aquabike, winter triathlon, off-road triathlon and paratriathlon in the United States. Founded in 1982, USA Triathlon sanctions more than 4,000 events and connects with more than 400,000 members each year, making it the largest multisport organization in the world. In addition to its work at the grassroots level with athletes, coaches, and race directors — as well as the USA Triathlon Foundation — USA Triathlon provides leadership and support to elite athletes competing at international events, including World Triathlon Championships, Pan American Games and the Olympic and Paralympic Games. USA Triathlon is a proud member of World Triathlon and the United States Olympic & Paralympic Committee (USOPC).