Paratriathlon World Titles Up for Grabs in Abu Dhabi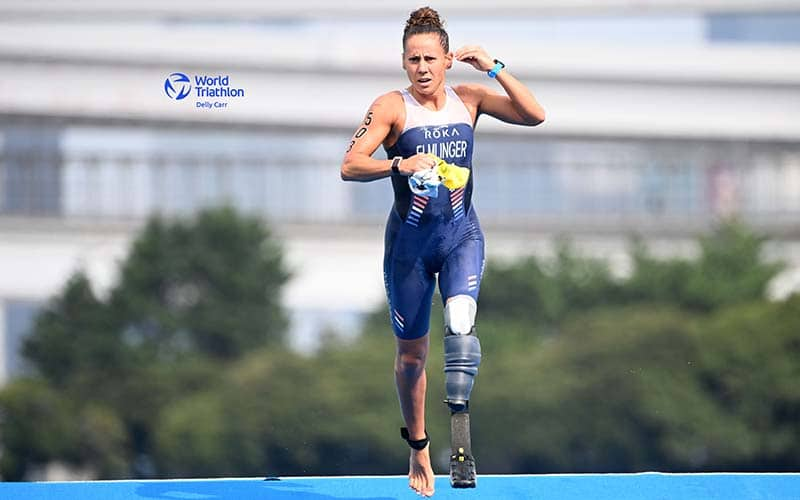 ABU DHABI — The capital city of the United Arab Emirates is ready to host a huge weekend of World Triathlon racing as the 2021 World Triathlon Para Championships Abu Dhabi and 2021 World Triathlon Championship Series Abu Dhabi take place on Friday, Nov. 5.
Over 120 elite athletes will take center stage at Yas Marina to compete for 12 world titles across six sport classes. Team USA will be represented by 12 athletes across five of the sport class categories, including Tokyo 2020 Paralympics silver medalists Grace Norman (Jamestown, Ohio – PTS5) and Hailey Danz (Colorado Springs, Colo. - PTS2).
Competition begins on Friday, Nov. 5 at midnight ET/8 a.m. local time in Abu Dhabi with the men's and women's PTVI category. The starting order for the remaining sport categories will be men's and women's PTWC, men's PTS5, men's PTS4, PTS3, PTS2 and then women's PTS3, PTS4 and women's PTS2.
All events will be broadcast live at TriathlonLIVE.tv; monthly and annual subscriptions are available for purchase.
Abu Dhabi features a fast course that takes the athletes around Yas Marina and part of the Yas Marina Circuit, a Formula One motorsports track. Paratriathletes will race a sprint-distance course, including a 750-meter swim, four-lap 20-kilometer bike and three-lap five-kilometer run, with athletes also battling desert heat conditions.
Norman and Danz are both six-time World Triathlon Para Championships medalists, and each are poised to add to their hardware. Norman and Danz both earned bronze in 2019 in their respective classifications.
Howie Sanborn (Denver, Colo.) is the sole U.S. athlete racing in the PTWC category. He is entering the weekend with recent podium success after earning the silver medal at the Alanya Para Cup and bronze medal at the Alhandra Para Cup.
In the men's PTS2 field, Mohamed Lahna (Colorado Springs, Colo.) returns to elite level triathlon competition after competing in para-cycling since 2018.
U.S. Marine Corps veteran and Tokyo 2020 Paralympian Eric McElvenny (Pittsburgh, Pa.) and Omar Bermejo (Casper, Wy.) are competing in the men's PTS4 sport class. McElvenny is the current U.S. national champion and also took third in the Para Series Leeds event in June. Bermejo earned the bronze at U.S. Paratriathlon Nationals this year in Long Beach, California.
U.S. Army veteran and Tokyo 2020 Paralympian Kelly Elmlinger (Attica, Ohio) is competing in the women's PTS4 race. She won silver at the 2019 World Triathlon Para Championships, and this season she is undefeated in the Para Series this year after winning in both Leeds and Yokohama.
Chris Hammer (Troy, Mich.) joins Norman for PTS5 racing. He won in Leeds this year and just missed the podium at fourth place in Tokyo. He is a three-time World Triathlon Para Championships bronze medalist.
Four U.S. athletes will race in the PTVI class. Tokyo 2020 Paralympian Kyle Coon (Jacksonville, Fla.) and Owen Cravens (Algonquin, Ill) will compete in the men's field, while Tokyo 2020 Paralympians Elizabeth Baker (Roswell, Ga.) and Amy Dixon (Encinitas, Calif.) will line up for the women.
For the full Paratriathlon start lists click here.
2021 World Triathlon Championship Series Abu Dhabi
Following the paratriathlon action on Friday, the 2021 World Triathlon Championship Series Abu Dhabi is set to take place at Yas Marina. Seven U.S. athletes, including Tokyo 2020 Olympians Summer Rappaport (Thornton, Colo.), Taylor Knibb (Washington, D.C.) and Morgan Pearson (New Vernon, N.J.) are on the star-studded start list.
The elite men will race first, set to begin at 6:11 a.m. ET/2:11 p.m. local time. The women will follow with a start time of 8:11 a.m. ET/4:11 p.m. local time.
Abu Dhabi will serve as the second stop of the 2022 Championship Series circuit, after Hamburg launched the tour in September. It will feature a sprint-distance course around the marina and circuit track.
With two World Triathlon Championship Series podium finishes at Yokohama and Leeds, Pearson looks to continue his breakout 2021 on Friday.
Also racing for the men is Seth Rider (Germantown, Tenn.) and Clayton Hutchins (San Luis Obispo, Calif.). Since earning a career-high fourth-place finish at the Edmonton Grand Final in August, Rider has been racing the Super League circuit. Hutchins is making his World Triathlon Championship Series race debut this weekend.
In the women's race, Rappaport is seated second overall, after a strong third-place finish in Hamburg. After winning World Triathlon Championship Series Edmonton and finishing second in the 2021 World Triathlon Championship Series, Knibb returns to race in her first World Triathlon Championship Series race counting toward 2022 after taking time off from World Triathlon racing to compete in IRONMAN 70.3 events and the Collins Cup.
Erika Ackerlund (Missoula, Mont.) and Taylor Spivey (Redondo Beach, Calif.) then finish out the women's U.S. roster. Ackerlund has had recent career-best performances on the World triathlon circuit, finishing fifth in Hamburg and eighth in the Karlovy Vary World Cup. Spivey also returns to World Triathlon racing after racing Super League and placing sixth overall in the series.
In addition to U.S. talent, Abu Dhabi will serve up high class action with a roster full of prominent names. Tokyo 2020 Olympic Champion and 2021 World Triathlon Champion Flora Duffy of Bermuda will toe the line hoping to continue her winning streak. Fellow big-name stars Vincent Luis (FRA), Jessica Learmonth (GBR) and Hayden Wilde (NZL) will also race.
Start lists for the World Triathlon Championship Series Abu Dhabi can be found here.