Features
Youth and Junior
Coaching Tips
Triathlon
Choosing a Race for Youth Triathletes
You may know a child who has already completed a triathlon or two, and now you may be asking, "What's next?"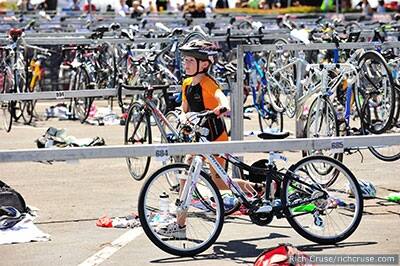 For young triathletes, sometimes this is a complicated question to answer. As a parent or supporter of a youth athlete, you will need to register youth for (and drive youth to) the event, you may also find yourself navigating family vacations, summer camp, and other athletic commitments. The first piece of advice I'll offer is to sit down and develop a schedule that makes sense for the entire family.
Now, with your calendar in front of you, your next task is to identify an age-appropriate event. Athletes 12 years old or younger should look for an event designed specifically for youth triathletes. These events typically feature a pool swim, a bike course closed to traffic, and extra volunteer support. One sign of a well-designed youth triathlon is incremental age divisions, such as 7-8, 9-10, 11-12. Likewise, race distances should increase gradually with each advance in age. This table provides recommended distances by age group:
Recommended Competition Distances for Youth and

Juniors

Racing age*
Category
Distances
Swim
Bike
Run
7-8
Youth
50-100m**
2k
1k
9-10
Youth
100m**
3k
1k
11-12
Youth
200m**
5-7k
2k
13-15
Youth
200-400m
8-10k
2-3k
16-19
Junior
400-750m
15-20k
5k
13-15
Youth Elite***
400m
10k
2.5k
16-19
Junior Elite***
750m
20k
5k
*Racing age is determined as of December 31 of the year in which the event takes place.

** Pool swim recommended

***Youth elite and junior elite races are draft-legal, typically staged on multi-lap, closed courses, and are officiated using International Triathlon Union Competition Rules.
Please note: The recommended minimum age for Olympic/Intermediate-distance events is 16. The recommended minimum age for long course/half-iron/ultra distance events is 18.
Once youth triathletes have a few finishes under their belts, the temptation to compete in longer events will surely arise. Rather than look to longer distance triathlons, youth can begin to focus on improving speed and skill. Identify weaknesses and work on improving in those areas until speed is maximized at a given distance. One approach is to create a personal race-against-the-clock, when parents or a coach time the youth athlete at certain key points during the next race. Questions for the young athlete to consider might be: "Can you swim the second half of the swim faster than the first? Can you transition in under a minute? What is your personal best first half-mile off the bike?" Tracking these personal bests is a way to improve overall speed and skill and stay motivated for the shorter races.
Athletes in their early teens often are drawn to racing with the adults in sprint distance triathlons. If your athlete feels ready to try a sprint distance event, look carefully for one that takes good care of its youngest athletes. Choose an event that recognizes multiple age divisions under 19, as this indicates that the race organizers have an eye on younger participants. Also, look over previous results and try to predict your athlete's finish time. If the event is likely to take your child longer than 80 minutes to finish, he or she would be better off sticking to youth triathlons and working on speed. Most importantly, make sure the course is suitable for your athlete's ability.
Another option for athletes in the 13-19 age range is Youth Elite and Junior Elite triathlon. These events add the challenge of draft-legal bicycle racing, just like the elites do at the Olympics. Before diving into this race format, however, it is best to acquire some draft-legal experience in junior cycling races or by working with a coach or club that practices pack riding. You'll also need to look over the equipment regulations to ensure that your child's bike is set up properly. Youth Elite racing is an exciting and dynamic format and a great way to develop speed and skill while continuing to improve speed and skill at the half-sprint distance.
Once you have made a short list of events, you can develop a racing plan that will keep your athlete healthy and motivated, and you sane as a parent. For athletes under the age of 15, I recommend racing no more than twice per month and a maximum of six times per summer. If your athlete is inclined do more than that, then spice up the calendar with some junior bike races, a swim meet or two, or a different sport altogether. End the triathlon wanting more.
Steve Kelley is the athlete development coordinator at USA Triathlon. Contact Steve at steve.kelley@usatriathlon.org.