News
Features
Collegiate Club
How West Point's Dedication to Racing Again Brought Team Success in Malibu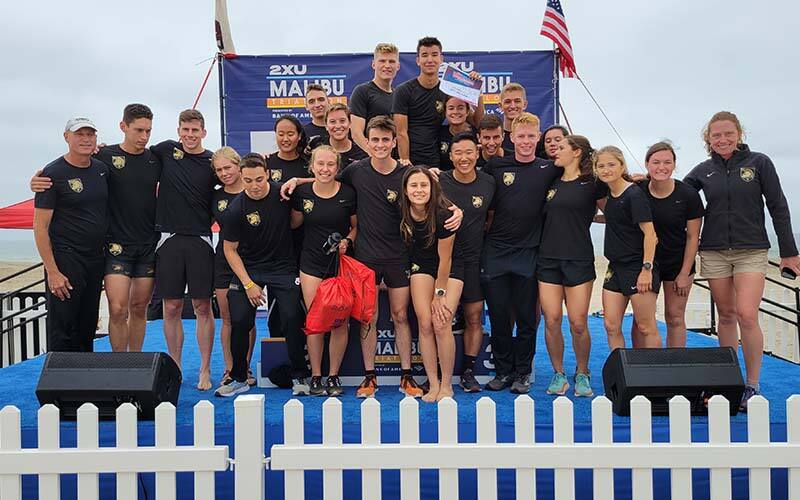 When COVID-19 cancelled a magnitude of triathlons and other endurance events over the course of the pandemic, the ripple effect of all the empty start lines intensified a desire and longing from athletes to return to racing.
Thankfully, safety protocols allowed racing to return in 2021, as athletes again donned bib numbers, transition zones bursted with activity and cheers and applause welcomed athletes in the finish chutes.
When the West Point Academy Triathlon Team, based out of New York, qualified for the opportunity to compete at the 2021 USA Triathlon Collegiate Club Nationals, hosted by the Malibu Triathlon in California this September, they were willing to do what they had to in order to toe the race line.

Even if it meant flying across the country with a short and tight schedule where even one delayed flight could have risked the team getting to compete.

On top of that, the team had to fly with 21 bikes — a task any triathlete understands is not easy.


However, with a solid support staff, led by Dr. Ken Allen, Commander in Charge and Manager of the team and Amy Maxwell, civilian and Head Coach of seven years, and a disciplined team, West Point accepted the challenge of a logistically tough race weekend in order to represent their club at Nationals.

The team also knew they would have the support of an amazing alumni community when they landed, which often helps with race logistics all across the nation.

The team caught an early flight from New York to Los Angeles on a Friday morning. Upon arrival, they loaded all 21 bikes into a U-Haul at the airport and then got to their hotel at noon. The rest of the day was spent building out the bikes and getting them ready to be transported for the race the following day.

On Saturday morning, the team left their hotel at 4 a.m., drove 45 minutes to the Malibu race site and competed. On Sunday, they raced again in the team relay division and then flew back to New York on Monday morning.

"It was the shortest timeline we had ever done; I was nervous about it," said Dr. Allen. "We had been traveling so much and the team had missed classes. Because they are restricted on how much time they can be away from the academy, we really counted on everything happening the way that it did. Luckily it did – we would have been one delayed flight from collapse the whole weekend, it was a house of cards."

The risk paid off.

The West Point Triathlon Club took second overall at Nationals with 157 points, behind only the University of Cal-Berkeley with 77. Individually, the men's team earned second as well and the women claimed a podium by coming in third.

In the relay division, the West Point women relay finished third, while the men's relay finished in fifth.

The success of West Point on the weekend, despite their quick and tiresome travel schedule, was a testament of not only their commitment to the sport, but their physical and mental abilities when it comes to performing.

While at the collegiate level, all student athletes face the fatigue of juggling sports and school work, cadets at West Point have priorities at a much more demanding level.

"Our athletes have a lot of military obligations. We are in the pool every day from 5:30 a.m. to 6:30 a.m. and then practice again in the evenings from 4:30 p.m. to 6:30 p.m., said Maxwell.
"After swim they have breakfast and then have academic classes. They also have mandatory things such as drills or formations that they have to go to as well as some things at West Point are not optional, such as attending football games," Maxwell added. "Sometimes our triathlon trainings have to come second to the military and academic requirements. We have to prioritize really well what we do and when. We also have to prioritize nutrition and recovery really well because one thing cadets don't get a lot of is sleep."
In addition, all cadets are active-duty military, so they must take Army Combat Fitness Testing (ACFT) to meet a level of strength, agility, speed and endurance. These tests require obstacle course training and fitness assessments.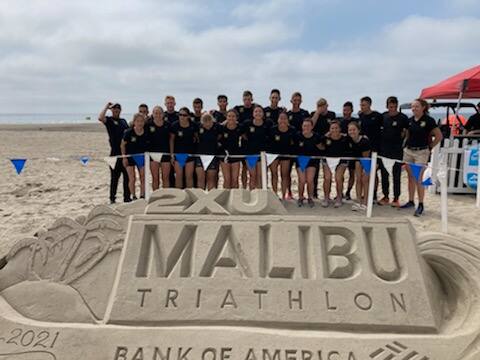 Which, when it comes to competing in triathlon events, both positively and negatively impact the performance of the athletes.
Coach Maxwell explained, "It is a double-edged sword. On one hand our athletes have so many physical requirements where there is a baseline of durability and toughness in order to excel, which makes them great athletes. But it can also make them tired because we don't get a choice of when the testing happens. Someone might have to do an obstacle course the day before a race, which can impact performance negatively because they are not recovered and rested properly."
But one thing that West Point has learned to achieve that helps them positively when it comes to triathlon, is how to mentally prepare for race day, no matter the circumstances.
"They are so durable mentally due to their military training — it helps them. We have a certain endurance knowing that even if we show up to a race and are tired, we can still perform well," Coach Maxwell said.
Mental durability is also one of the key components that helped the team patiently wait until it was safe to return to racing.
Combined with a drive and passion for the sport, the success of the West Point Triathlon Team in Malibu represented the triathlon community at large and how amazing it has been to finally race together again.