News
USA Triathlon
Women's
Features
USA Triathlon Celebrates Women's Achievements in Multisport for 50th Anniversary of Title IX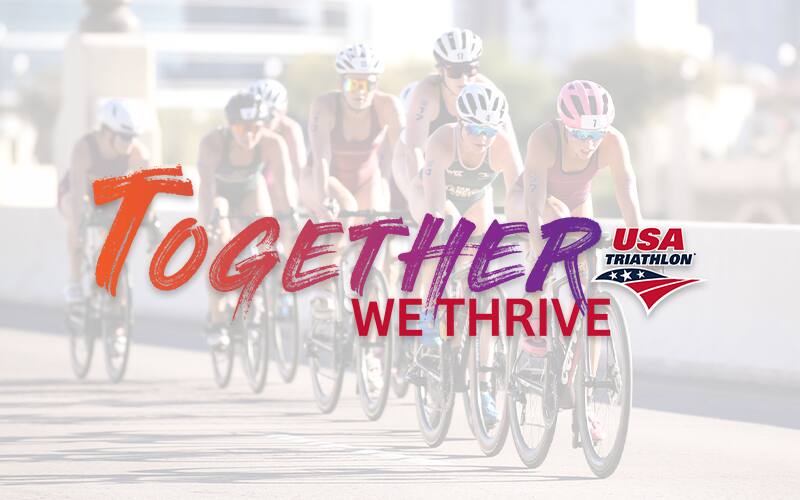 COLORADO SPRINGS, Colo. — USA Triathlon both honors and celebrates the 50th anniversary of Title IX, the landmark gender equity law that changed the landscape of what's possible for girls and women in this country, and today kicks off a five-month celebration of the achievements women have accomplished in triathlon.

USA Triathlon has long had a tradition of promoting women in multisport, including equal prize money for elite events, the formation of the USA Triathlon Women's Committee in 2010 and February's landmark achievement of adding the 40th school in the nation to offer women's triathlon at the varsity level,
which set in motion women's triathlon to become an NCAA Championship sport
.
A five-month celebration of women's varsity collegiate triathlon and women in the sport of triathlon and the multisport community kicks off today on the 50th anniversary of Title IX and runs through November, following the fall 2022 women's varsity collegiate triathlon season. For those who are interested in being a part of the celebration please email diversity@usatriathlon.org.

"It's incredible to think about how recent Title IX is in the grand scheme of things. To put it in perspective, members of the USA Triathlon Women's Committee are either the first generation of women born after Title IX was passed or were even already participating in sports when it was passed. For many women, sports aren't just about competing. It's also about finding inner strength, developing a community, creating an outlet for stress, or focusing on self-care," said Margarett Frisby, Chair of the USA Triathlon Women's Committee, which was formed in 2010 and works with the USA Triathlon Board of Directors to lead women's programming to champion inclusivity and equality for women in multisport.
"Athletics can develop our next generation of leaders or create a pathway to education that might not have otherwise been possible. So for women, sports isn't just sports. It's an opportunity. It's health and wellness--physical and mental. It's community. It's strength. It's part of life. The USA Triathlon Women's Committee strives to foster an inclusive place for women to find community and learn what sports and athletics mean to them."
The five-month celebration will include the Together, We Thrive Powerful Women in Multisport Series, a social and digital content series that will focus on women who helped pave the way for women to compete in triathlon. To kick off the series, USA Triathlon has highlighted on its social media pages nine women in multisport who share what Title IX means to them in its Nine Days of Title IX celebration.
USA Triathlon will give 10 multisport women's legacy packages to influential women in multisport, which includes one USA Triathlon Lifetime Membership and one free entry to USA Triathlon Age Group National Championships, USA Triathlon Multisport National Championships and the Toyota Legacy Triathlon. USA Triathlon will also award the inaugural Together, We Thrive Diversity, Equity, Inclusion and Access Award.
USA Triathlon is launching its Women's Series, a series of locally organized USA Triathlon Sanctioned events across the country designed to grow and support the women's multisport community, in 2023. Applications to be included in the series will be accepted July through August with the formal announcement of participating events coming in late fall. The series will include a combination of women's-only triathlons and duathlons, instructional clinics and social gatherings that will accommodate new athletes to experienced athletes.
"As we celebrate the 50th anniversary of Title IX we celebrate the achievements of women in multisport. It was women who helped create the sport of triathlon and grow the sport into what it is today," said Rocky Harris, USA Triathlon CEO. "As we celebrate the past, we also look ahead to the future. Our elite triathletes and elite paratriathletes have set the standard for excellence on the international stage, in Olympic and Paralympic and World Triathlon Competition. We have momentum on our side for continuing to grow the sport at the collegiate level, as women's collegiate triathlon will soon become an NCAA Championship Sport. This is monumental for the sport and I'm optimistic for the next 50 years of the sport as women continue to lead the growth of triathlon."
Triathlon's story
could not be told without the contributions of women
. Here are just a few historic landmarks:
• 1974: Triathlon was invented by the San Diego Track Club with the Mission Bay Triathlon. The club has a storied history of leading the way in gender equity
• 1978: Judy Collins and her husband, Commander John Collins, both participants in the 1974 Mission Bay Triathlon, launch the Hawaiian Iron Man Triathlon in Waikiki, which combined the Waikiki Roughwater Swim, Honolulu Marathon, and a local cycling club route.
• 1979: Lyn Lemaire, a 28-year-old from Massachusetts, becomes the first woman to compete in the Hawaii Ironman Triathlon. Lemaire beats all but four men in the 15-person field.
• 1982: U.S. triathlete Julie Moss captivates a global audience with her crawl to the finish line at the Hawaii Ironman.
• 1983: Sally Edwards publishes the first book on triathlon. "Triathlon: A Triple Fitness Sport," offers a comprehensive guide for training for "a total new fitness" based on her own experience in the sport.
• 1986: Using funds from an anonymous donor, the Hawaii Ironman introduces a prize purse for professional athletes. And in a move unprecedented in many other major sporting events, the payout is equal for both men and women — a standard that remains the status quo.
• 1990: Danskin launches a women's-only triathlon series in three cities: Long Beach, California, San Jose, California, and New York City. The growth of the Danskin series, as well as similar women-only events like Trek Triathlon and Irongirl races, are credited with boosting numbers among women in the sport.
• 2000: Triathlon makes its Olympic debut at the Sydney Games. The United States sends a trio of women Down Under, including Joanna Zeiger, who finishes fourth.
• 2004: Susan Williams, a 35-year-old mom from Long Beach, California, wins the first Olympic medal for the U.S. in triathlon, earning bronze at the Athens Games.
• 2005: U.S. Olympian Barb Lindquist retires as a professional and helps create USA Triathlon's Collegiate Recruitment Program, which identifies talent from the NCAA swimming and running programs as a way to funnel athletes toward the Olympic pipeline. She finds future Olympic gold medalist Gwen Jorgensen.
• 2014: Triathlon is designated as an NCAA Emerging Sport for Women
• 2016: Jorgensen caps her pro triathlon career by grabbing gold at the Rio Olympic Games, the first- gold medal for an American triathlete
• 2016: U.S. elite paratriathletes Grace Norman and Allysa Seely each win gold at the Paralympic Games. Hailey Danz and Melissa Stockwell also won medals, combining to sweep the podium in the PT2 sport class along with Seely.
• 2021: Katie Zaferes wins Olympic bronze at the delayed Olympic Games Tokyo 2020 and the U.S. is one of only four countries to qualify three women for the Olympic Games Tokyo 2020, and one of only two countries to place all three athletes in the top-20 with Zaferes winning bronze, Summer Rappaport placing 14th and Taylor Knibb 16th.
• 2021: Seely won gold Paralympic again to become the only female two-time Paralympic triathlete gold medalist. Danz became a two-time PTS2 silver medalist and Norman earned a silver in the PTS5 category. Kendall Gretsch also won the first women's triathlon wheelchair race in Paralympic history and became the fifth American to win gold medals at both the summer and winter Paralympic Games.
• 2022: USA Triathlon adds two college programs to offer women's collegiate triathlon to reach the milestone of 40 schools. Women's triathlon is now on its way to becoming an NCAA Championship Sport.
USA Triathlon is proud to serve as the National Governing Body for triathlon, as well as duathlon, aquathlon, aquabike, winter triathlon, off-road triathlon, paratriathlon, and indoor and virtual multisport events in the United States. Founded in 1982, USA Triathlon sanctions more than 4,000 races and connects with more than 400,000 members each year, making it the largest multisport organization in the world. In addition to its work at the grassroots level with athletes, coaches, and race directors — as well as the USA Triathlon Foundation — USA Triathlon provides leadership and support to elite athletes competing at international events, including World Triathlon Championships, Pan American Games and the Olympic and Paralympic Games. USA Triathlon is a proud member of World Triathlon and the United States Olympic & Paralympic Committee (USOPC).