News
Clydesdale/Athena
Features
Q&A
Foundation
USA Triathlon Clydesdale Spotlight Series: Kevin Gaston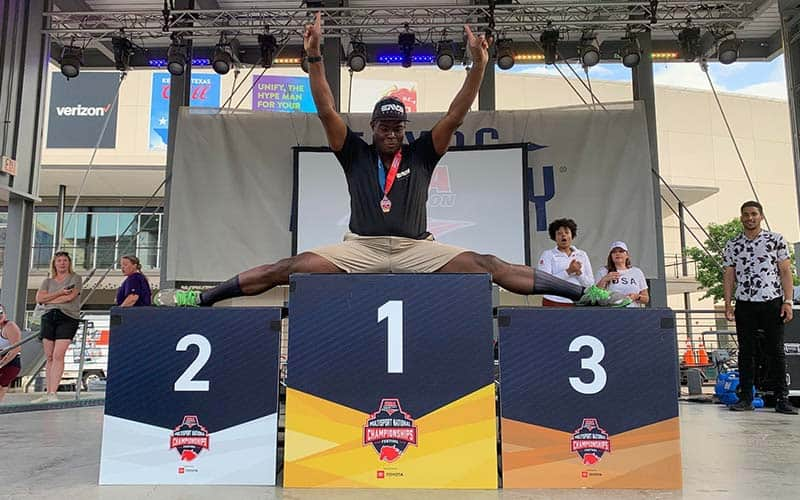 Kevin Gaston
Atlanta, Georgia
USA Triathlon Foundation Ambassador
How did you first get involved with triathlon?
Funny enough, I played contact sports and baseball growing up, so I did not really do endurance sports. I had no multisport background. I mean all the way until 2009 I had never run anything more than whatever was required for up and down the field and for swimming like I wouldn't sink, but like I remember getting in the pool and swimming across and being pretty much gassed.

For a New Year's resolution in 2009, I decided to run a 5K. My brother and I ran a 5K in March of that year and it took me 39-40 minutes. I said 'ok' that went over all right I didn't die, I finished and that's good. I then thought, well I haven't really ridden a bike or swam, so what if I a triathlon because then I get to do all the disciplines. I did a super sprint in Georgia, I didn't even hear my time but I think I came in close to last. But I am one of those people that like to keep going if I have a bad performance, to prove to myself I can do better. So, I got better and had fun picking the sport up. I went to Grand Rapids, Michigan USAT Nationals race and started getting more serious. It's been kind of an interesting journey because a lot of other triathletes tell their story about how they did one of the disciplines as a kid like they ran, swam or rode bikes, but I literally came into it and had no idea what I was getting into – I just showed up.
When it comes to Athena and Clydesdale athletes, where does multisport need to continue to grow?
I think the education for race directors at the local level. A lot of race directors are not inclusive of the category, and you can't tell me it's because they can't print enough awards. It sends the wrong message and kind of perpetuates that we are looked at as not real athletes or not the same. The second thing is recognizing these athletes through the little things. At the Multisport Festival in Dallas, I thought it was a great idea that they mixed up the order of awards. It doesn't have to always go young to old and then make it so Clydesdale and Athenas are getting their awards last and after waiting around and are exhausted. Little things like that helps because it's really just saying we're going to look at every group and treat them as if they're all part of the same group. It's not like we get an easier course because we are bigger, if I'm running a half marathon with you I should hope to feel that I get the similar race experience.
How does improved inclusion overall help the sport?
As multisport keeps growing inclusion provides a really nice place for people to get into triathlon. I think it offers a safe space to say if you are not the traditional appearance of a triathlete but you want to get in there, there is a place you can compete.
How is the support system within the Athena and Clydesdale community?
So, it's kind of funny because yeah bell to bell, is absolutely a gamble and that's just how that's always going to be I'm trying to win, so there is always a competitiveness that's going be there inside the race itself. But the foundational difference I would say is like I reach out to other Clydesdales I know in like the metro Atlanta or at races and ask what races they are doing and you look forward to seeing them and racing against them. That's part of the sport, you're supportive and you are happy for their success and they are happy for your success. I see my fellow Clydesdales and Athenas out, like when I got to Dallas and the first thing I did was look around for people I know. We have a Facebook group and we talk before events, I think there's a really tight cohesiveness. Yes there will be someone who wins there will be someone who comes in behind the other one but honestly at the end of the day it's usually more of an addition of 'wow you had a great day and you put in the work' and we all celebrate that together.
Why were you in support of Clydesdale and Athena Nationals being a part of Age-Group Nationals in Milwaukee?
It's a good thing. It is a big step for USAT to say that Athena and Clydesdales count and that we get to go to the big show. I liked races such as Grand Rapids, it was awesome, but when you hold a Nationals at a local race you have new first timers there and people who are there just to have a good time. They don't realize that you are laser focused on this race. But when you go to the national show it says that everyone there is serious because you have to qualify to be there. I think if you're going to have multiple groups that you award in multiple divisions that you give them the same shot to be on the same stage.
Being a Foundation Ambassador and Clydesdale, how are you helping bring awareness for inclusivity in multisport?
The Foundation is about inclusion. When I saw they were looking for people to join I said well there can't be a better way to let people know that there's inclusion here in the sport than to have someone who's in another group that's not typically looked at. I guess two groups because there's not a lot of people of color doing triathlons.

Given that there is an opportunity with the Foundation to bring visibility to a group and say again that they're training just as hard and they're competing just as hard. We all share the same spirit and heart of an athlete regardless of where they are. Whether they're anywhere in the spectrum, physical ability, race, gender or size, our heart beats the same. We want the same thing – to train hard, test our bodies, our resolve and our sanity. I think that when I had a chance to sign up and apply it was to be able to go out there and say if you see me wearing my ambassador kit you see me out bringing visibility to a group that you didn't know of by being visible as a group that you didn't know of.