News
Event
USA Triathlon
Coaches
Race Directors
Fourth Annual Endurance Exchange Returns in Person to Austin, Texas, Jan. 23-26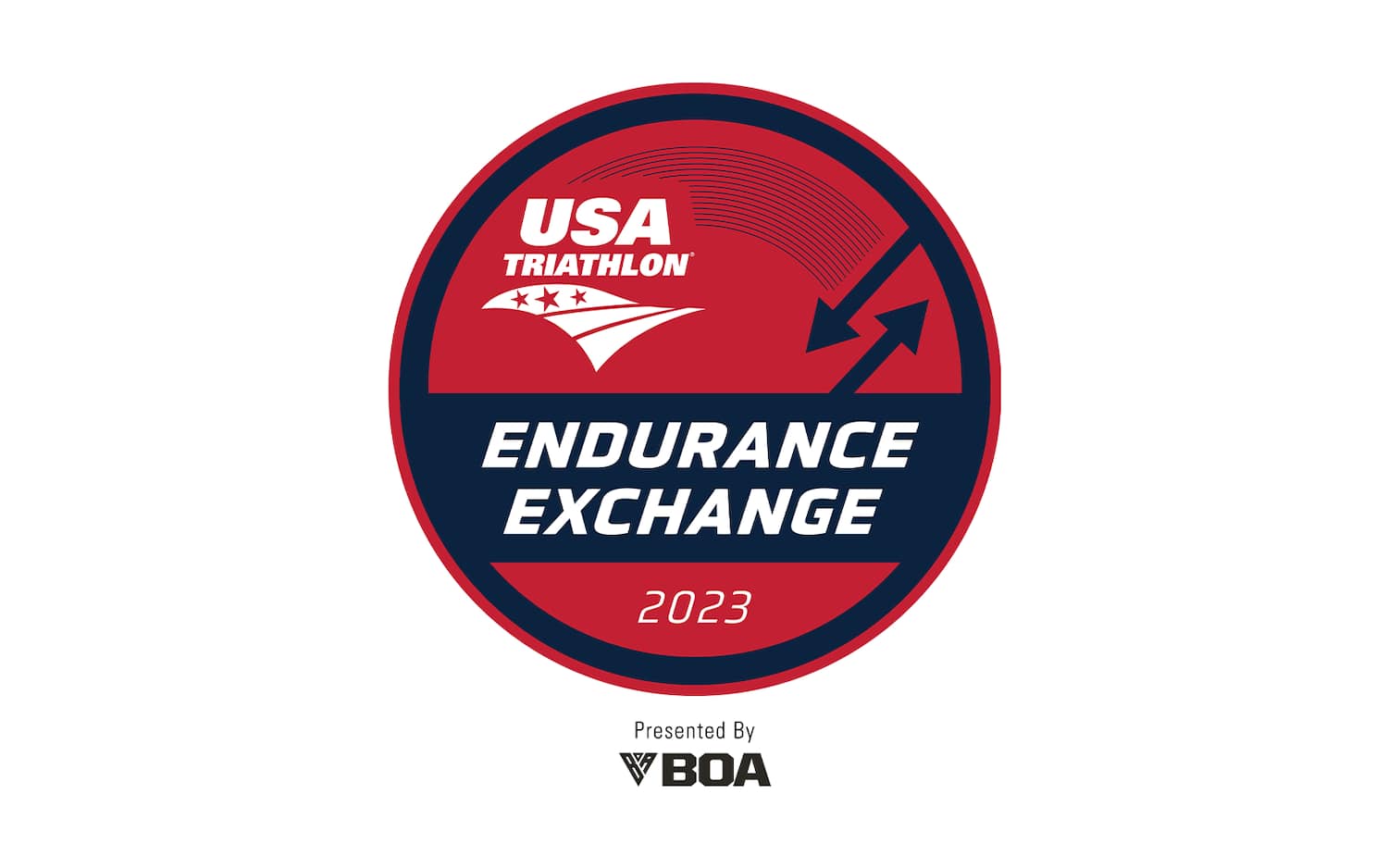 COLORADO SPRINGS, Colo. — USA Triathlon's fourth annual Endurance Exchange presented by BOA Nutrition, an industry-wide conference for endurance sports athletes and professionals, will be held in person Jan. 23-26 in Austin, Texas.

"Pack clothes you can move in! This year will feature hands-on, practical experiences and workshops where you will learn by doing. We want you to roll up your sleeves and get elbow to elbow with folks from across our sport who want 2023 to be a breakout year for multisport," said Earl Walton, USA Triathlon Director of Education. "It has been incredible to see the enthusiasm of the experts stepping forward to lead this conference. Whether it's learning the proper 'cues' to drive you to your athletic goals or workshopping your next steps as a small business you will leave this conference energized for the season ahead."

After two years of being held virtually, the 2023 edition of Endurance Exchange returns fully in-person next January, offering attendees the best educational and networking opportunities in the industry, all taking place in Austin, Texas, the Live Music Capital of the World.

Endurance Exchange annually brings together endurance sports industry stakeholders — including race directors, coaches, athletes, club leaders, officials, retailers and medical professionals — for several packed days of hands-on learning, sharing best practices, networking and collaboration. The event is open not only to those involved in the business of triathlon, but also to multisport enthusiasts of all types as specific athlete-focused sessions will cater to all skill and experience levels. The virtual event in January of this year drew more than 1,000 attendees, including race directors, coaches, club leaders, athletes, officials, brands and retailers, medical professionals, and others.
Registration for the 2023 event is now open at enduranceexchange.com. Now through Dec. 1, USA Triathlon Certified Coaches and Race Directors will receive $200 off the entry fee. Coaches and race directors in attendance will gain 12 Continuing Education Units (CEUs) to further their professional development. In addition to having access to all sessions, expo and networking happy hours, attendees will be able to access all recorded sessions on-demand until Dec. 31, 2023.

With more than 30 live sessions presented by the industry's top coaches, race directors and industry professionals, Endurance Exchange will feature a mix of hands-on, experiential learning workshops and lecture experiences to educate athletes, coaches, race directors and more members of the multisport community. Live session topics include: Defining Threshold Modalities for Cycling, Digital Marketing, Sustainability Best Practices, Underwater Video Analysis and a State of the Sport report.

The 2023 edition of Endurance Exchange will also include the Race Director Summit, a day dedicated exclusively for race directors (Jan. 24). Race directors can network and learn via expert-led work sessions — including medical, safety and business planning — and workshops to set them up for their most successful season yet. Race director-specific content includes: Pricing and Economics, Maximizing Local Partners and Day in the Life: Crisis Management.

Taking place at the Austin Convention Center, Endurance Exchange will also feature an expo showcasing the new products, innovations and brands in the endurance sports community. Attendees are encouraged to book their lodging through USA Triathlon's partner hotels at the Hilton Austin and Hilton Garden Inn Austin. For more information on hotels and travel, visit the Endurance Exchange website at enduranceexchange.com.
For the fourth year, USA Triathlon is offering a limited number of Together We Thrive Endurance Exchange scholarships to foster diversity and bring varied perspectives to the event. Interested candidates may apply here. Priority will be given to people of racial and ethnic minorities, women, and those who may not otherwise be able to attend due to financial constraints. For questions, please reach out to Megan Ritch at megan.ritch@usatriathlon.org.
More information about session topics and speakers will be available at enduranceexchange.com as details are finalized. For sponsorship inquiries and other questions related to Endurance Exchange, please email info@enduranceexchange.com.

About BOA Nutrition
BOA Nutrition, Inc. is a sports nutrition, food, & dietary supplement company based in North Carolina. They develop unique products with novel ways to rapidly deliver essential nutrients so athletes of all ages and levels can optimize their performance. BOA's objective is to provide athletes with fast-acting, concentrated, great-tasting, & convenient products to use no matter where, when, or what the sport. The company's technology, and many other innovations from BOA, are protected by 18 provisional patents and a number of trade secrets. Follow BOA Nutrition, Inc. on Facebook, Instagram, LinkedIn and Twitter.
USA Triathlon is proud to serve as the National Governing Body for triathlon, as well as duathlon, aquathlon, aquabike, winter triathlon, off-road triathlon, paratriathlon, and indoor and virtual multisport events in the United States. Founded in 1982, USA Triathlon sanctions more than 4,000 races and connects with more than 400,000 members each year, making it the largest multisport organization in the world. In addition to its work at the grassroots level with athletes, coaches, and race directors – as well as the USA Triathlon Foundation – USA Triathlon provides leadership and support to elite athletes competing at international events, including World Triathlon Championships, Pan American Games and the Olympic and Paralympic Games. USA Triathlon is a proud member of World Triathlon and the United States Olympic & Paralympic Committee (USOPC).