McQueen Earns Career-High World Triathlon Cup Finish in Pontevedra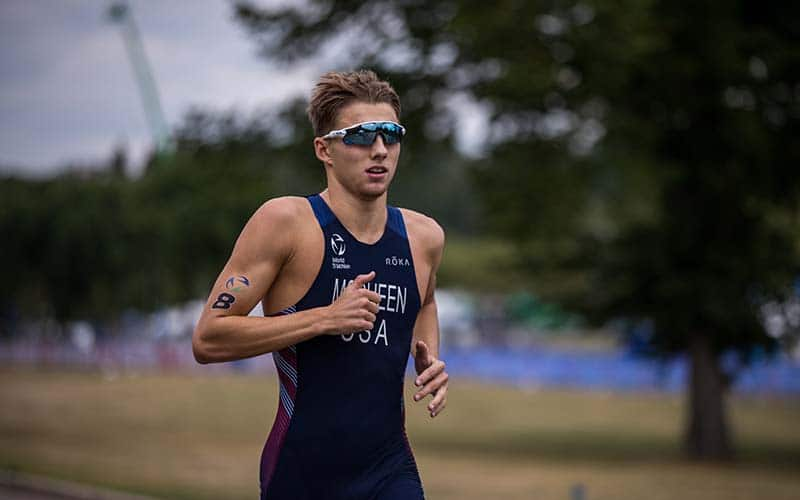 PONTEVEDRA, Spain – Chase McQueen (Columbus, Ind.) secured his best career World Triathlon Cup result on Sunday after earning a 12th-place finish at the 2022 World Triathlon Cup Pontevedra.

Conquering the Olympic-distance course (1500-meter swim, 39.5-kilometer bike, 10-kilometer run) and a massive start list of 64 men, McQueen finished in a time of one hour, 48 minutes and 10 seconds. Of his four World Cup appearances since 2018, Sunday's finish is the first time he has placed within the top 15.

Following the WTCS race in Hamburg a couple weeks ago, McQueen traveled to Pontevedra and spent time training with World Triathlon legend Javier Gomez of Spain. He had the opportunity to get some pool time with the five-time World Champion, ride the course and ask all triathlon-related questions that he could to learn from the best.

McQueen put forth a strong performance from start to finish. He exited the water in the fourth position, only four seconds back form the leader. The bike leg saw a huge bike pack tallying 43 riders, including USA's Darr Smith (Atlanta, Ga.). McQueen remained among the top and entered the second transition sitting in ninth.

He stayed consistent throughout the four-lap run course and finished just over a minute back from the day's winner, which went to Spain's own Sergio Baxter Cabrera with a time of 1:47:03. Joining Baxter on the podium was Spainard Antonio Serrat Seone in second (1:47:12) and Switzerland's Max Studer in third (1:47:17).

Smith finished in 28th place with a time of 1:49:29 and Nathan Cohen (Oxnard, Calif.) finished 51st with a time of 1:58:30 to close out the U.S. men's finishers.

In the women's race, despite entering as sixth on the start list, Erika Ackerlund (Helena, Mont.) had to pull out of the competition and did not start.

Gina Sereno (Los Angeles, Calif.) had the highest result for the women, finishing 35th with a time of 2:02:16. Annie Kelly placed 47th to round out the U.S. with a time of 2:05:44.
The full race replay can be watched on-demand on TriathlonLIVE.tv.
2022 World Triathlon Cup Pontevedra
1500M swim, 39.5K bike, 10K run
Men's Elite Podium -– Complete Results
1. Sergio Baxter Cabrera (ESP), 1:47:03
2. Antonio Serrat Seone (ESP), 1:47:12
3. Max Studer (SUI), 1:47:17

Men's U.S Finishers
12. Chase McQueen (Columbus, Ind.), 1:48:10
28. Darr Smith (Atlanta, Ga.), 1:49:29
51. Nathan Cohen (Oxnard, Calif.), 1:58:30
DSQ, Michael Arishita (Boerne, Texas)
Women's Elite Podium – Complete Results
1. Petra Kurikova (CZE), 1:57:43
2. Lisa Tertsch (GER), 1:57:55
3. Sandra Dodet (FRA), 1:58:08

Women's U.S. Finishers
35. Gina Sereno (Los Angeles, Calif.), 2:02:16
47. Annie Kelly,, 2:05:44