News
Aquabike
National Championships
Olympic-Distance Aquabike Opens Up the 2021 Long Course National Championship Weekend in Stony Point, New York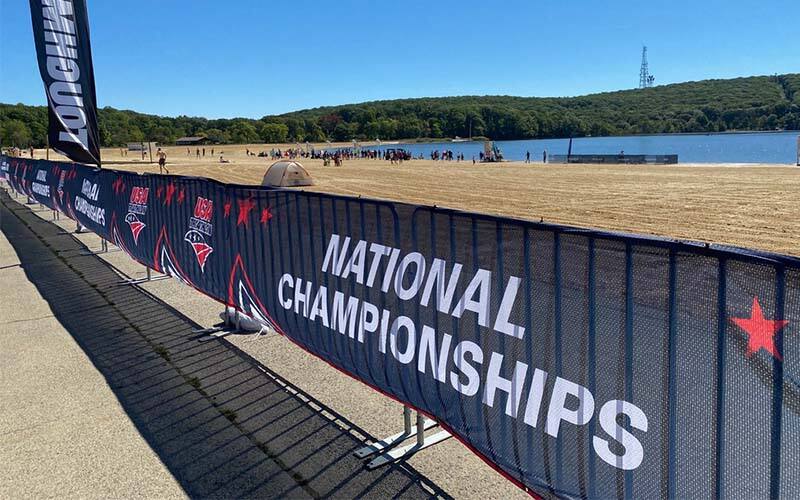 STONY POINT, NY — The 2021 USA Triathlon Long Course National Championships kicked off Saturday as age groupers dominant in the swim and bike competed to be crowned Aquabike national champions. Matthew Guenter (Boulder, Colo.) and Amber Smolik (Oklahoma, City, Okla.) earned the overall national titles, while 23 additional athletes across the nation seized national championships in their respective age groups.
This year, the Long Course National Championships, formerly referred to as the Multisport National Championships Festival, is paired with Toughman New York. In addition to today's event, the national championships racing continues on Sunday with Long Course Triathlon (swim-bike-run), Long Course Duathlon (run-bike-run) and Long Course Aquabike (swim-bike).
Toughman will host the event for two consecutive years as it is also set to hold the 2022 Long Course National Championships next year.
The Aquabike National Championships, held at Lake Welch in Harriman State Park, featured a 1,500-meter swim followed by a 40-kilometer bike.
In the women's overall, Smolik became a back-to-back national champion after earning the title at the Multisport National Championships Festival in Miami in 2019. Her winning time of 1 hour, 36 minutes and 21 seconds put her at ninth overall to cross the finish line among both men and women.

Taking second overall for women and first in the 40-44 age group was Megan Kelly (Greenwich, Conn.) in 1:40:05, while third overall to cross the line for the women was Kristen Ullman (Vancouver, Wash.), who finished second in the 35-39 age group category.
In his first aquabike appearance, Guenter grabbed the men's overall crown, finishing in 1:23:14, while also claiming the 20-24 age group victory.
"Today was good! It was a beautiful venue, I enjoyed myself out there. I got an early lead in the swim and was able to hold everyone else off for the rest of the race. I really enjoyed the bike course and the hills since I did a lot of flat courses this year, it is fun to get out of the saddle and power through the climbs," Guenter said of his race experience.
Crossing the line less than three minutes behind was Todd Buckingham (Wyoming, Mich.), who grabbed the overall second place and first in his 30-34 age group with a 1:26:01 time. Completing the men's overall podium was Kurt Holt (Santa Rosa, Calif.) who also became age group champion in his 45-49 age class, with a finish time of 1:26:16.

Four athletes earned national titles in the Clydesdale and Athena groups. Josh De Jong (Indianapolis, Ind.) was the overall champion, finishing in 1:36:36, to win the 39-under age group. The overall woman was Rebecca Bell (Eaton Rapids, Mich.) finishing in 2:03:30. Chris Wordan (Indianapolis, Ind.) won the Clydesdale 40-59 age group title in 1:45:49. Vanda Pistol Edmondson (Cyril, Okla.) won the Athena 40-54 age group title in 2:08:21.
Top finishers in each age group earned the opportunity to represent Team USA at the 2022 World Triathlon Aquabike Age Group Championships. Aquabike Worlds will be held as part of the 2022 World Triathlon Grand Final Abu Dhabi, set to take place in November 2022 in Abu Dhabi of the United Arab Emirates.
For complete results, photos, schedule and event information for the USA Triathlon Long Distance National Championship, visit toughmantri.com. Sunday's racing action begins at 6:45 a.m. ET.

USA Triathlon Olympic-Distance Aquabike National Championships
1,500m swim, 40k bike

National Champions — Complete Results

Male Overall: Matthew Guenter (Boulder, Colo.), 1:23:14
Female Overall: Amber Smolik (Oklahoma City, Okla.), 1:36:21
M14-19: Rowan Haffner (Scarsdale, N.Y.), 1:42:50
M20-24: Matthew Guenter (Boulder, Colo.), 1:23:14
M25-29: David Perales (APO), 1:53:57
F25-29: Elizabeth McLain (Cottonwood Heights, Utah), 1:53:42
M30-34: Todd Buckingham (Wyoming, Mich.), 1:26:01
F30-34: Rebecca Bell (Eaton Rapids, Mich.), 2:03:30
M35-39: Gavin Daly (Weehawken, N.J.), 2:09:35
F35-39: Amber Smolik, (Oklahoma City, Okla.), 1:36:21
M40-44: Cleyton Anderson de Souza (Sunny Isles Beach, Fla.), 1:40:18
F40-44: Megan Kelly (Greenwich, Conn.), 1:40:05
M45-49: Kurt Holt (Santa Rosa, Calif.), 1:26:16
F45-49: Brooke Oconner (Billerica, Mass.), 1:44:57
M50-54: Robert Rogan (Athens, Ga.), 1:36:38
F50-54: Marie Labriola (Westerly, R.I.), 1:45:48
M55-59: Blair Saunders (Newark, Del.), 1:27:57
F55-59: Katie McCully (Eastham, Mass.), 1:44:01
M60-64: Ron Marks (Marmora, N.J.), 1:40:59
F60-64: Denise Brown (Napoleon, Ohio), 1:52:05
M65-69: Michael McCombs (Tampa, Fla.), 1:39:46
F65-69: Shelly Bloom (Durham, Mass.), 2:15:50
M70-74: James McGinnis (Indianapolis, Ind.), 1:55:08
F70-74: Lauren Binder (Portland, Ore.), 2:18:49
M75-79: Larry Nelson (Hixon, Tenn.), 2:24:11
M80-84: David Robinette (Highlands Ranch, Colo.), 2:23:42
F80-84: Luise Easton (Westlake, Ohio), 4:03:27
M Clydesdale 0-39: Josh De Jong (Indianapolis, Ind.), 1:36:36
M Clydesdale 40-59: Chris Wordan (Indianapolis, Ind.), 1:45:49
F Athena 0-39: Rebecca Bell (Eaton, Rapids, Mich.), 2:03:30
F Athena 40-54: Vanda Pistol Edmondson (Cyril, Okla.), 2:08:21