News
Results
National Championships
Ryan Rau and Holly Smith Earn Second Ultra-Distance National Titles at Michigan Titanium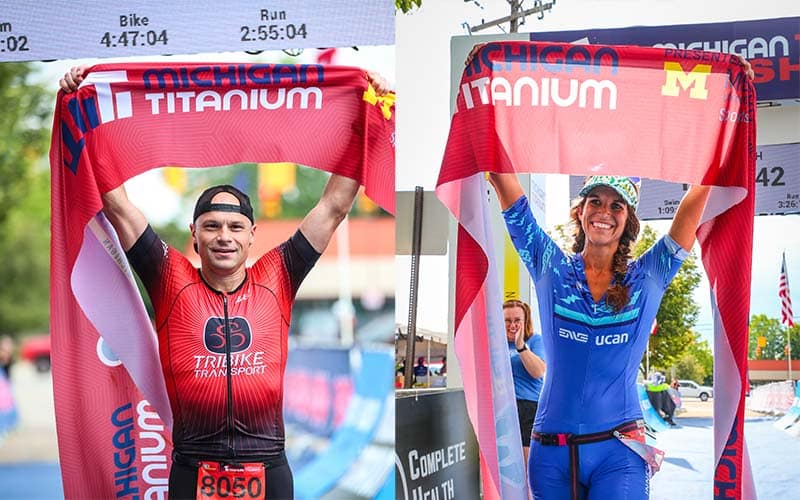 GRAND RAPIDS, Mich. — Ryan Rau (Brighton, Mich.) and Holly Smith (Key Largo, Fla.) both reclaimed their National Championship titles on Sunday, Aug. 14 at the 2022 USA Triathlon Ultra-Distance National Championships, held in conjunction with the Michigan Titanium in Grand Rapids, Michigan.

Rau completed the 2.4-mile swim, 112-mile bike, 26.2-mile run course centered around Versluis Park in 8 hours, 49 minutes and 29 seconds after taking an early lead out of the water.

The victory gave Rau his second-career national title after earning his first Ultra-Distance National Championship in 2019, when the event was also held in Grand Rapids. On top of the overall win, Rau earned the men's 40-44 age group title.

"Whether this was the National Championship or not, I am super stoked to win MiTi again. It is nice to have bragging rights, but other than that it is nice to race strong and finish well. The swim, I finished in about an hour, which is what I was hoping for. The bike, it was a great course, it is rolling so you never are stuck in one gear. I just stuck to the heart rate plan and the power was there, so I was really happy with that. The run I was super happy as I was able to stay comfortable and steady," Rau said of how his race went.

Smith claimed her second consecutive overall national title — and the women's 35-39 age group win — and finished fourth among all competitors, clocking a time of 10:03:42. Last year, Smith earned the women's overall Ultra-Distance crown when the event was held in her home state of Florida at the Great Floridian Triathlon Multisport Festival. This weekend, she improved her overall time by over an hour to secure the back-to-back title.

"It is pretty awesome to win the national title again. It was a tough course. I wasn't expecting the win so it feels great. The swim is my weakest point, but the water was great and I had no issues. The bike was tougher and hillier than I thought, and there was a headwind, so the first lap wasn't too bad, but the second lap was draining and the run was pretty hilly too, but the overall race experience of MiTi was great," Smith said of her start-to-finish race day.

The Michigan Titanium, Michigan's only Ultra-Distance race, also hosted the USA Triathlon Ultra-Distance National Championship in 2019.

Ralph Buckingham (Grand Rapids, Mich.) was the second-place overall male, finishing in 9:15:26, while Craig Hoogerwerf (Ada, Mich.) completed the podium by placing third overall and first in the men's 35-39 age group with a time of 9:31:42.

Elizabeth Callison (Ann Arbor, Mich.) won the women's 25-29 age group national title and finished second overall behind Smith. Following behind Callison was Aaron Velting (Rockford, Mich.) with a time of 11:53:49 to finish third place overall, while winning the women's 40-44 age group title.

Twenty-one athletes earned age group national titles on the day. In addition to national honors, athletes competed to qualify to represent age group Team USA at the 2023 Long Course World Championships in Ibiza, Spain.
2022 USA Triathlon Ultra-Distance National Championships – Grand Rapids, Mich.
2.4-mile swim, 112-mile bike, 26.2-mile run
National Champions — Complete Results

*Back-to-back titles
Male Overall: Ryan Rau (Brighton, Mich.), 8:49:29
Female Overall: Holly Smith (Kay Largo, Fla.), 10:03:42*
M20-24: Michael Bankes (Ann Arbor, Mich.), 10:19:15
F20-24: Adrianna Waack (Auburn Hills, Mich.), 12:04:29
M25-29: Bradley Hunt (Fort Gratiot, Mich.), 11:51:45
F25-29: Elizabeth Callison (Ann Arbor, Mich.), 11:14:36
M30-34: Nicholas Jasmer (Menahga, Minn.), 12:06:42
F30-34: Savanna Pavc (Athens, Mich.), 15:57:40
M35-39: Craig Hoogerwerf (Ada, Mich.), 9:31:42
F35-39: Holly Smith (Key Largo, Fla.), 10:03:42*
M40-44: Ryan Rau (Brighton, Mich.), 8:49:29
F40-44 Aaron Velting (Rockford, Mich.), 11:53:49
M45-49: Mike Wordelman (Rockford, Mich.), 11:07:01
F45-49: Heather Ott (Kihei, Hawaii), 12:08:01
M50-54: Scott Swaney (Highlands Ranch, Colo.), 10:14:35
F50-54: Sandy Shefchik (Luxemberg, Wis.), 12:21:20
M55-59: Bradford Henderson (Wexford, Pa.), 12:19:30
F55-59: Maryann Graham (Grand Rapids, Mich.), 14:15:04
M60-64: Peter Belanger (North Andover, Mass.), 11:52:53
F60-64: Kim Sprenger (Iowa City, Iowa), 13:12:41
M65-69: Daniel Barr (Country Club Hills, Ill.), 13:15:00
F65-69: Martha Obrien (Methuen, Mass.), 14:35:53
Athena: Gretchen Dabbs (Murphysboro, Ill.), 16:40:24