News
Results
Collegiate Club
National Championships
Cal-Berkeley Wins 2021 USA Triathlon Collegiate Club National Championships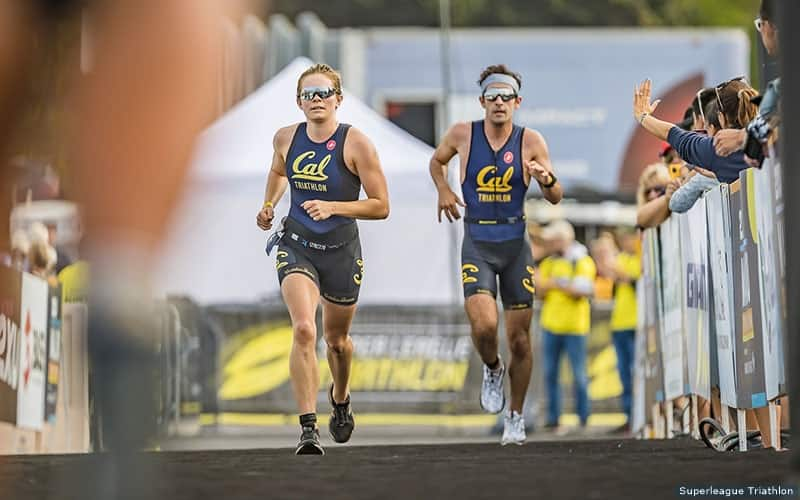 MALIBU, Calif. — University of California-Berkeley won the overall club title at the 2021 USA Triathlon Collegiate Club National Championships, held Sept. 25-26 in Malibu, California, as part of the Malibu Triathlon.
Cal-Berkeley won the title, scoring 77 points, tallied from the individual standings of the top four scoring men and women, respectively, in Saturday's Olympic-distance race and from Sunday's men's and women's relays.

West Point Triathlon Club placed second in the overall team standings, scoring 157 points, while Liberty University placed third, rounding out the podium by scoring 241 points.

Cal-Berkeley also took first in the men's and women's club standings, as the Golden Bears men and women each placed four athletes among the top 20 in Saturday's Olympic-distance race.

The Cal-Berkeley women were led by Kathryn Kennedy, who finished second overall, Annika McBride (9th), Tatiana Reyes (14th) and Elizabeth Ordeman (19th).

Jonathan McKinley (second), Prashanth Ganesh (third), Johnathan Dolan (12th) and Galen Penvenne (14th) led the Golden Bears men. Cal-Berkeley's Bear Schickel, the overall winner of the men's Olympic-distance race, raced unattached and was not included in the scoring for club standings.

Sunday's competition included a traditional relay featuring three-person teams (one athlete swimming, one cycling and one running). All-male and all-female teams competed over a sprint-distance (750m swim, 20k bike, 5k run) at Malibu's Zuma Beach.

Cal-Berkeley also swept the relay competition, as Cal-Berkeley's #1 team (McKinley, Ganesh, Dolan) won the men's relay race with a time of 1 hour, 26 minutes, 51 seconds and Team UC-Berkeley Gold (McBride, Kennedy, Ordeman) won the women's race.

University of California-Davis took second in the men's relay in 1:28:19, while West Point Triathlon Club placed third in 1:28:41.

University of California-San Diego placed second in the women's relay in 1:18:44 and Cal-Berkeley's #2 team finished third in 1:20:04.

The 2021 USA Triathlon Collegiate Club National Championships were originally scheduled for this April in Tempe, Arizona, but postponed, and moved to Malibu, due to the pandemic. The weekend in Malibu was a welcomed return to collegiate racing for college club athletes.
"We were all super excited to be racing for Cal again after two and half years of not having Nationals," McBride said. "This weekend was a lot of fun racing."
In addition to the collegiate club championship races, the weekend at the Malibu Triathlon presented by Bank of America, also featured age-group sprint- and Olympic-distance races and the Malibu Triathlon's famed celebrity division, in which celebrities, studios, entertainment industry corporations and professional triathletes compete while raising funds for Children's Hospital Los Angeles.
Malibu Triathlon also hosted some of the world's fastest triathletes battling head-to-head in the finale of the 2021 Super League Triathlon Championship Series — the first Super League event to be held on U.S. soil.
USA Triathlon Collegiate Club National Championships — Awards

Olympic-Distance Collegiate Club Championships
Overall Club Standings
1. University of California-Berkeley, 77
2. West Point Triathlon Club, 157
3. Liberty University, 241
4. University of California-San Diego, 262
5. Cal Poly, 327
Women's Club Standings
1. University of California-Berkeley, 45
2. West Point Triathlon Club, 81
3. University of California-Davis, 99
4. University of California-San Diego, 133
5. Arizona State University Triathlon Club, 145

Men's Club Standings
1. University of California-Berkeley, 32
2. Liberty University, 59
3. West Point Triathlon Club, 76
4. University of California-San Diego, 129
5. Iowa State University, 135
Women's Relay
Complete Results
1. University of California-Berkeley, 1:26:51
2. University of California-Davis, 1:28:19
3. West Point Triathlon Club, 1:28:41
4. Arizona State University Triathlon Club, 1:30:09
5. George Washington University, 1:33:03
Men's Relay
Complete Results
1. University of California-Berkeley #1, 1:17:49
2. University of California-San Diego, 1:18:44
3. University of California-Berkeley #2, 1:20:04
4. Liberty University, 1:20:23
5. West Point University Triathlon Club, 1:20:38