News
National Championships
Results
Collegiate Club
Bear Schickel of Cal-Berkeley and Marissa Saenger of UCSD Win 2021 Collegiate Club National Titles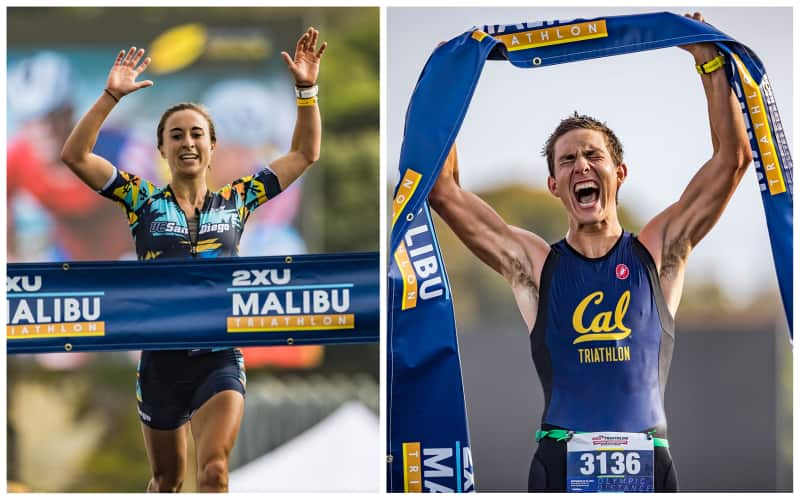 MALIBU, Calif. — University of California-Berkeley's Bear Schickel and University of California-San Diego's Marissa Saenger won the men's and women's national titles Saturday at the 2021 USA Triathlon Collegiate Club National Championships, held as part of the iconic Malibu Triathlon.
About 400 collegiate athletes from more than 20 club teams competed in the marquee event of Collegiate Club Nationals weekend. The Olympic-distance course was centered at Zuma Beach and featured a 1,500-meter swim, 41-kilometer bike and 10-kilometer run.
The Malibu Triathlon presented by Bank of America, held at Zuma Beach, is one of the most anticipated events on the United States' multisport calendar each year. In addition to the collegiate club championship races, the weekend also featured age-group sprint- and Olympic-distance races and the Malibu Triathlon's famed celebrity division, in which celebrities, studios, entertainment industry corporations and professional triathletes compete while raising funds for Children's Hospital Los Angeles.
The 2021 USA Triathlon Collegiate Club National Championships were originally scheduled for this April in Tempe, Arizona, but postponed, and moved to Malibu, due to the COVID-19 pandemic. Schickel raced at the 2019 USA Triathlon Collegiate Club National Championships, the last time the event was held. Saturday's race was a welcomed return to collegiate racing for the Cal Bear triathlete.
"It's been a long two and a half years. I just loved coming out here and racing with my team and just seeing all the guys out there. I just missed it so much," Schickel said. He won Saturday's Olympic-distance race in a time of 1 hour, 55 minutes, 18 seconds.
Schickel nearly led wire-to-wire, emerging out of the water 6 seconds behind Cal-Berkeley teammate, Johnathan Dolan, who had the day's fastest swim in 19:16. Schickel created his lead on the bike, riding the 41k bike course in a leading time of 57:34. He also had the race's fastest transition from bike to run — those precious seconds mattering as he finished a mere 7 seconds ahead of Parker University's Garrett Mayeaux, who finished runner-up in 1:55:25.
"It felt absolutely amazing to be out here. I couldn't be happier with how the race went," said Schickel, who raced with familiar faces at the front of the pack, as Cal-Berkeley placed four in the top five, including Ryan Lund, who took third in 1:56:09 to round out the men's podium.
"We were hungry to prove ourselves. We had a great showing," said Schickel who raced at last weekend's IRONMAN 70.3 World Championship in St. George, Utah.
In the women's race, Saenger used her strong running skills to run her way to the national title in a time of 2:10:51. Saturday's race was only the second triathlon for Saenger, who used to compete as a track and field and cross country athlete, but injuries often forced her to rehab in the pool and on the bike.
"It was tough. The swim start was a little hectic, people were swimming on top of me, but I hoped that if I could hang on in the swim, then I might be able to make up time on the bike and the run," said Saenger, who started as a graduate student this semester at University of California-San Diego. "I'm grateful for all the support I've been shown from my teammates at UCSD even though I'm new to the team. They've been wonderful."
Saenger used a blazing fast 37:24 10k — 3 minutes faster than anyone else in the field — to make her way to the podium and claim the national championship.
Cal-Berkeley's Kathryn Kennedy finished second in 2:11:23 and third place was a familiar face — two-time Paralympic medalist Grace Norman who last month won the silver medal in the women's PTS5 category at the Paralympic Games Tokyo 2020. Norman, who won gold in the Rio 2016 Paralympic Games, has now twice raced at Collegiate Club Nationals, joining fellow Paralympic gold medalist Allysa Seely as the only two paratriathletes to compete in the Collegiate Club Nationals Olympic-distance field.
Norman, representing Cedarville University, finished with a time of 02:14:03 in only her second Olympic-distance race.
"Racing here was super fun. This is an amazing, fun course, beautiful, the girls did not disappoint with their competitiveness. I'm grateful for all that Cedarville University has done for me, so to come and race one last time to close this chapter on collegiate racing is incredible," Norman said. "The bike felt like a lot longer than I wanted it to and so did the run, so that was a little bit painful. I felt like I had enough time to get into my zone and tick off the miles and it ended up going a lot better than I expected."
In addition to Collegiate Club Nationals and the annual age group race, for the first time, the Malibu Triathlon also hosted some of the world's fastest triathletes battling head-to-head in the finale of the 2021 Super League Triathlon Championship Series — the first Super League event to be held on U.S. soil. Super League Triathlon acquired the Malibu Triathlon in December 2020. Great Britain's Alex Yee won Saturday's race in thrilling fashion, securing the overall Super League Triathlon Championship Series win for the Tokyo 2020 Olympic silver medalist. On the women's side, Bermuda's Flora Duffy won Saturday's Super League finale, as Great Britain's Georgia Taylor Brown took the overall Super League Triathlon Championship Series victory.
Katie Zaferes, U.S. bronze medalist at the Olympic Games Tokyo 2020, finished the Super League Triathlon Championship Series in third.
Collegiate Club Nationals action continues on Sunday, with a traditional relay featuring three-person teams (one athlete swimming, one cycling and one running). The relay will be sprint-distance (750m swim, 20k bike, 5k run), and teams will be all-male or all-female.
USA Triathlon Collegiate Club Olympic-Distance National Championships
1,500m swim, 41k bike, 10k run

Collegiate Men
1. Bear Schickel (University of California, Berkeley), 1:55:18
2. Garrett Mayeaux (Parker University), 1:55:25
3. Ryan Lund (University of California, Berkeley), 1:56:09
4. Jonathan McKinley (University of California, Berkeley), 1:56:32
5. Prashanth Ganesh (University of California, Berkeley), 1:56:42
Collegiate Women
1. Marissa Saenger (University of California, San Diego), 2:10:51
2. Kathryn Kennedy (University of California, Berkeley), 2:11:23
3. Grace Norman (Cedarville University), 2:14:03
4. Sarah Darcel (University of California, Berkeley) 2:14:08
5. Jenna Horner (George Washington University), 2:14:16
About USA Triathlon

USA Triathlon is proud to serve as the National Governing Body for triathlon, as well as duathlon, aquathlon, aquabike, winter triathlon, off-road triathlon and paratriathlon in the United States. Founded in 1982, USA Triathlon sanctions more than 4,000 events and connects with more than 400,000 members each year, making it the largest multisport organization in the world. In addition to its work at the grassroots level with athletes, coaches, and race directors — as well as the USA Triathlon Foundation — USA Triathlon provides leadership and support to elite athletes competing at international events, including World Triathlon Championships, Pan American Games and the Olympic and Paralympic Games. USA Triathlon is a proud member of World Triathlon and the United States Olympic & Paralympic Committee (USOPC).