News
Results
Collegiate Club
National Championships
Queens University of Charlotte Claims Overall Team Title at USA Triathlon Collegiate Club National Championships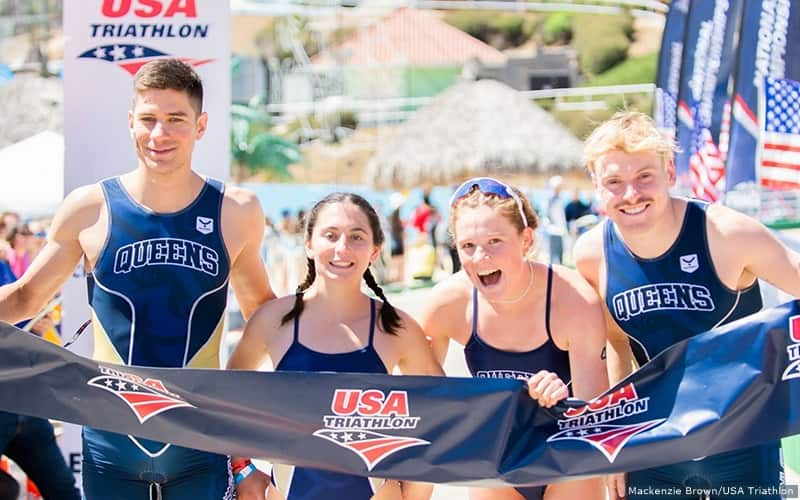 LAKE LANIER, Ga. — After two days of exciting collegiate club triathlon racing that brought more than 1,000 student athletes to Lake Lanier, Georgia, the 2022 USA Triathlon Collegiate Club National Championships came to a close on Saturday, April 2.

Queens University of Charlotte earned the overall team title with 100 points, with strong performances from both the men's and women's teams Friday and Saturday. The Queens Mixed Relay team of Tristen Jones, Kira Ribbink, Milan Tomlin and Franca Henseleit won Friday's Mixed Relay championship and Henseleit won the Draft-Legal title. The men's team had two podium finishers in both Friday's Draft-Legal race and Saturday's Olympic-distance Collegiate Championships.

With the win, Queens adds to their trophy case as the Royals also won the collegiate club title in 2019.

University of Colorado, Boulder (134) placed second and University of California, Berkeley (147) placed third in the overall team standings.

In Saturday's races, Ben Bettin of the University of Colorado, Boulder and Kathryn Kennedy of the University of California, Berkeley earned the men's and women's Olympic-distance Collegiate Championship titles in the final competition of the two-day event hosted by Empower Multisport.

With his win, Bettin returns to Colorado with two national titles after also earning the win in the men's Draft-Legal sprint-distance race on Friday.

Saturday's race featured an altered Olympic-distance course. The swim was shortened to a 600-meter course due to low water temperatures. Participants raced a standard — and technical — 41-kilometer bike and 10k run.
Bettin took an early lead in the men's race, earning one of the top split times in the swim followed by a swift transition. Battling through the hilly bike course and then finding his legs on the run to produce a the fastest male run split of the day (31:18), Bettin entered the finish chute in 1 hour, 45 minutes and 4 seconds to earn his second national title of the weekend.

"Yesterday right after the race I just focused on recovery. I tried to sleep well, but it didn't work. I felt tired this morning and my legs did not feel that good. I just had to trust myself that once the gun goes off, my body knows what to do," said Bettin. "A lot of guys from Queens were with me on the bike route. It was tough at points. I struggled a bit on the bike for some time, but it was good. It is a nice course, there is a lot of hills, it is hard to find a rhythm sometimes, but it is fun."

Queens athletes occupied the remaining two spots on the men's podium. Jorge Alarcon claimed second place, clocking a time of 1:46:28, with his teammate Alexander Mundt in third with a time of 1:48:59.

In the women's race, Kennedy had a dominating performance from start to finish. She grabbed the victor's tape with an over two and a half-minute lead over the competition, finishing in 2:03:07.

"The race started off disappointing, because I am a swimmer and hearing that the swim was shortened, I was pretty bummed because I thought that was going to be my best leg. But I guess it didn't matter much in the end. The bike was super challenging, the run was insanely challenging, it was nice to have my team out on the race course with me, they were really supportive and that was fun," said Kennedy, who finished second in Friday's draft-legal sprint race. "The whole run I was paranoid that someone was right behind me, I always have that feeling that someone is going to pop out of nowhere. I had some relief when I rounded transition and I realized this is it, this is real. I smiled all the way down the hill. It was a great finish."

Sophie Tasker of the U.S. Naval Academy came in second place with a time of 2:05:43, followed by Gabrielle Trueblood of the University of Colorado, Boulder in 2:07:23. Trueblood also finished third on Friday in the draft-legal sprint race.

In a show of their collegiate club's sprit and creativity, the University of Wisconsin won both the Spirit Award and the Journey to Nationals competition. The Spirit Award is annually awarded to the collegiate club that shows the most school pride throughout the event. Journey to Nationals is a competition for collegiate clubs to submit short videos capturing their preparation, qualification and travel to Collegiate Club National Championships. Both awards are presented by Perspective Fitwear, USA Triathlon's Official Training Apparel Partner.
2022 USA Triathlon Olympic-Distance Collegiate Championships — Complete Results
600m swim, 41k bike, 10k run
Top Men's Finishers
1. Ben Bettin (University of Colorado, Boulder), 1:45:04
2. Jorge Alarcon (Queens University of Charlotte), 1:46:28
3. Alexander Mundt (Queens University of Charlotte), 1:48:59
Top Women's Finishers
1. Kathryn Kennedy (University of California, Berkeley), 2:03:07
2. Sophie Tasker (United States Naval Academy), 2:05:43
3. Gabrielle Trueblood (University of Colorado, Boulder), 2:07:23
Overall Club Standings
1. Queens University of Charlotte, 100 points
2. University of Colorado, Boulder, 134 points
3. University of California, Berkeley, 147 points
Women's Club Standings
1. University of California, Berkeley, 39 points
2. University of Colorado, Boulder, 47points
3. Queens University of Charlotte, 75 points

Men's Club Standings
1. Queens University of Charlotte, 24 points
2. University of Colorado, Boulder, 76 points
3. University of California, Berkeley, 92 points