News
Results
National Championships
USA Triathlon Weekend Notebook: From World Records to National Titles, a Huge Weekend in Triathlon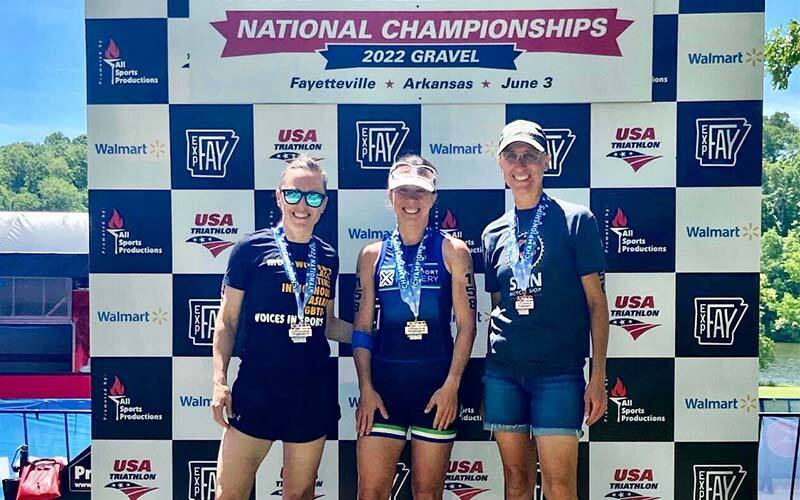 Multisport was BUSY the first weekend in June!
World records were made, athletes escaped from Alcatraz and national titles were given in Arkansas.
Check out all that happened in triathlon from over the weekend:
USA Triathlon Gravel National Championship
Fayetteville, Ark.
Gravel is rising in popularity in the multisport world because it allows more people who don't only own road bikes to get out and enjoy triathlon! The very first Gravel Triathlon National Championships were held over the weekend as part of the Walmart Ozark Valley Triathlon in Fayetteville, Arkansas.
Experimenting on the gravel road terrain, the race also incorporates a trail run and is perfect for those who love getting outdoors in nature!
It was a great debut event, with overall National Champion titles going to Sam Gower-Jackson (Bentonville, Ark.) and Zach Aldrich (Rogers, Ark.).
USA Triathlon Off-Road National Championship and Off-Road Duathlon National Championship
Fayetteville, Ark.
In addition to gravel, athletes also had a chance to earn national titles in both off-road triathlon and for the very first time, off-road duathlon.
Bust out the mountain bikes for off-road racing, with tough and technical bike courses takes you over rocks, tree stumps, wooded paths and puddles.
Will Stacey (Nashville, Tenn.) and Cathy Yndestad (Mesa, Ariz.) won the overall men's and women's off-road triathlon national titles, while Fayetteville's own Frank Broadstreet and Laura Kline (Syracuse, N.Y.) claimed the overall men's and women's off-road duathlon (run-bike-run) crowns.
Escape From Alcatraz Triathlon
San Francisco, Calif.
Apparently had any triathletes been arrested in the 1930s on coastal California and found themselves sentenced to Alcatraz, the island would have had an escape problem!
Over 1,400 athletes participated in the fan-favorite Escape From Alcatraz Triathlon over the weekend.
Pros and age-groupers all gathered to take on the famous 1.5-mile swim into the icy cold and strong current waters near Alcatraz island.
What makes this race so unique is that the swim start begins from jumping off a boat! What an amazing way to start a triathlon!
But when you are jumping into 55-degree F waters, what a major shock to the system!
Every year, a strong roster of pros line up to stake claims on being named the Escape Champion!
This year, the title went to USA's Eric Lagerstrom, a title he had been working toward for seven years!
The female Escape artist, we mean triathlete, was earned by Jackie Hering. She has been having a fire 2022 race season after coming off of the 70.3 IRONMAN Chattanooga race just a couple of weeks ago.
What do you think? Do you have what it takes to escape from the inescapable?
Sub7/Sub8 Project
Germany
As if finishing a 140.6-mile triathlon isn't a test of impeccable endurance skill, the world wanted to know if it could be completed in world record breaking time!
Can men do the ultra-distance in under seven hours and women under eight hours?
This weekend, we found out!
Four professional triathletes, Kristian Blummenfelt (NOR), Nicola Spirig (SUI), Kat Matthews (GBR) and Joe Skipper (GBR) were selected to take on the human sport experiment.
As if Blummenfelt could not prove he is anymore of a beast already, he crossed the line first and smashed the barrier by more than 15 minutes! He finished in 6:44:25, becoming the fastest man to ever do that 140.6 distance.
The women were also record breakers!
Matthews was the first woman to finish, breaking the time barrier by nearly 30 minutes! She finished in a time of 7:31:54.
All four athletes who participated hit the benchmark limit set for them as Skipper and Spirig also finished within the sub- parameters.