News
Results
National Championships
USA Triathlon Weekend Notebook: Titans Become National Champions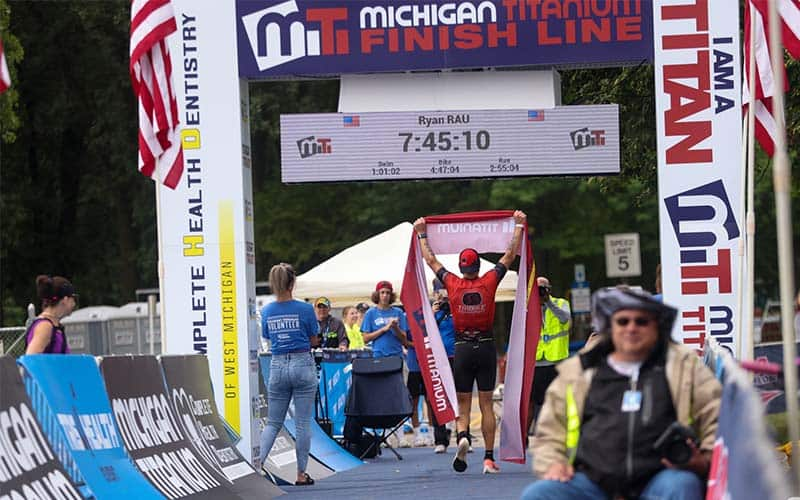 2022 USA Triathlon Ultra-Distance National Championship
Michigan Titanium - Grand Rapids, Mich.
Long course enthusiasts from across the nation headed to West Michigan on Sunday for Ultra-Distance Nationals. Hosted by the Michigan Titanium race from the Tris4Health family of events, this was the second time that MiTi hosted Nationals.
In 2019, MiTi also was the Ultra Nationals event for USAT, but that year the course was shortened to a Half because of weather.
MiTi is one of Michigan's largest independent triathlons and is the state's only 140.6-mile triathlon. For anyone who is "crazy" enough to do the full distance, they compete through a 2.4-mile swim, 112-mile bike and finish with a full marathon (26.2-mile run).
This year's event was also the 10th Anniversary Edition of MiTi and they are known for calling their Ultra-Distance finishers "TITANS."
And just like their partner event, Grand Rapids Triathlon, they also are known for another athlete-favorite: WETSUIT STRIPPERS!
They sure do love their strippers in Michigan!
Winning the men's overall National Title was Michigan's own Ryan Rau. He also won the event in 2019, so this year he was able to reclaim his title. He finished with a time of 8:49:29.
The women's title was earned by Holly Smith of Florida, who also claimed her second National Ultra Crown after she won last year in 2021! She crossed the finish line in 10:03:42.
The full race recap and full results can be found here.
Hermosa Beach Triathlon
Hermosa Beach, Calif.
In Spanish, the word hermosa means beautiful, so you know that the venue for this triathlon must be spectacular! This sprint-distance race is great event for triathlon newbies and getting introduced into the sport.
For information on this event, check out their website here.
Buster Britton Memorial Triathlon
Pelham, Ala.
The 37th Anniversary of the Buster Britton Memorial Triathlon took place on Saturday, featuring Olympic and Sprint-Course options.
"As one of the longest-running triathlons in the country, set in beautiful Oak Mountain State Park, the race honors the life of Buster Britton - one of the Birmingham area's original triathletes that lost his life in a fun run after completing the Hawaii Ironman only a short time earlier. Buster was a true inspiration for triathletes as the sport began to take shape in Alabama"
For more information on this event, check out their website.