News
Results
Off-Road
National Championships
Gower-Jackson and Aldrich Crowned Inaugural Gravel Triathlon National Champions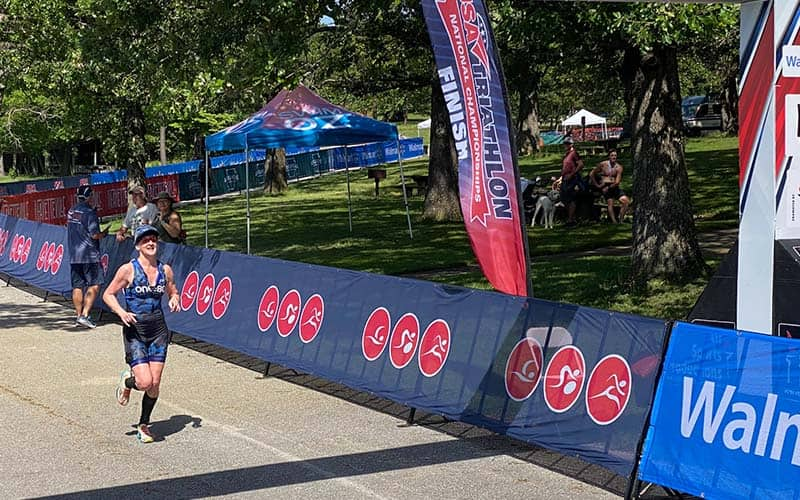 FAYETTEVILLE, Ark. — Sam Gower-Jackson (Bentonville, Ark.) and Zach Aldrich (Rogers, Ark.) earned the overall national titles at the inaugural 2022 USA Triathlon Gravel National Championships in Fayetteville, Arkansas on Friday, June 3.
In addition, 23 athletes from 17 states across the country earned age-group national titles at the debut national championship held as part of the Walmart Ozark Valley Triathlon.

Athletes competed on a gravel triathlon course that featured a 1500-meter swim, 30-kilometer gravel bike and 10-kilometer trail run. Gravel triathlon is a new discipline of multisport racing that incorporates gravel riding, which is an increasingly popular form of cycling that combines elements of road- and mountain-biking on unpaved, non-technical roads.

On Friday, Aldrich crossed the line in 2 hours, 5 minutes and 56 seconds to win the men's overall title and claim the men's 25-29 age group title, earning the win by over a 2-minute margin.

"The race was awesome. The swim was glass, the bike was fast. I am a local, so I have ridden those roads before and they are amazing. There were a few chunky sections because we had a lot of rain in the last few weeks, but overall, I love the bike course and the run, it was fast. The hill at the beginning was gnarly to go up, but after that it smoothed out and it was a good mix of fast and technical places," Aldrich said of the course.

On the women's side, Gower-Jackson had a dominating performance, winning the overall women's title by over 6 minutes. She finished with a time of 2:26:08 to also claim the women's 35-39 national title.

"I am new to gravel triathlon. It was a great event, a real challenging event for a national championship. It had a little bit of everything for everybody," Gower-Jackson said of her race experience.

Josh Flanagan (Alton, N.H.) was the second-place overall male, finishing in 2:08:34 and earning the men's 40-44 age group title. Joining him on the overall podium was Christian Waterstraat (Naperville, Ill.) who finished third, with a time of 2:08:46 that claimed him the men's 45-49 age group national title.

The second female to cross the gravel triathlon finish line was Elizabeth Waterstraat (Naperville, Ill.), clocking a time of 2:32:15 and earning the women's 45-49 age group title. Following closely behind was Laura Kline (Syracuse, N.Y.) in third place with a time of 2:32:40.

Winning the men's 70-74 age group national title was Walt Rider (Germantown, Tenn.) with a time of 2:42:01. Proving that talent runs in the family, Rider is the father of current U.S. Elite Triathlon National Team member Seth Rider who races on the World Triathlon Championship series circuit.

Lance Fargo (Ocean View, Del.) claimed the national title in the Clydesdale 40-59 division in a time of 2:45:53. A mainstay on the USA Triathlon National Championships podium, Fargo has now won 13 Cyldesdale triathlon national championships.

The racing action continues on Saturday, June 4, as Fayetteville will also host the Off-Road Triathlon National Championships and first-ever Off-Road Duathlon National Championships.

For complete results and event information for the USA Triathlon Gravel National Championship, visit here.
2022 USA Triathlon Gravel National Championships
Fayetteville, Ark. 1,500-meter swim, 30-kilometer gravel bike, 10-kilometer trail run

National Champions — Complete Results
Overall Female: Sam Gower-Jackson (Bentonville, Ark.), 2:26:08
Overall Male: Zach Aldrich (Rodgers, Ark.), 2:05:56
M20-24: Reilly Kerrigan (Hernando, Miss.), 2:32:55
F25-29: Kathryn Neuhardt (Charlottesville, Va.), 3:16:51
M25-29: Zach Aldrich (Rodgers, Ark.), 2:05:56
F30-24: Kelly Gibbs (Little Rock, Ark.), 2:58:41
M30-34: Zachary Tucker (St. Louis, Mo.), 2:10:20
F35-39: Sam Gower-Jackson (Bentonville, Ark.), 2:26:08
M35-39: Wesley, Greer (Batesville, Ark.), 2:17:01
F40-44: Julie Croff (Tulsa, Okla.), 3:02:33
M40-44: Josh Flanagan (Alton, N.H.), 2:08:34
F45-49: Elizabeth Waterstraat (Naperville, Ill.), 2:32:15
M45-49: Christian Waterstraat (Naperville, Ill.), 2:08:46
F50-54: Lori Martin (Alexandria, La.), 3:31:52
M50-54: Travis Wales (Springville, Calif.), 2:28:06
F55-59: Heidi Mckenna (Papillion, Neb.), 3:19:52
M55-59: Todd Cawley (Atlanta, Ga.), 2:23:18
F60-64: Lynn Hill (Jacksonville, Fla.), 4:12:28
M60-64: Brent Peacock (Jackson, Wyo.), 2:17:05
F65-69: Lucia Colbert (Cordova, Tenn.), 2:57:11
M65-69: Steven Mudgett (Aubrey, Texas), 2:24:51
M70-74: Walt Rider (Germantown, Tenn.), 2:42:01
Athena 0-39: Rebecca Bell (Eaton Rapids, Mich.), 3:07:18
Clydesdale 0-39: Chris Fowler (Alexander, Ark.), 3:28:32
Clydesdale 40-59: Lance Fargo (Ocean View, Del.), 2:45:43