News
Results
National Championships
Youth and Junior
Youth and Junior National Champions Crowned on Day One in West Chester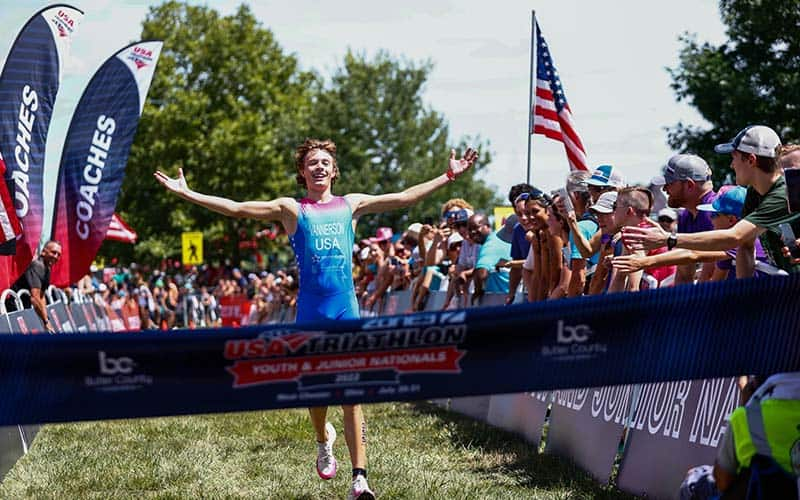 WEST CHESTER, OHIO — The nation's top up-and-coming triathlon stars showcased their talent Saturday at the 2022 Zone3 USA Triathlon Youth & Junior Nationals, held at Voice of America Park in West Chester for the 10th year.

Naomi Ruff (West Chicago, Ill.) and Keller Norland (Tempe, Ariz.) won the Junior Draft-Legal National Championships for ages 18-19 and Britney Brown (O'Fallon, Ill.) and Reese Vannerson (Sugar Land, Texas) earned the Junior Draft-Legal National Titles for ages 16-17.

Both races were competed on the sprint-distance (750-meter swim, 20-kilometer bike, 5k run) course.

In the women's 18-19 race, Ruff finished in a time of 1hour, 3 minutes and 22 seconds to earn her second consecutive Youth & Junior Nationals championship title.

Ruff said of her two-time national championship win, "It's an honor. And to see the hard work pay off and share the win with my teammates who I train with every day, it's really great to see. I knew I had to push in the swim to stay with the top girls. And then the bike was the same thing, and I just kill the run as best as I can."

Ruff is committed to Arizona State University to compete on the Division I women's varsity triathlon team this upcoming school year.

In the men's event, Norland gave it his all from start to finish to claim the victory with a time of 56:04. As a team member of USA Triathlon's development squad, Project Podium, this win helps drive his career toward competing at the Elite level.

Norland said of his first-time title, "It feels pretty good, I have been wanting this for a really long time. Last year I did not have the race that I wanted, I got 11th place, so it feels good to redeem myself in my last year of juniors. I went out with a bang."

Brown earned the junior draft-legal title in the 16-17 division with a time of 1:04:17. It was her first national title.

"I am most proud of my run today. I have run after hard bikes, but this was one of the harder bikes I have done in a race and to be able to keep my pace and not get a cramp or die out, I was really happy with that," Brown said of her race performance.

Vannerson clocked out at a time of 57:40 to earn him the 16-17 junior Draft-Legal title.

"It feels great, this is what you work for all year. For it to pay off, it feels amazing. After the summer I have had and to cap it off with a national title, there is no other way that I would rather do it," Vannerson said of his victory.

In June, Vannerson earned the bronze medal at the 2022 World Triathlon Junior World Championships in Montreal.

In Saturday's Youth National events, Jacob Tarkington (Alpharetta, Ga.) and Charlotte Joseph (Ponte Vedra Beach, Fla.) claimed the overall titles. Tarkington conquered the super-sprint course (375m swim, 10k bike, 2.5k run) in a time of 31:28, while Joseph earned her national title in a time of 34:05.

The weekend action continues on Sunday, July 31, starting at 7 a.m., where the youth age group races for athletes ages 7-12 will take place. Athletes ages 7-10 will complete a 100m swim, 5k bike and 1k run, while 11- to 12-year-olds will complete a 200m swim, 10k bike and 2k run. Youth paratriathletes and athletes with intellectual impairments will also compete Sunday morning, taking on the same course as the 11-12 age group.

Qualification is not required to participate in the youth age group races, which are open to athletes ages 7-18 (previously limited to ages 7-15). Emphasizing participation and personal goal setting over competition for the younger age groups, "National Champion" titles will only be awarded to athletes ages 13-18, while athletes ages 7-12 will receive placement awards.

The weekend concludes with the Youth and Junior Mixed Relay. Relay teams are made up of four competitors (two boys, two girls), which each team member completing a 250m swim, draft-legal 5k bike and 1.2k run before tagging off to the next athlete. The Mixed Relay event made its Olympic debut at the Olympics Games Tokyo 2020, with the U.S. team winning the silver medal.

WEBSITE: Visit usatriathlon.org/yjn2022 or download the digital event program for more information on the Zone3 USA Triathlon Youth & Junior Nationals.
2022 Zone3 USA Triathlon Youth & Junior Nationals – Full Results
Junior Draft Legal: 750m swim, 20k bike, 5k run
Youth Draft Legal 375m swim, 10k bike, 2.5k run

*Back-to-back Champion
Junior Female 18-19
1. Naomi Ruff (West Chicago, Ill.), 1:03:22*
2. Gabby Martin (Fircrest, Wash.), 1:03:43
3. Freya McKinley (The Woodlands, Texas), 1:04:04

Junior Male 18-19
1. Keller Norland (Tempe, Ariz.), 56:04 Project Podium
2. Blake Harris (CAN), 56:11
3. Alejandro Dominguez (Sandy, Utah), 56:30

Junior Female 16-17
1. Britney Brown (O'Fallon, Ill.), 1:04:17
2. Ruth Pardy (Sioux Falls, S.D.), 1:05:45
3. Sidney Clement (CAN), 1:06:21

Junior Male 16-17
1. Reese Vannerson (Sugar Land, Texas), 57:40
2. Braxton Legg (Odessa, Fla.), 58:23
3. Jaxton Plumb (Des Moines, Iowa), 58:32

Youth Female
1. Charlotte Joseph (Ponte Vedra Beach, Fla.), 34:05

Youth Male
1. Jacob Tarkington (Alpharetta, Ga.), 31:28

Youth Age Groups 13-18
300m swim, 10k bike, 2.5k run

Age 13
Female winner: Taylor Davis (Katy, Texas), 36:06
Male winner: Graham Hummel (Richardson, Texas), 33:35

Age 14
Female winner: Valentina Negron Velazquez (PUR), 36:10
Male winner: Seth Holland (Katy, Texas), 34:04

Age 15
Female winner: Cayman Barnes (Lawrence, Kan.), 36:36
Male winner: Conor Fisher (Allentown, Pa.), 32:27

Age 16
Female winner: Eliza Miller (Apollo, Pa.), 34:39
Male winner: Matteo Tonnos (Farragut, Tenn.), 30:21

Age 17
Female winner: Marlee Kwasnica (State College, Pa.), 35:22
Male winner: Alessandro Lopez Morales (Kernersville, N.C.), 31:50

Age 18
Female winner: Tamara Kun (Bloomington, Ind.), 34:26
Male winner: Judah Thompson (Bloomington, Ind.), 32:39