News
Results
National Championships
Leon's Triathlon Crowns USA Triathlon Military and First Responders National Champions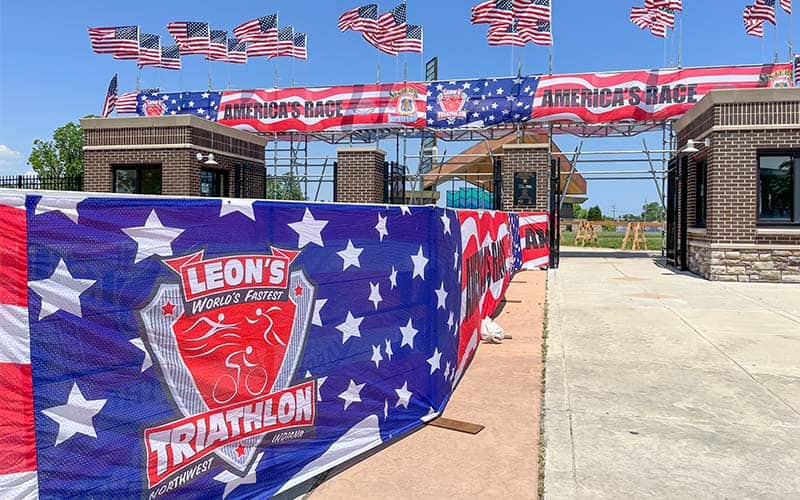 HAMMOND, Ind. — The second edition of the USA Triathlon Military and First Responders National Championships were held Sunday, June 5, as part of Leon's Triathlon in Hammond, Indiana, to honor the service and sacrifice of members of the U.S. Armed Forces as well as police, fire and EMS personnel in the multisport community.
Last year, the race debuted as a USA Triathlon National Championship event.

Leon's Triathlon, dubbed "America's Race," has a long legacy of honoring and empowering U.S. service men and women, especially injured military veterans. Leon's Triathlon partners with a variety of other local, state and national initiatives and organizations throughout the year to recognize and give back to military and first responders.

On Sunday, competitors representing all branches of the U.S. military and various divisions of police, EMS and fire response raced the National Championship event that featured a sprint-distance (500-meter swim, 11.6-mile bike, 3.1-mile run) and an Olympic-distance (1,500-meter swim, 23.2-mile bike, 6.2-mile run) race.

Athletes competing were eligible to earn national titles in race categories including: Overall Military - Active Duty; Overall Military - Retired/Veteran; Overall First Responder - Police/Law Enforcement; Overall First Responder - Fire/EMS. The sprint-distance event also featured categories for Paratriathlon Military and Paratriathlon First Responders.

Leon's Triathlon also served as the 2022 USA Triathlon Indiana State Championships and the host site for the 2022 Dare2Tri Paratriathlon Club Injured Military Camp.
The race was also served as the third event in the 2022 USA Paratriathlon Development Race Series. The Series is the premier national-level racing circuit for new and emerging paratriathletes in the United States. The aim of the series is to provide increased domestic competitive opportunities for the nation's emerging and developing paratriathletes. Previous races were held in Cocoa Beach, Fla. in April and La Porte, Texas in May. The next stop on the Series will be the Pleasant Prairie Triathlon in Wisconsin on June 26, 2022.
For complete age-group and paratriathlon results from Leon's Triathlon, visit leonstriathlon.com.

2022 USA Triathlon Military and First Responders National Champions
Sprint-Distance (500-meter swim, 11.6-mile bike, 3.1-mile run) — Overall Results

Military
Overall Male Armed Forces: Joseph Hubbs (Kokomo, Ind.), 1:09:01
Overall Female Armed Forces: Nancy Lyon-Stadler (Shaker Heights, Ohio), 1:12:48

First Responders
Overall Male: Joseph Giunta (Algonquin, Ill.), 1:43:51
Overall Female: Chris Wodke (Milwaukee, Wis.), 1:34:12

2022 USA Triathlon Military and First Responders National Champions
Olympic-Distance (1,500m swim, 23.2-mile bike, 5.2-mile run) — Overall Results

Military
Overall Male Armed Forces: Matthew Horning (Troy, Mich.), 2:19:45
Overall Female Armed Forces: Cheryl Patterson (New Castle, Ind.), 2:35:01

First Responders
Overall Male: Robert Pollastro (Staten Island, N.Y.), 2:03:38
Overall Female: Caitlin Krull (Orland Park, Ill.), 2:18:32