News
Draft-Legal
Results
National Championships
Zachary Hamner and Camille Buchanan Earn Age Group Draft-Legal National Championships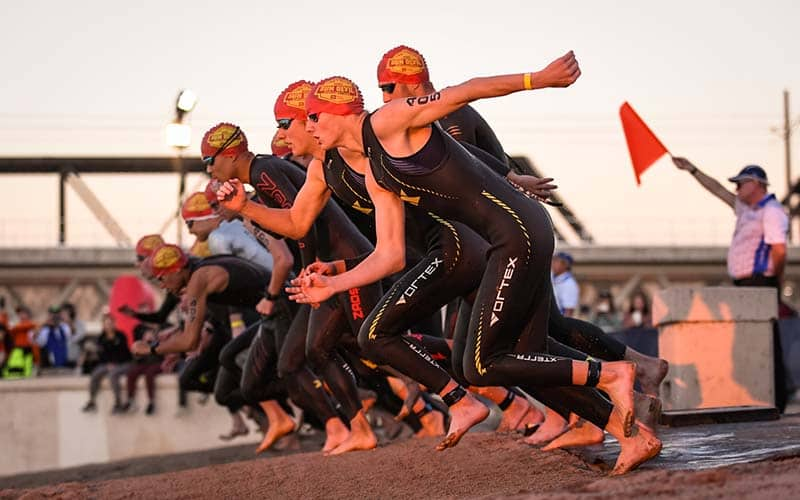 TEMPE, Ariz. — Nearly 300 triathletes raced in Tempe, Arizona, on Saturday, Nov. 13 for the 2021 USA Triathlon Age Group Draft-Legal National Championships, held as part of the Sun Devil Draft-Legal Classic at Tempe Town Lake. Zachary Hamner (Chula Vista, Calif.) and Camille Buchanan (Tempe, Ariz.) were crowned overall champions, while 25 age group national titles were awarded.
Hamner covered the 750-meter swim, 20-kilometer bike and 5k run course in 58 minutes and 32 seconds after putting up the fastest 5k run split of the day, to win the men's overall title and national championship in his age group (M25-29). The overall victory is Hamner's first, and his third consecutive 25-29 age group title at Draft-Legal Nationals, as he also took the age group crown in 2018 and 2019.

On the women's side, Buchanan clocked a time of 1:07:15 to claim the women's national title and F15-19 age group win. Buchanan is a freshman on the Arizona State University women's collegiate triathlon team. Earlier this month, she represented the U.S. in Portugal at the 2021 World Triathlon Junior Championships Quarteira.
The draft-legal format, which encourages athletes to ride in packs and work together on the bike course, is similar to the elite style of World Triathlon racing and is gaining popularity at the age-group level.

This is the third time that the city of Tempe has hosted the Draft-Legal National Championships. The first year was 2018, 2019 and then the 2020 event was cancelled due to COVID-19. Saturday's age group race was also in conjunction with the 2021 Women's Collegiate Triathlon National Championships.

Jared Eytcheson (Wake Forest, N.C., M20-24) earned second place in the men's race with a time of 58:39 – granting him his respective age group national title as well. Jeff Gautreau (Tucson Ariz., M25-29) completed the Nationals podium in 58:47.

In the women's event, following Buchanan, Alexandra Schwein (Broomfield, Colo.) crossed the line in second place with a time of 1:07:33, earning the F20-24 title. In third was Cathy Yndestad (Mesa, Ariz.), who with a time of 1:09:37 was fast enough to defend her 2019 title in her F40-44 age group.

Twenty-five athletes earned national titles in their respective age groups, including four who successfully defended their titles from 2019: Hamner (M25-29), Yndestad (F40-44), Bobby Gonzales (El Paso, Texas, M60-64) and Jospeh Gulaskey (Bend, Ore., M75-79).

Athletes qualified for the 2022 World Triathlon Sprint Distance Championships, scheduled to be held in Montreal, Canada in June.
For complete event information for the USA Triathlon Age Group Draft-Legal National Championships, click here.
USA Triathlon Age Group Draft-Legal National Championships
750-meter swim, 20-kilometer bike, 5-kilometer run

National Champions — Complete Results
*Denotes back-to-back national champions

Female Overall: Camille Buchanan (Tempe, Ariz.), 1:07:15
Male Overall: Zachary Hamner (Chula Vista, Calif.), 58:32
F15-19: Camille Buchanan (Tempe, Ariz.), 1:07:15
M15-19: Carson Vanderschaaf (Marquette, Mich.), 59:18
F20-24: Alexandra Schwein (Broomfield, Colo.), 1:07:33
M20-24: Jared Eytcheson (Wake Forest, N.C.), 58:39
F25-29: Joanna Coker (La Jolla, Calif.), 1:13:53
M25-29: Zachary Hamner (Chula Vista, Calif.), 58:32**
F30-34: Lisa Luttenegger (Chicago), 1:19:11
M30-34: Steve Allnutt (San Diego, Calif.), 1:02:08
F35-39: Kristen Eschmann (Solon, Ohio), 1:14:47
M35-39: Stephen Banister (Carlsbad, Calif.), 1:07:29
F40-44: Cathy Yndestad (Mesa, Ariz.), 1:09:37*
M40-44: Maarten Bout (Bloomington, Ind.), 1:03:36
F45-49: Astrid Collins (Santa Ana, Calif.), 1:16:34
M45-49: Kirk Framke (Denver), 1:03:32
F50-54: Lauren Jensen McGinnis (Muskego, Wis.), 1:14:34
M50-54: Peter Valentyik (Boulder, Colo.), 1:04:06
F55-59: Kelly Dippold (Irvine, Calif.), 1:13:34
M55-59: Grzegorz Zgliczynski (Highlands Ranch, Colo.), 1:05:18
F60-64: Alicia Caldwell (Denver, Colo.), 1:17:55
M60-64: Bobby Gonzales (El Paso, Texas), 1:11:23*
F65-69: Susan Griffin-Kaklikian (Colorado Springs, Colo.), 1:25:45
M65-69: Bill Reese (Mandeville, La.), 1:15:31
F70-74: Cande Olsen (Morristown, Neb.), 1:32:37
M70-74: Michael Orendorff (Pueblo, Colo.), 1:21:22
M75-79: Jospeh Gulaskey (Bend, Ore.), 1:37:55*