News
Team USA
Elite
Triathlon
Olympics
Taylor Spivey Takes Overall World Triathlon Championship Series Lead With Bronze at WTCS Cagliari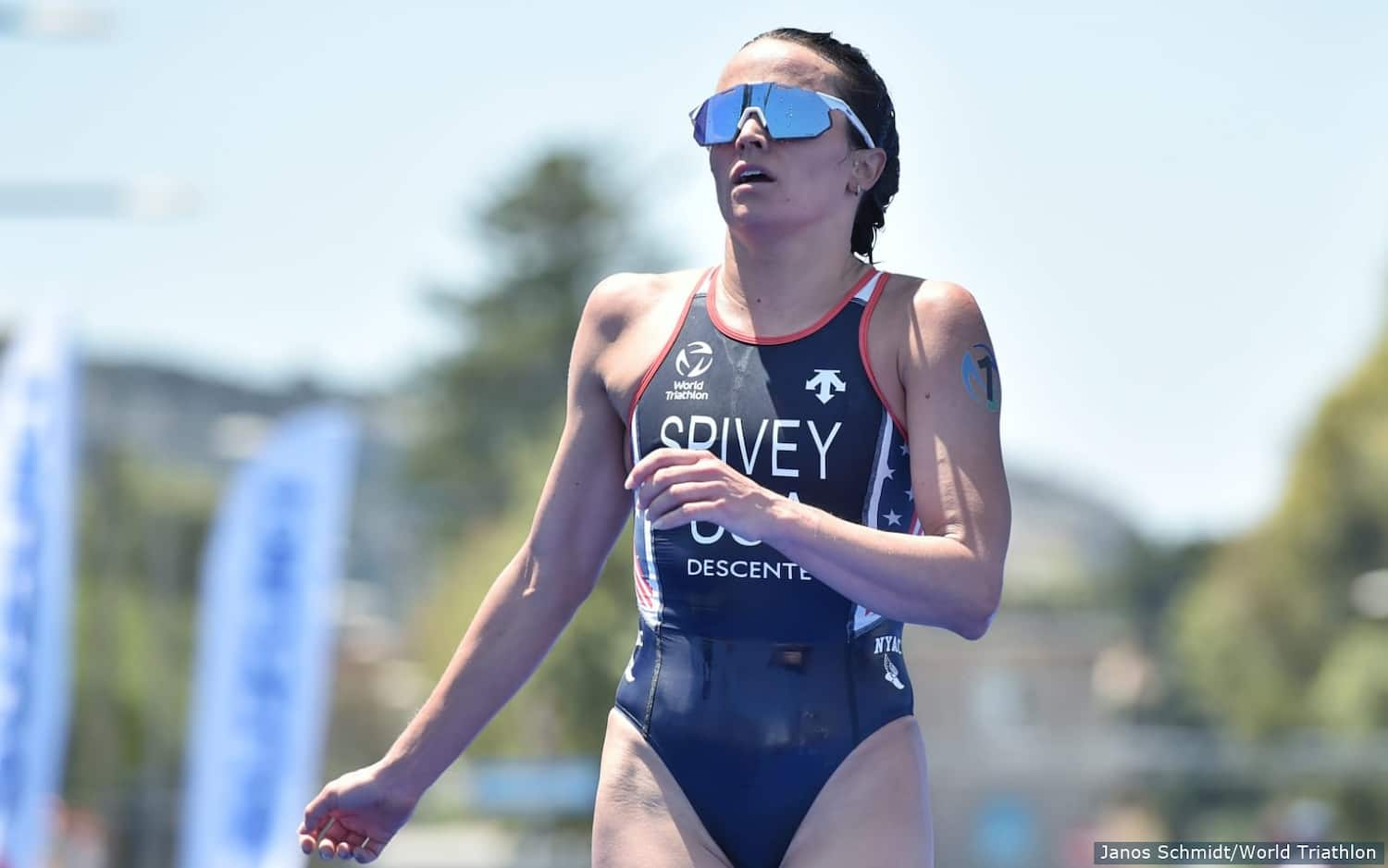 CAGLIARI, Italy — U.S. elite triathlete Taylor Spivey (Redondo Beach, Calif.) took the overall lead in the 2023 World Triathlon Championship Series Rankings with a bronze medal performance on Saturday at the 2023 World Triathlon Championship Series Cagliari.

The bronze is the second podium performance of the 2023 season for Spivey, who opened her campaign with a bronze at Abu Dhabi in March and followed with a fourth-place finish in Yokohama two weeks ago in May. Now through three races, Spivey sits atop the 2023 World Triathlon Championship Series Rankings with 2,288 points. The WTCS resumes June 24-25 in Montreal.

Long known for her consistency and skill across all three disciplines, Spivey executed a near-perfect swim, bike and run on Saturday in Cagliari. She was among the leaders out of the water, and charged ahead in the lead bike pack to dictate the fast pace on the flat course in Cagliari. She then ran her way to third, holding off the fast-charging Cassandre Beaugrand of France, to finish the 1,500m swim, 40k bike and 10k run course in 1 hour, 47 minutes 36 seconds, in third place behind Great Britain's Georgia Taylor-Brown (1:46:43) and Emma Lombardi of France (1:47:06).

"I had a feeling she (Beaugrand) was coming for me. I had to dig deep, especially on the last lap, and keep the pressure on. For a minute there I didn't think I could hold her off, but I really didn't want to get fourth again," said Spivey, who is proud to be the Series leader for the first time in her elite professional career. "I just continue to surprise myself and I'm really happy with this result. That's really cool (to be the Series leader). I've never been in this position before, so it's really special."

Fellow U.S. Elite Triathlon National Team member Summer Rappaport (Thornton, Colo.) earned another top-10 finish on Saturday in Cagliari, placing seventh. Through three Series races, she sits at fourth in the Series Rankings, with top-10 finishes in Abu Dhabi, Yokohama and now Cagliari.

Katie Zaferes (Cary, N.C.) raced her second Series race of the 2023 season, placing 12th on Saturday after leading the chase bike group. The U.S. Elite Triathlon National Team member is returning to elite competition this season after taking a break from competition in 2022 following the birth of her first child. Her performance in Cagliari vaulted her up the Series Rankings where she is now 25th, sixth among the deep U.S. elite women team.

The U.S. is the only country with six women in the top 25 of the Series Rankings. Four U.S. women — Spivey, Rappaport, Kirsten Kasper (North Andover, Mass.) and Taylor Knibb (Boulder, Colo.) — are in the top 15.

Kasper placed 17th in Cagliari and sits in 13th in the Series Rankings.

In the men's race, U.S. Elite Triathlon National Team member Seth Rider (Germantown, Tenn.) again paced the U.S. squad. He finished in 27th on Saturday, displaying a strong effort on the bike.
Great Britain's Alex Yee out-dueled Hayden Wilde of New Zealand to break the tape, winning in a time of 1:36:28. Wilde (1:36:33) earned the silver, while France's Leo Bergere took the bronze in 1:37:04 to lead the Frenchmen, who finished third, fourth and fifth.
2023 World Triathlon Championship Series


The World Triathlon Championship Series is an annual series of triathlon events held in cities around the world where athletes compete head-to-head for points. The rankings are used to determine the best-performing triathletes of the season, and ultimately, the world champions.


The 2023 season also includes the 2023 World Triathlon Test Event Paris, the first Paris 2024 Olympic Games auto-qualification opportunity for U.S. elite triathletes. The races will take place on the same venue that will host the triathlon and paratriathlon competitions during the Paris 2024 Olympic and Paralympic Games.

Upcoming Events
• 2023 World Triathlon Championship Series Montreal – June 24-25

• 2023 World Triathlon Sprint & Relay Championships Hamburg – July 13-16

• 2023 World Triathlon Championship Series Sunderland – July 29-30

• *2023 World Triathlon Test Event Paris – Aug. 17-18*

• 2023 World Triathlon Mixed Relay Series Paris – Aug. 20

• *2023 World Triathlon Championship Finals Pontevedra – Sept. 22-24*

*Denotes Paris 2024 Olympics auto-qualifying event

2023 World Triathlon Championship Series Cagliari
1500m swim, 40k bike, 10k run
Complete Results

Women

1. Georgia Taylor-Brown (GBR), 1:46:43

2. Emma Lombardi (FRA), 1:47:06

3. Taylor Spivey (Redondo Beach, Calif.), 1:47:36

U.S. Finishers
7. Summer Rappaport (Thornton, Colo.), 1:48:12

12. Katie Zaferes (Cary, N.C.), 1:49:10

17. Kirsten Kasper (North Andover, Mass.), 1:49:42

30. Erika Acklerund (Helena, Mont.), 1:52:22

Men
1. Alex Yee (GBR), 1:36:28

2. Hayden Wilde (NZL), 1:36:33

3. Leo Bergere (FRA), 1:37:04

U.S. Finishers
27. Seth Rider (Germantown, Tenn.), 1:39:26

37. Matt McElroy (Huntington Beach, Calif.), 1:41:15

41. Darr Smith (Atlanta, Ga.), 1:43:16