Team USA Brings Home 16 Age Group World Titles at the 2022 World Triathlon Multisport Championship Samorin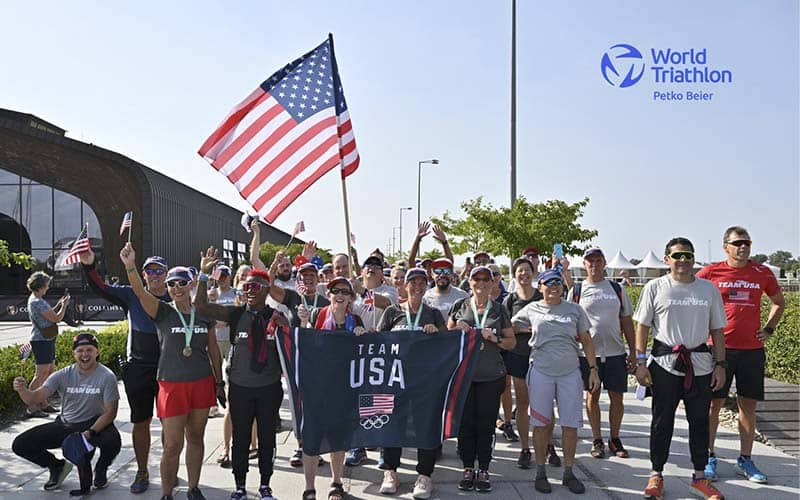 SAMORIN, Slovakia – Athletes representing age group Team USA made their way to Slovakia for five full days of multisport action Aug. 18-22 to compete in the 2022 World Triathlon Multisport Championships Samorin.

Both age group and elite athletes competed against other nations across the globe to earn World Titles in Aquathlon (swim-run), Long Distance Triathlon and Aquabike (swim-bike). The Championships were in conjunction with the second-edition of the Collins Cup, a pro-triathlete international event.

Across the board, Team USA claimed a total of 16 age group world titles and 38 age group podiums across the three multisport races in Samorin.

Thursday, Aug. 18 opened up the competition weekend with the Aquathlon World Championships with athletes taking on a 1000-meter swim followed by a 5-kilometer run. Six age group athletes earned world titles including Ella Madden (Cornell, Texas) as the youngest U.S. teammate, earning the F16-19 title.

The Long Distance World Championships were held on Sunday, Aug. 21 with the course featuring a 2000-meter swim, a 79.8K bike and a 17.9K run.

Mike Wien (Boulder, Colo.) and Suzanne Mink (Washington D.C) were both victorious in claiming their respective age group titles for the male and female 70-74 age-group category.

In the Aquabike World Championships race, the U.S. earned eight age-group crowns and 18 total podiums on the 2000-meter swim and 79.8K bike course.

Ruth Hamilton (McLean, Va.), the eldest women's athlete for the U.S. earned two world titles in Samorin, claiming the F75-79 win in both the Aquathlon and Aquabike.
2022 World Triathlon Aquathlon Championships Samorin – Complete Results
Swim 1000m (1 lap), Run 5km (1 lap)

U.S. Age Group Podiums
M16-19
2. Kieran Dolan (Atascadero, Calif.), 34:23
F16-19
1. Ella Madden (Cornell, Texas), 41:45
3. Jay Young, 52:13
M 20-24
1. Johnathan Dolan (Cornell, Texas), 32:09
F35-39
3. Katherine Gage (Washington D.C.), 44:22
F45-49
3. Jennifer Dehart (Thorndike, Maine), 41:07
F50-54
3. Juliana Batizy-Morley (Highlands Ranch, Colo.), 43:57
M55-59
3. John Myers (Flower Mound, Texas), 39:04
F55-59
1. Katie Mccully (Eastham, Mass.), 41:26
F65-69
3. Patti Sears (Danville, Calif.), 55:48
F70-74
1. Judith Reiberg (New York, N.Y.), 1:03:41
2. Karen Wilcox (Austin, Texas), 1:11:22
3. Barbara Kostner (Lakewood, Colo.), 1:14:51
M75-59
1. Robert Plant (Woodside, Calif.), 54:13
2. Donn Viviani (Kailua, Hawaii), 55:52
F75-59
1. Ruth Hamilton (McLean, Va.) 1:02:42
2022 World Triathlon Long Distance Championships Samorin – Complete Results
Swim 2000m (1 lap); Bike 79.8km (1 lap); Run 17.9km (4 laps)
Elite Men
13. Andrew Starykowicz, 3:23:13
28. Thomas Roos (Culver City, Calif.), 3:50:12

U.S. Age Group Podiums
M30-34
2. Aaron Belcher (Fort Waye, Ind.), 3:53:53
M60-64
3. Randy Puckett (Clinton, Conn.) 4:38:07
M70-74
1. Mike Wien (Boulder, Colo.), 5:16:19
F70-74
1. Suzanne Mink (Washington D.C.), 6:38:41
2022 World Triathlon Long Distance Aquabike Championships Samorin – Complete Results
Swim 2000m (1 lap); Bike 79.8km (1 lap); Run 0.8km (1 lap)

U.S. Age Group Podiums
F25-29
3. Sarah Hess Corning, N.Y.), 3:14:55
F30-34
3. Katie Guest (Medford, Ore.), 3:53:09
F35-39
1. Amber Smolik (Oklahoma City, Okla.), 2:49:29
M45-49
1. Kurt Holt (Santa Rosa, Calif.), 2:36:23
F50-54
2. Gayle Galletta (Shrewsbury, Mass.) 3:00:54
M55-59
1. Blair Saunders (Newark, Del.), 2:39:56
F55-59
3. Elizabeth Goodell (West Tisbury, Mass.), 3:24:47
M60-64
2. Cloyd Berkebile, 2:55:23
F60-64
2. Lori Selby (Richland, Wash.), 3:17:45
M65-69
1. Robert Smartt (Boulder, Colo.), 2:56:59
F65-69
1. Heather Grahame (Heather, Mont.), 3:25:25
2. Rose Cintron-Allen (Coconut Creek, Fla.), 4:03:01
3. Audrey Turner (Marcellus, N.Y.), 4:10:16
M70-74
3. Steven Levine (Springfield, N.J.), 3:49:19
F70-74
1. Billie Pate (Upland, Calif.), 5:12:35
M75-79
1. Francis Schauer (Alexandria, Va.), 4:10:19
2. Larry Nelson (Hixson, Tenn.), 4:23:30
F75-79
1. Ruth Hamilton (McLean, Va.), 4:29:17