USA Competes for World Titles at the 2022 World Triathlon Multisport Championships Targu Mures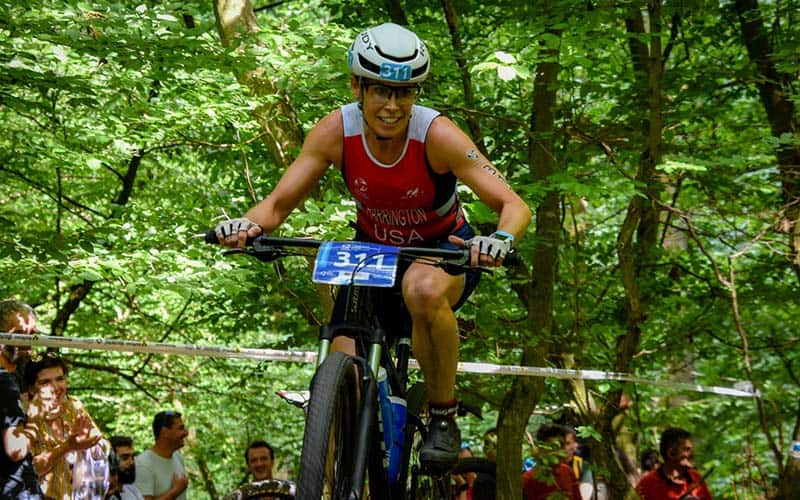 TARGU MURES, Romania –
Team USA traveled to Dracula's home country of Romania this week for the 2022 World Triathlon Multisport Championships Targu Mures. A total of 130 elite and age group U.S. athletes competed to win World Titles in Duathlon, Cross Duathlon and Cross Triathlon.
Opening up the series of world crown events, Monday, June 6 hosted the first-ever Cross Duathlon World Championship. With the course highlighted through the Carpathian Mountains, the multisport athletes took on the run-bike-run format, which featured a sprint-distance course (6.5K run, 23.2K mountain bike, 3.5K run).
Three age-groupers from the U.S. earned world titles in their respective age divisions.
Erin McMahon (Tulsa, Okla.) won the title in the F35-39 age group with a time of 3 hours, 15 minutes and 57 seconds. Renee Harrington (Raleigh, N.C.) was crowned the F40-44 champion, crossing the line in 3:06:32, while the third world title went to Carol Whipple (Bellevue, Wash.) for finishing in 4:36:32 to win the F65-69 age group.
An additional four athletes earned a spot on an age-group podium.
Continuing the multisport competition on Wednesday June 8, the Cross Triathlon World Championship saw athletes race a 1,000m swim, 26.2K mountain bike and 7K run.

In the elite women's race Amanda Felder (Sedona, Ariz.) represented the U.S., placing 11th overall with a time of 2:36:59. In the men's elite field, John Wiygul (Signal Mountain, Tenn.) led the U.S., placing 30th with a time of 2:34:38.

In the age-group event, seven total athletes from the U.S. competed in the cross triathlon.

Susan Griffin-Kaklikian (Colorado Springs, Colo.) claimed the world title in the F65-69 age group division, with a time of 4:06:14. She was joined on the podium by fellow compatriot Sheri Schrock (Cohasset, Minn.), who finished second in the same age group (4:47:15) and was the only other podium for Team USA in the cross triathlon.

The competition continues on Friday, June 10 when the Duathlon World Championship is set to take place with both draft-legal sprint and standard duathlon events. You can follow all the action on TriathlonLive.tv.

2022 World Triathlon Cross Duathlon Championships Targu Mures
6.5K run, 23.2K mountain bike, 3.5K run – Complete Results

U.S. Finishers
2. M18-19: Zack McIntyre (Tempe, Ariz.), 4:19:52
5. M30-34: Jordan Wehe (Alamosa, Colo.), 3:16:18
1. F35-39: Erin McMahon (Tulsa, Okla.), 3:15:57
3. F35-39: Jana Ogg (Nashville, Tenn.), 4:42:02
1. F40-44: Renee Harrington (Raleigh, N.C.), 3:06:32
3. F45-49: Mindy Hyatt (Madison, Ala.), 4:03:01
6. M55-59: Jeff Gaura (Monroe, N.C.), 3:51:40
3. F55-59: May-Li Cuypers (Largo, Fla.), 3:50:37
2.F60-64: Kim Wagner (Tempe, Ariz.), 3:47:35
1. F65-69: Carol Whipple (Bellevue, Wash.), 4:36:32
2022 World Triathlon Cross Championships Targu Mures
1K swim, 26.2 mountain bike, 7K run – Complete Results
U.S. Finishers
Men Elite
30. John Wiygul (Signal Mountain, Tenn.), 2:34:38
Elite Women
11. Amanda Felder (Sedona, Ariz.), 2:36:59
Age Group
4. F30-34: Kelly Macchia (Coventry, Conn.), 4:20:22
10. M40-44 Matthew Monnot (Tahoe City, Calif.), 2:56:02
7. M50-54: David Hsu (Potomoc Fall, Va.), 3:18:29
8. M55-59: Robert Ballou (St. Augustine, Fla.), 4:08:02
4. F55-59: May-Li Cuypers (Largo, Fla.), 4:06:38
1. F65-69: Susan Griffin-Kaklikian (Colorado Springs, Colo.), 4:06:14
2. F65-69: Sheri Schrock (Cohasset, Minn.), 4:47:15