News
Event
USA Triathlon
Together We Thrive
Ted Metellus, First Black NYC Marathon Race Director, To Serve as Keynote Speaker at Endurance Exchange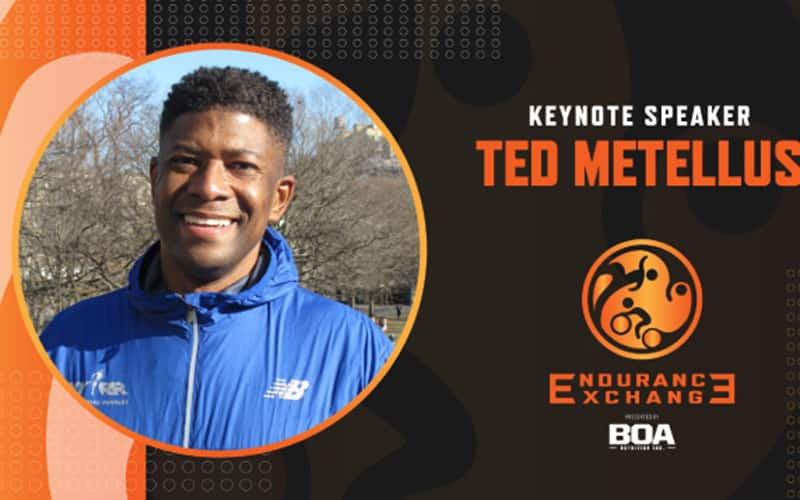 USA Triathlon today announced that Ted Metellus, race director for the TCS New York City Marathon and the first Black race director of an Abbott World Marathon Major, will speak as a keynote presenter at next month's third annual Endurance Exchange, presented by BOA Nutrition, a virtual endurance sports industry conference hosted by USA Triathlon from March 3-5.

In addition, attendees of Endurance Exchange will hear from U.S. Paralympians Hailey Danz, Chris Hammer, Kelly Elmlinger, and Kyle Coon and his guide Andy Potts, and USA Triathlon Certified Coaches Mark Sortino and Derick Williamson in a roundtable discussion about the Paralympic Games Tokyo 2020 and training as elite paratriathletes.

The third annual endurance sports industry conference hosted by USA Triathlon is open not only to those involved in the business of triathlon, but also to multisport enthusiasts of all types — from beginners to competitive age-group athletes to Olympic and Paralympic hopefuls — as specific athlete-focused sessions will cater to all skill and experience levels. All content at Endurance Exchange will be recorded, and attendees will be able to view sessions live or on-demand — offering options to accommodate any schedule.

One-on-One with Ted Metellus, Race Director of the New York City Marathon
A Bronx, New York native, Metellus grew up running in New York City and has more than 20 years of experience in the endurance sports industry. Metellus is a trailblazing leader who directs New York Road Runners event management and logistics and has been race director for the TCS New York City Marathon since 2021 when he became the first Black race director of the New York City Marathon and any World Marathon Majors race.

His event leadership role spans from the TCS New York City Marathon, the world's largest marathon, and the Brooklyn Half, the nation's largest half marathon, to weekly 5ks and one-mile races across New York City's five boroughs and New Jersey. Additionally, Metellus serves as New York Road Runners' key liaison with the New York City agencies and partners, a crucial relationship for NYRR throughout the year to hold its events in the city's parks and streets.

His keynote is scheduled for Saturday, March 5 at 1:30 p.m. ET/10:30 a.m. PT. The session will take the form of a one-on-one conversation with emcee Michanda Myles, a triathlete, model endurance race announcer and podcast host of Tri Beginner's Luck. During his keynote, Metellus will share his journey to becoming race director of the largest marathon in the world.

"Ted Metellus is a history-making, barrier-breaking race director and a role model in the endurance sports industry," said Rocky Harris, USA Triathlon CEO. "We are proud to welcome Ted to Endurance Exchange to share his firsthand experiences as a longtime race director and the first Black race director in the history of the New York City Marathon. Ted is opening doors for future race directors and we, as a community, can learn from Ted's story and work together to create more opportunities for underrepresented groups to work in leadership positions in the endurance sports industry."

Metellus first joined NYRR in 2001 as an Event Manager and served in this role until 2003. He then returned to NYRR in 2018, as the organization's Senior Director of Events, and in 2019 was promoted to Vice President of Events and Technical Director of the TCS New York City Marathon.

Prior to returning to NYRR, Metellus worked and consulted with several organizations in the endurance sports industry, including Pallotta TeamWorks, Eventage Event Production, Miami Marathon, Philadelphia Triathlon, Premier Event Management, Tough Mudder, Lifetime Events and IRONMAN. Additionally, Metellus served as the director of course operations for the Rock 'n' Roll Marathon Series. In 2016, Metellus was named the National Center for Spectator Sport Safety and Security (NCS4) Professional of the Year, an honor given to an individual who demonstrates outstanding leadership in addressing safety and security issues.

U.S. Elite Paratriathles Roundtable

Tokyo 2020 Paralympians Hailey Danz, Chris Hammer, Kelly Elmlinger, Kyle Coon and his guide Andy Potts, and coaches for the 2020 U.S. Paralympic Team, Derick Williamson and Mark Sortino will speak in a roundtable keynote presentation, moderated by Amanda Duke Boulet, USA Triathlon Paralympic Program Director.

The keynote will take place at 5 p.m. ET/2 p.m. PT on Friday, March 4 as the panel of elite paratriathletes and coaches discuss training at the elite level and the team's success at the Paralympic Games Tokyo 2020 in which the U.S. took home five medals, the most of any country.

2021 World Triathlon Para Championships gold medalist Hailey Danz (Colorado Springs, Colo.) won silver in Tokyo, matching her 2016 silver medal from Rio, becoming a two-time PTS2 Paralympic silver medalist. Fellow 2021 World Triathlon Para Championships gold medalist Chris Hammer (Gilbert, Ariz., PTS5) is a two-time fourth place finisher at the Paralympics (Rio 2016, Tokyo 2020).

U.S. Army veteran Kelly Elmlinger (San Antonio, Texas, PTS4) also won gold at the 2021 World Triathlon Para Championships and made her Paralympic debut in Tokyo. Kyle Coon (Colorado Springs, Colo.), placed fifth in Tokyo with his guide, Potts, a 2004 U.S. Olympian.

Williamson (Colorado Springs, Colo.) served as head coach for the 2020 U.S. Paralympic Team. A USA Triathlon Level II Certified Coach and USA Triathlon Paratriathlon Certified Coach, Williamson has been head coach of the Toyota U.S. Paratriathlon Resident Team based at the U.S. Olympic & Paralympic Training Center in Colorado Springs, Colorado, since the team's inception in 2018.

A USA Triathlon Level III Certified Coach and a USA Triathlon Paratriathlon Certified Coach, Sortino (Boise, Idaho) served as an assistant coach for the 2020 U.S. Paralympic Triathlon Team. He was the team's head coach at the 2016 Paralympic Games in Rio de Janeiro, Brazil, where paratriathlon made its Paralympic debut.

Other keynote presenters and speakers at Endurance Exchange will be announced in the coming weeks.

Together We Thrive Endurance Exchange Scholarship
For the third year, USA Triathlon is offering a limited number of Together We Thrive Endurance Exchange scholarships to foster diversity and bring varied perspectives to the event. Interested candidates may apply here. Priority will be given to people of racial and ethnic minorities, women, and those who may not otherwise be able to attend due to financial constraints.

Register Today
Registration is open at enduranceexchange.com with pricing starting at $175 for the All-Access track and $50 for the Athlete Insider track. All registrants will also have the opportunity to purchase or extend their USA Triathlon annual memberships for 12 months at a discounted rate of $35. Attendees will have the opportunity to earn up to 10 coaching and/or race director CEUs.

New for 2022, this year's event will feature a content track specifically for multisport club leaders and administrators, and two options for the Athlete Insider track for novices or advanced athletes. Attendees can also expect additional engaging and interactive features, including live polling, in-session chats, in-session surveys, and prizes for the most engaged conference attendees.

More information about Endurance Exchange, including the most up-to-date schedule, speaker lineup and virtual networking opportunities, can be found at enduranceexchange.com. For sponsorship inquiries and other questions related to Endurance Exchange, please email info@enduranceexchange.com.
About USA Triathlon
USA Triathlon is proud to serve as the National Governing Body for triathlon, as well as duathlon, aquathlon, aquabike, winter triathlon, off-road triathlon, paratriathlon, and indoor and virtual multisport events in the United States. Founded in 1982, USA Triathlon sanctions more than 4,000 races and connects with more than 400,000 members each year, making it the largest multisport organization in the world. In addition to its work at the grassroots level with athletes, coaches, and race directors – as well as the USA Triathlon Foundation – USA Triathlon provides leadership and support to elite athletes competing at international events, including World Triathlon Championships, Pan American Games and the Olympic and Paralympic Games. USA Triathlon is a proud member of World Triathlon and the United States Olympic & Paralympic Committee (USOPC).