USA Triathlon Awards #TriWeek Lifetime Membership to Megan Tuncer
by Nick Hehemann, USA Triathlon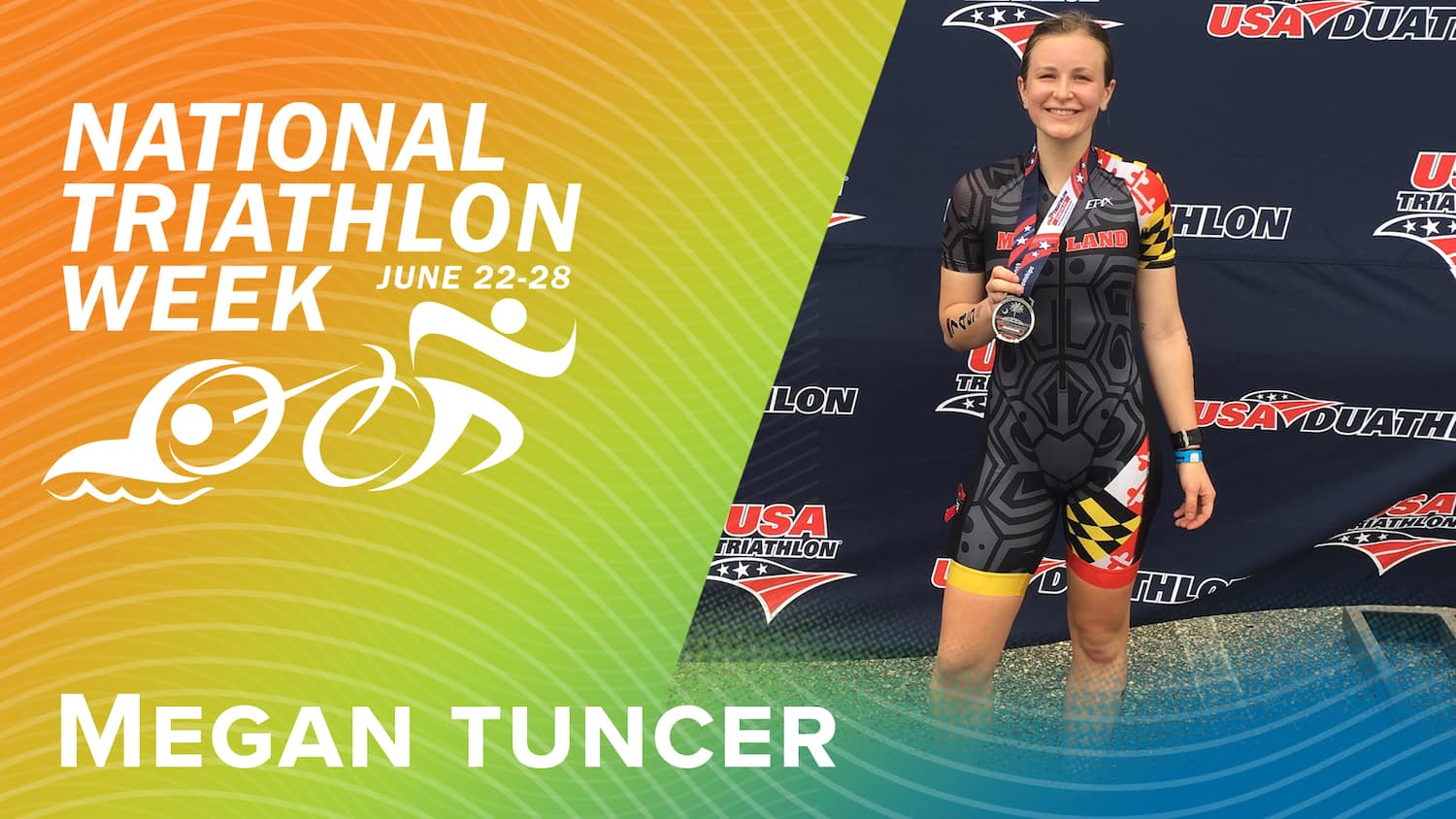 In the midst of life's toughest challenges, triathlon helps us discover our power within. It certainly has for Megan Tuncer.
Every year during National Triathlon Week, USA Triathlon awards a lifetime membership to one person in the community who has used our sport to find healing and strength during a difficult time in life. This year, we asked our community members to share their "Power Within" story on social media, using the hashtag #OurPowerWithin for a chance to win.
For Tuncer — a 22-year-old triathlete living in Kensington, Maryland, and a member of the DC Triathlon Club — triathlon and the training that comes with it has been a form of therapy in helping her navigate through dark times.
The former University of Maryland collegiate club triathlete opened up about her mental health battle in an Instagram post during #TriWeek. In the message, she explained how the multisport community — on top of good, professional therapy — has helped her find focus, friendship and love, helping her "get back to where she needs to be" in life.
We at USA Triathlon were inspired by Tuncer's courage in sharing her struggles — reminding us all that it's okay to not be okay. We're also thankful that our sport has made a positive impact on her life.
That's why we're proud to announce that she is the winner of our fourth annual #TriWeek Lifetime Membership Award.
We shared the news with Tuncer earlier this week and got to learn more about her journey and how triathlon has helped her discover her power within. Read the full conversation below.
USA Triathlon: How does it feel to be named the #TriWeek USA Triathlon Lifetime Membership Winner? What was your first reaction when you found out?
Tuncer: Wow…really just wow! It's an honor and I'm excited to know that triathlon will be a part of my life for the rest of my life — that I'll be a part of this community and "home" for years to come. I really didn't expect this and it means even more during this time when participating in the sport is not about racing or medals. It's just about the love of the sport. When racing is back, I'll really be ready!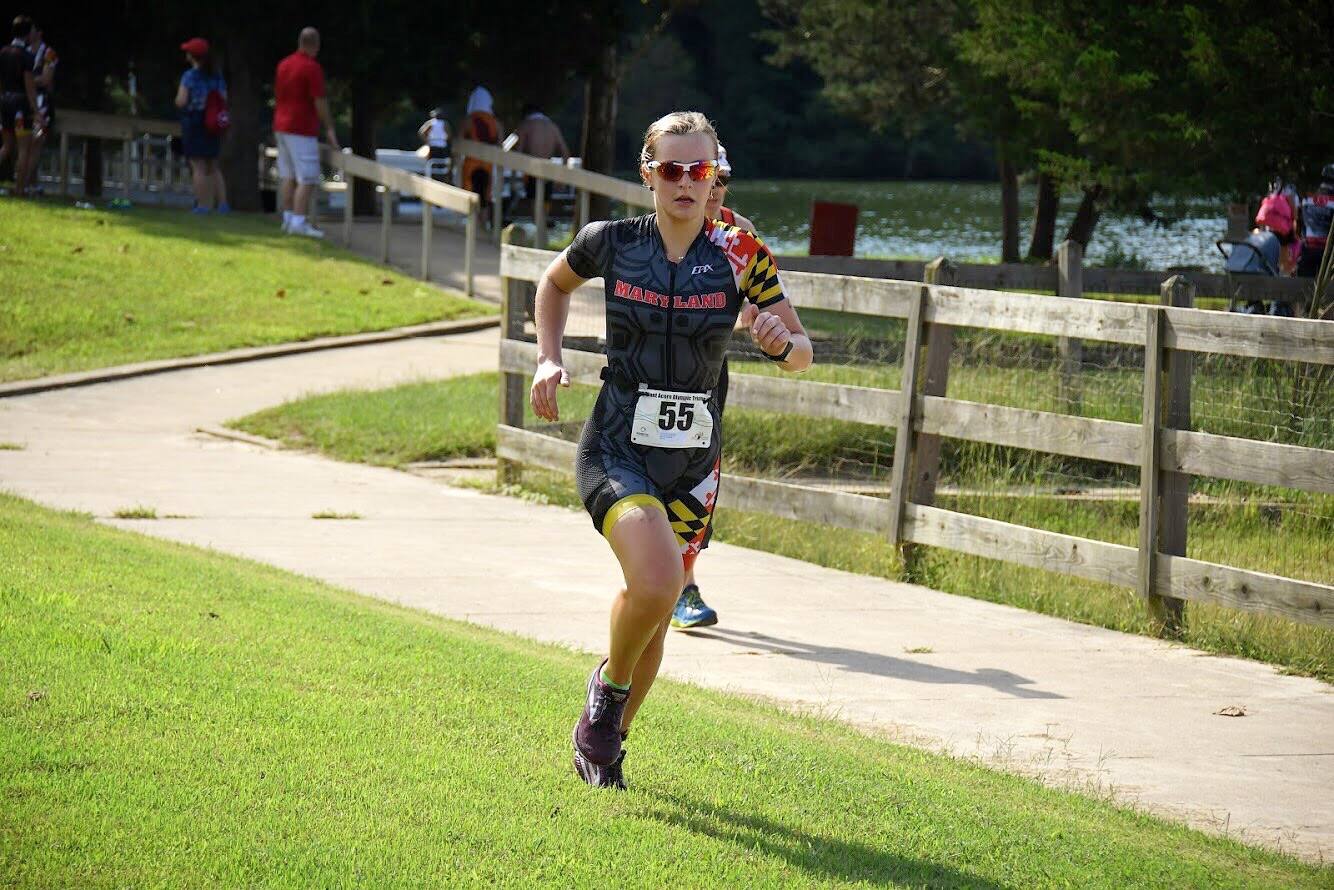 USA Triathlon: What are some of the difficult challenges you've faced in life, and how have they affected your mental health? How has therapy and triathlon helped you to keep moving forward?
Tuncer: Right before COVID-19 really hit, I had a chapter of my life come to an end that had been a part of my life for some very important years. I moved away from the community that I had lived in for years and was really questioning, again, who I was and what I valued in life. And then, lockdown happened. I didn't have the distractions that I needed, my friends had to be at a distance, I couldn't travel and many things that I had been looking forward to in 2020 were canceled. This is not the first time that I have dealt with some dark times, but it is the first time that my normal "toolkit" was unavailable to me. There were fewer distractions, so I had to learn to face my sadness head-on and address it quickly.
There were days when I didn't have the mental capacity to decide what I wanted for breakfast, but I didn't have to think about just going for an easy run or spinning on the trainer — I just did it. After every workout, I felt so great and almost normal again, so I prioritized exercise and just planned the rest of my day around that. I often turned on triathlon videos — Kona recaps, The Tim & Rinny Show and especially That Triathlon Life (featuring Eric Lagerstrom and Paula Findlay), during my rides on the trainer to keep myself focused on reaching goals and chasing dreams.
I told myself that I could only watch the videos while I was riding. That was a huge motivation. Those videos also reminded me that while winning is fun, you can't do this sport without loving it. When you're racing an IRONMAN, there are parts of the day that are incredibly painful and where you doubt your ability to keep going, but if you really love the sport and you are able to see past the pain and see how amazing this opportunity to race really is, you'll do anything in your power to get across the finish line. And then, you'll probably sign up for another race the day after!
But I was also struggling a ton. I was dealing with a lot of anxiety as I was trying to navigate this entirely new world both in my personal life and during COVID-19, and I was starting to have some anxiety attacks again. While running was helping me momentarily, that wasn't stopping the weight that I would feel most mornings, and I was honestly getting really fed up with feeling so exhausted during exercise because I was spending so much energy just trying to feel "normal." I also felt awful for my friends who had to listen to me obsessing over the same things over and over again.
I had seen therapists and counselors in the past to help me navigate other life changes (loss, identity, stress, new challenges), and I had always learned new skills such as journaling and self-compassion.This time, I was faced with a real problem that was hurting other aspects of my life, so it made sense to seek out a professional again to help me solve those problems.
I've had to learn a lot about giving up control and focusing on results that I can control. As an athlete, I like to know exactly what my workouts are, what my meals are, what my race schedule looks like and what gear I will be using. I like to do everything I can to cut out surprises on race days so I can perform at my best.
In life, that's pretty much impossible, especially during a pandemic. There are so many unknowns in the world, and I have to learn to embrace them. I'm still learning, but with the help of a professional, I've learned to meditate and sort out the things in my head that are worth my limited time and energy. Reading endless articles about vaccine outlooks and race predictions probably isn't a great use of my energy as there is little that I can do personally about the outcomes. What I can do though is make smart choices every day, like wearing a mask, exercising on emptier roads, staying indoors and just following the plan until I hear about other races later in my year. And then when things change again, I'll adapt. With therapy, I have more tools to use, so I'm confident that I'll figure out how to adapt. Sometimes change is out of your control, but you can learn how to use change to find success.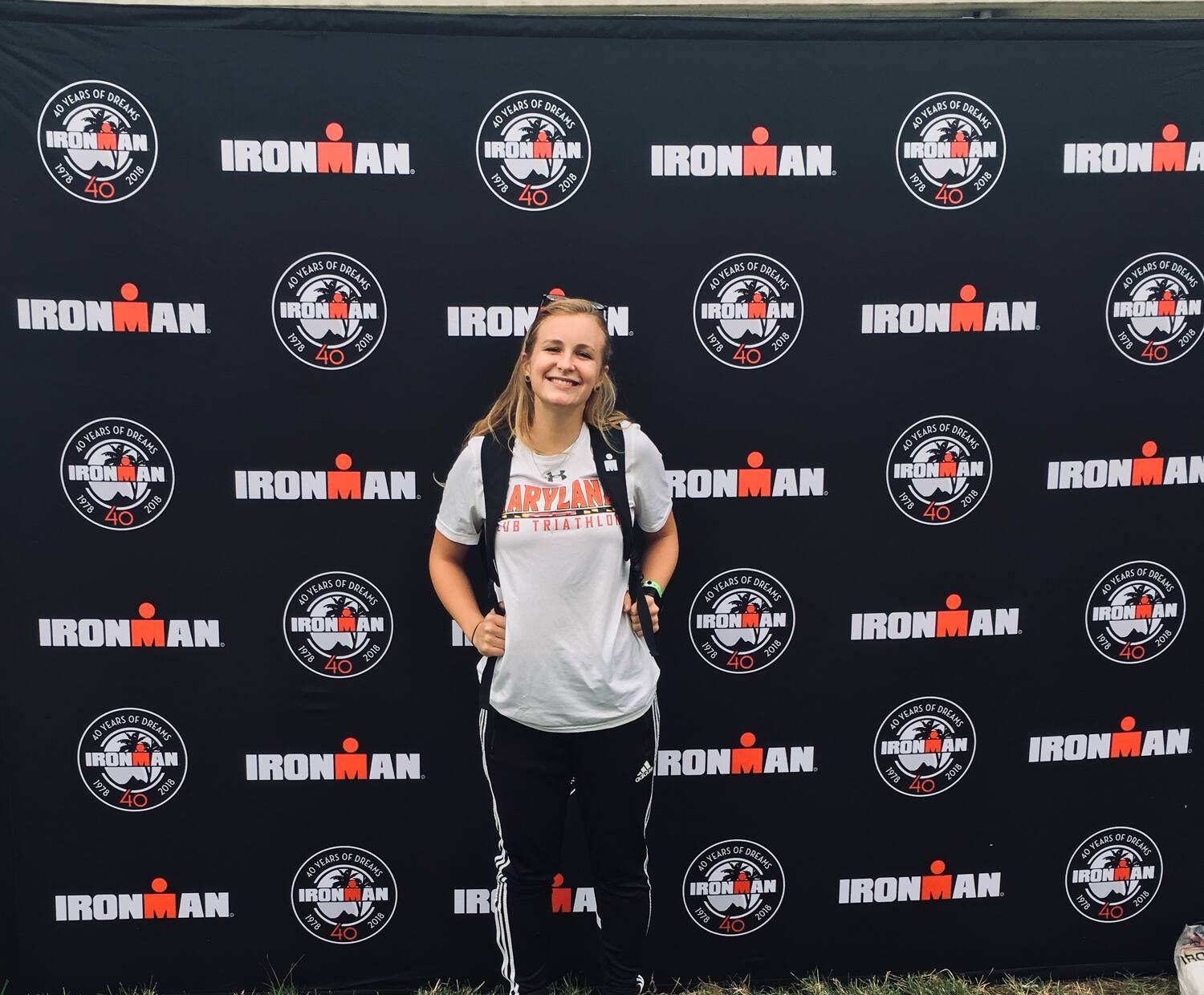 USA Triathlon: What does it mean for you to be a part of this triathlon community? How has the community embraced you and pushed you in your athletic journey?
Tuncer: I found triathlon when I was in a big life transition in college. I was a soccer player all my life, and after some injuries and life in general put an end to an athletic career that I hoped would continue longer, I felt like I had lost a huge part of my identity. Not only have I met some true lifelong friends through (triathlon), but I think the sport helped teach me that I don't have to fit into one identity.
I mean, when you participate in a sport such as triathlon, you meet ALL types of people. Swimmers, cyclists, runners, trail racers, gravel racers, sprinters, endurance junkies — everyone. It's impossible to say that a triathlete is any one thing, so it's helped me explore so many new sides of who I am. Plus, when you compete in a sport like triathlon, so much time is spent in your own head and racing against yourself. You can't spend the amount of time I do during a week in training in my own head without learning some hard truths about yourself. In terms of athletics, I'm so much more adventurous now. Once you realize that you can go from knowing nothing about a sport to doing an IRONMAN, you realize that you can try and learn other things like climbing and surfing and every adventure that calls my name. I've always been a competitive person, but this community has taught me to channel that competitive drive into something more productive and realistic than just seeing results as winning or losing.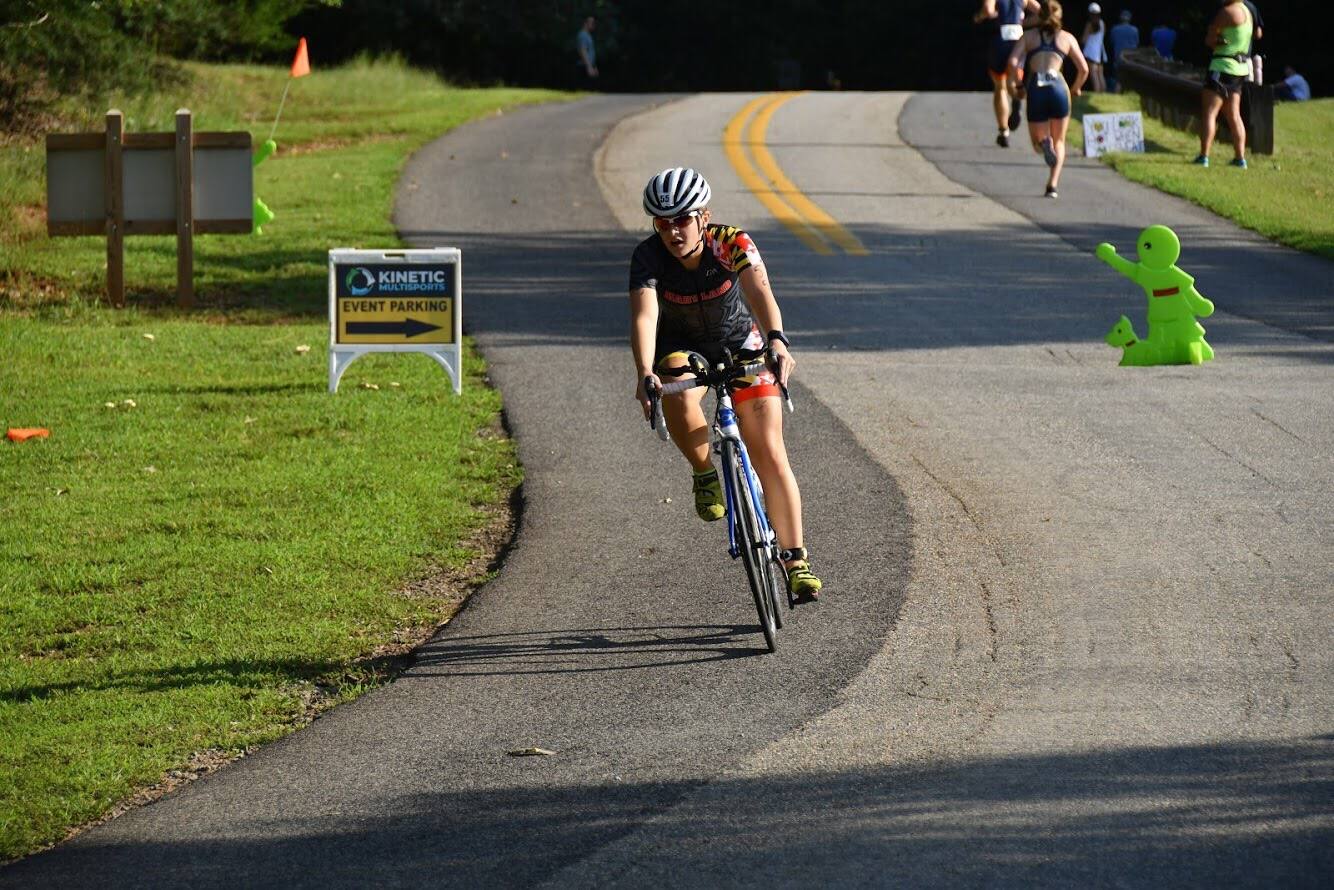 USA Triathlon: While triathlon has helped in your journey, you also stressed in your post the importance of seeking out real professional help. Why are those professional resources like therapy so important for people battling mental illness?
Tuncer: I think that everyone should have the experience of talking to a professional at least once in their life. There's such a stigma around seeking help still, and I think if it was something as normal as getting a yearly physical, people would be more willing to talk about the things that make them uncomfortable. Sometimes, things are just too much to handle alone, and a professional can help teach strategies for decreasing anxiety or practicing self-care.
As triathletes, most of us are very good at just putting our heads down and getting through, but getting through doesn't address the deeper issues and break the cycles of ups and downs. Races have finish lines, but it's not as simple in real life. I say this a lot, but if you broke a bone, you'd find a doctor and a physical therapist. If you wanted to get faster, you'd get a coach. So, if you want to feel mentally better and become better-equipped to deal with life, you shouldn't think that you need to do it alone. Professionals are here to help us discover the tools to make us the best version of ourselves.
USA Triathlon: In addition to therapy, how has triathlon had a positive impact on your mental health?
Tuncer: Where do I start? The obvious answers are through the community and through the benefits of exercise. Many of the friends who I have met and leaned on (thank you, friends!), came from the triathlon world. I've even met people from other countries who I've only met in-person at races, and it has kept me feeling connected to the world, especially during a pandemic. I can't ignore the benefits of being a part of a club like DC Triathlon. Additionally, exercise just helps boost mood and physical health.
But also on a deeper level, when I have faced days when I literally didn't know how I was supposed to get through them, I knew that I could rely on my body to do what it needed to do during a run or a bike ride. I could turn my mind off and just move. When I came back, I was in a better head space to tackle all the other challenges that I had in front of me because sometimes, it's just about getting started.
There have been days when I didn't feel capable of making the most basic decisions for myself, but my workouts every day were that one stable piece of my day that I knew I could count on and didn't have to think about. And when I finish a workout, I feel so mentally clear — so strong and unstoppable — and I try to remember that feeling for when I'm doubting myself. Every time I hit a new PR, every time I discover a new really cool road on a run or ride, every time I connect with a new person through this sport, I'm reminded of how strong I am, how beautifully unpredictable the world can be and how kind people can be. I'm a goal-setter and this sport provides endless goals to reach. That's kept me grounded and focused when I've felt like other parts of my life are one giant question mark.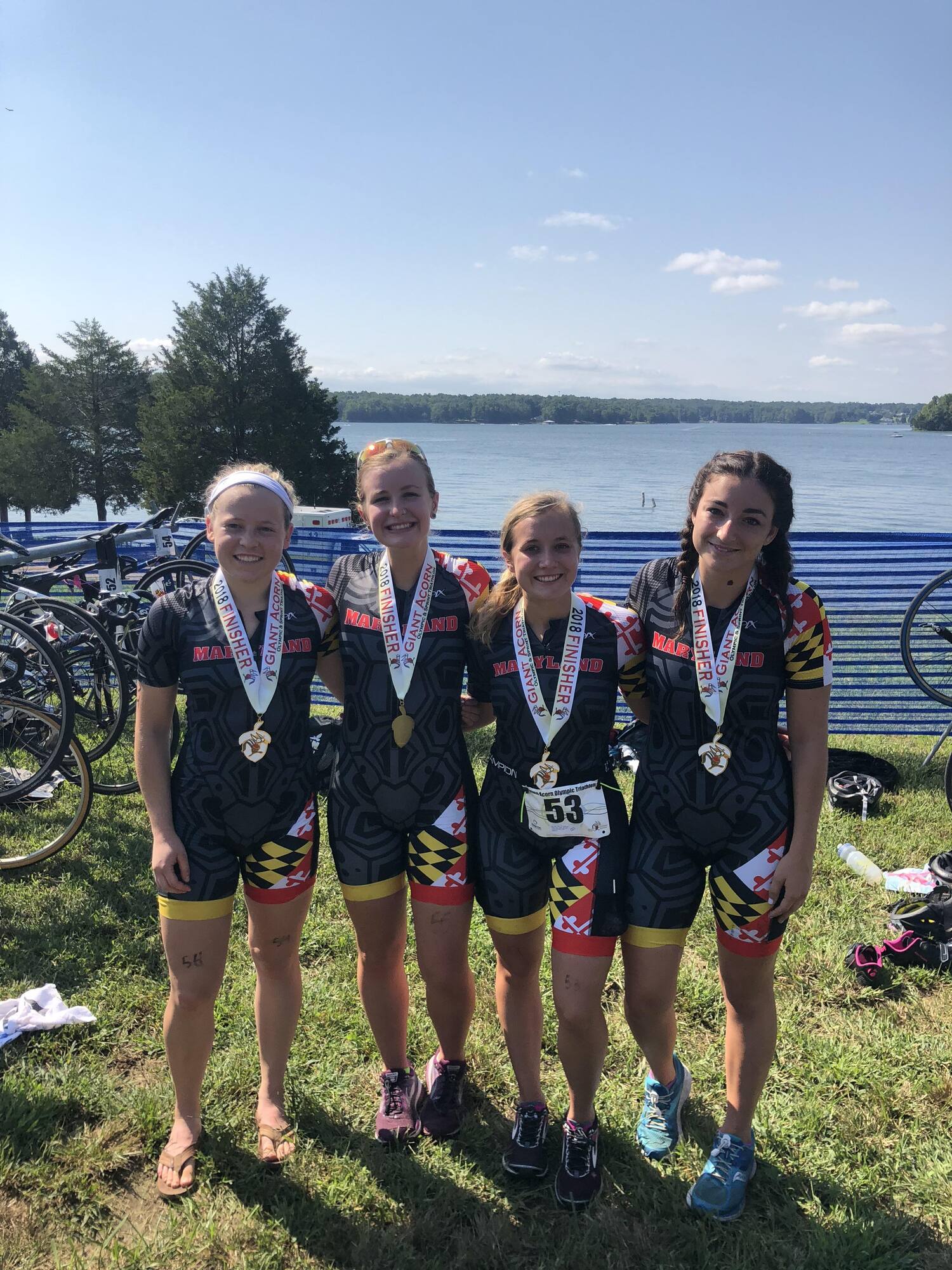 USA Triathlon: You mentioned U.S. Olympic triathlete Sarah True in your post, who has inspired so many in our community by opening up about her own battle with depression. Read her story featured in USA Triathlon Magazine here. How have athletes like her helped you in your struggles?
Tuncer: Hearing Sarah True's story was one of the reasons why I felt I needed to start talking about my experiences with therapy. During a particularly dark moment, I was desperately just looking up stories from people who pulled themselves out and how they did it to remind myself that I'll get there too. I read Sarah True's Depression is Not a Weakness story and found some comfort in how I was able to relate to her words. Sometimes, you just want to be reminded that you aren't the only person in this world with this experience.
But it was also a big wake-up call when I related to her words — that this is bigger than me. Through the years, I've used coaches, conditioning trainers, nutritionists, etc. to help me get better in my sport, so why was I so against the idea of getting a "mental coach" to help me get better in life? Hearing it from someone like Sarah who is a super strong woman and athlete, it emphasizes the point that finding a solution and learning extra coping strategies is a form of strength, not weakness.
Hearing role models like Sarah True speak honestly about their own struggles and work behind the scenes helps decrease the feeling of embarrassment admitting that you need help. And I hope that we keep talking about mental health. While I'm not a famous/professional athlete, I hope that by sharing my own experiences I can be a resource for someone who might be unsure of how to take their first steps or someone who is anxious about opening up to a professional. There are thousands of race reports written each year outlining what to expect at a course, but why are there very few "race reports" on what to expect when scheduling your first therapy appointment?
I just want kids to one day dream about being whoever they want to be, and see that mental health is just as important as physical health or education in achieving dreams. Sometimes we all need a coach, a tutor…or a therapist.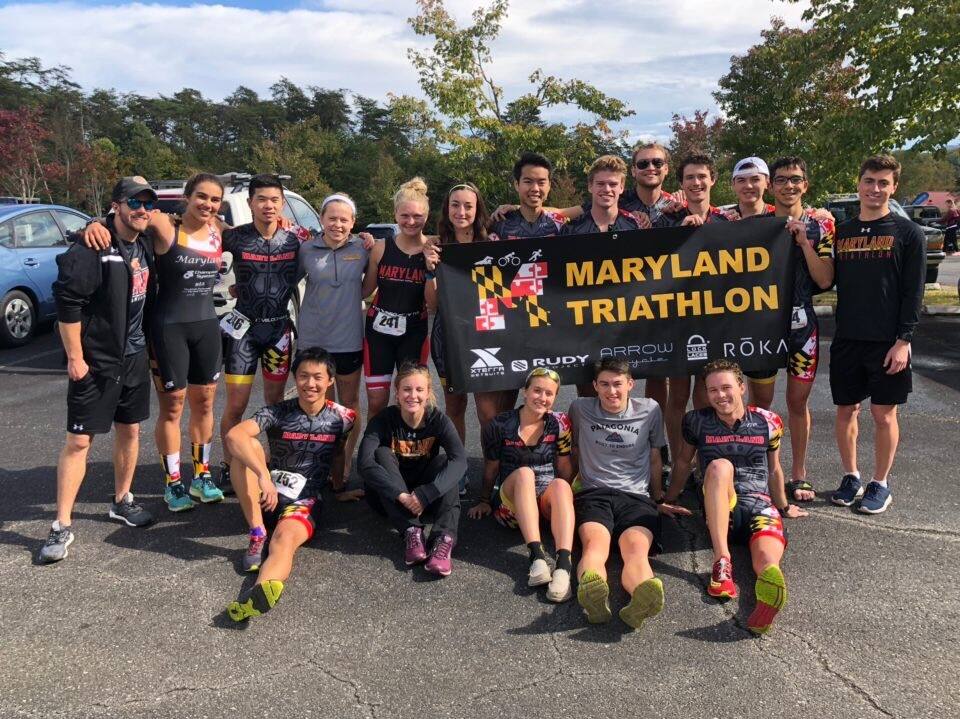 USA Triathlon: What would you say to other members of the community who are experiencing depression or difficult times in life? And what advice would you have for them?
Tuncer: There is nothing wrong with needing help with your mental health. One of the best things I've heard about getting help is this — you saw a problem, and now you're trying to fix it. That seems pretty brave to me. It's as basic as getting a cast for a broken bone — that would be pretty silly to ignore, right?
Talk to people. It was such a comfort to talk to friends, family and people in online communities (there are triathlon groups for almost everything!). The more I shared, the more I saw that I wasn't alone. Others have gone through darkness and come back out stronger for it. Even if I couldn't always see better times, I knew they were coming because of people who were willing to share their stories about reaching the other side. But remember that these people often do not have the training needed to help us solve problems.
Be kind to yourself. One time I was telling my therapist a story, and I finished it by saying "I know that's probably dramatic and silly." She asked me what I would tell a best friend if they had come to me and said those same words, and I realized that I wouldn't think my friend was silly. I'd want to comfort my friend, so why was I so against comforting myself? Treat yourself as your best friend. It's a great reminder when I'm frustrated or doubting myself, both in athletics and in regular life activities.
Stay active and find a community. The science doesn't lie. Exercise is a huge mood booster and hey, it's free. Having a community such as a triathlon club can help keep you accountable and connect you with new people and experiences wherever you live.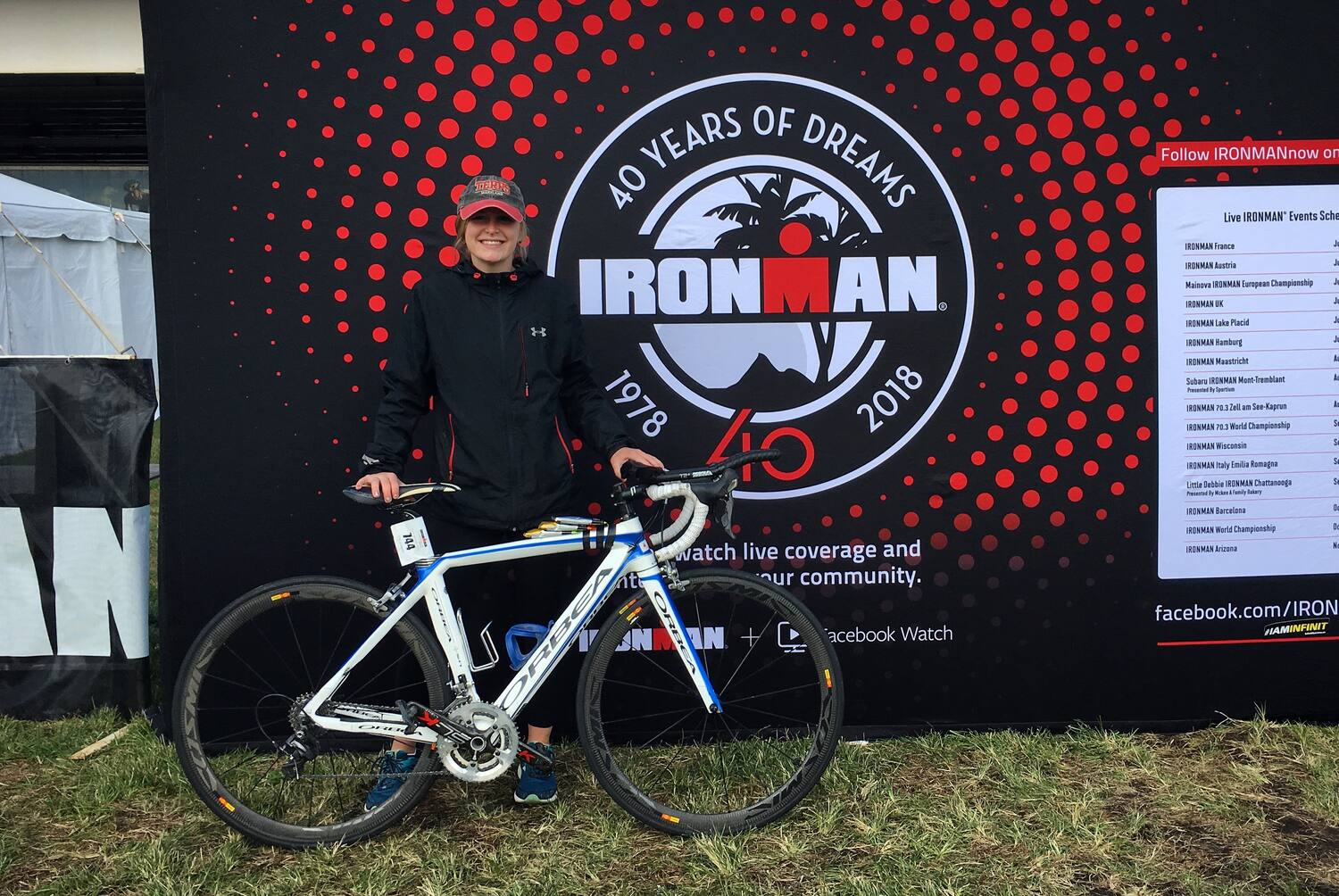 USA Triathlon: How has the DC Triathlon Club helped you during these tough times?
Tuncer: When I left college, I once again faced the question of who I wanted to be. I knew that I wanted triathlon to be a part of my life, but I was losing my college club so I joined DC Tri and met some really awesome people! It helped show me how people balance careers and life responsibilities with training and racing, and it connected me with people in my area as I was moving out of my college community.
I only spent a few months in-person with them before lockdown, but I'm SO looking forward to the day when we can have meetings, participate in clinics, host club races and have fun at in-person happy hours again. During this time, they've been having online clinics and virtual happy hours, and I look forward to each one of these events because it's a day when I know I'll see friends and connect with people who love triathlon as much as I do, even when I'm mostly staying at home. It's another reminder that you can train as much as you want, but when the training gets tough, you have to love what you're doing. Being surrounded by a supportive club and supportive coaches makes that so easy.
USA Triathlon: What is it about triathlon that can help us get through even some of life's most difficult challenges?
Tuncer: In so many ways, triathlon mimics the highs and lows of life. It's a sport where you're in constant change, where some of your hardest challenges are against yourself, where the definition of success is not as simple as winning and losing.
Triathletes are resilient. In life, sometimes you have to accept that days (or weeks or months) aren't going to go according to plan, and it's how you get through them and learn from them that will make you a stronger person. Plus, you're surrounded by people who are just as crazy as you for loving this sport. You're never truly alone in life if you're a triathlete.