USA Triathlon Unveils Revamped Online Events Calendar with New Features and Search Functionality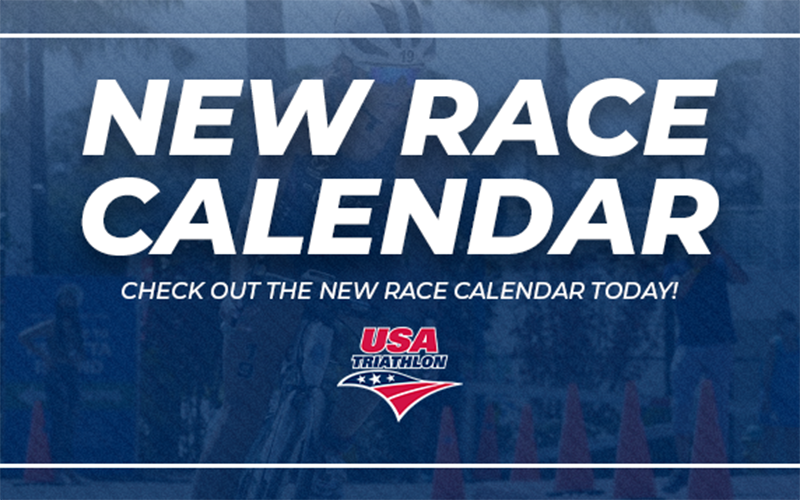 COLORADO SPRINGS, Colo. — USA Triathlon today unveiled its new Events Calendar, a completely revamped online race calendar that gives athletes the ability to seamlessly search for, filter and choose from thousands of USA Triathlon Sanctioned races nationwide for their next multisport challenge.

The new USA Triathlon Events Calendar was developed in conjunction with race directors and athletes to ensure it serves their respective needs. The calendar is the latest in a comprehensive technology overhaul by USA Triathlon over the past four years to better support the multisport community. Other improvements include a new Membership Hub, launched last year, a revamped race sanctioning and rankings system and an online education platform. To support race directors and marketing for their local events, USA Triathlon is allocating $100,000 to promote the online race calendar.

"Local racing is the heart of our sport and athletes deserve a seamless online experience when searching for USA Triathlon Sanctioned events in their communities," said Rocky Harris, USA Triathlon CEO. "We pride ourselves on the service we provide our members and we worked alongside race directors and age group athletes to develop the race calendar to best serve both of their needs. This new calendar allows athletes to more efficiently and effectively search for and find the perfect event, and enables our local race directors across the country to increase promotion of their events on USA Triathlon's most-visited webpage."

Before the multisport season ramps up this spring, athletes can plan their 2022 season and search for their next multisport event on the refreshed USA Triathlon Events Calendar by visiting member.usatriathlon.org/events. With a user-friendly interface and a robust search functionality with several filters, athletes can find the USA Triathlon Sanctioned event that is right for them.

Athletes can search by race location, race type (triathlon, duathlon (run-bike-run), aquabike (swim-bike), aquathlon (swim-run) and non-traditional), distance, type of swim (lake, river, ocean, pool, etc.), terrain (flat bike course, hilly bike course, off-road bike course, etc.) and other attributes, including women's-only events, draft-legal races and events officiated by USA Triathlon Officials. More specificity and new features mean athletes can more effectively search for and identify events that align with their interests and multisport goals.

For race directors who sanction their events with USA Triathlon, the improved USA Triathlon Events Calendar offers new avenues for marketing and promotion of their events, as each event page features the option to include race photos, social media handles and enhanced event descriptions and details.

USA Triathlon sanctions more than 4,000 local events across the U.S., including triathlons, paratriathlons, youth events, duathlons (run-bike-run), aquathlons (swim-run), aquabikes (swim-bike), off-road and gravel races, winter triathlons (run-bike-ski) and camps and clinics. By racing at USA Triathlon Sanctioned events, athletes are helping to grow the sport and develop a pipeline of future athletes to compete in races, join clubs and be a part of the multisport community. Additionally, athletes have the opportunity to earn rankings points toward their annual USA Triathlon Rankings position and the chance to qualify for the annual Toyota USA Triathlon Age Group National Championships. Local race directors who host USA Triathlon Sanctioned events complete a thorough review of the race courses, evaluate and plan for medical, emergency, safety and volunteer support and conduct the event according to the USA Triathlon Competitive Rules.

Coming Soon: Upgraded Find a Coach Tool
USA Triathlon is also preparing to launch a refreshed Find a Coach tool that will allow athletes to search for USA Triathlon Certified Coaches based on their location, coaching specialty, certification level and multisport discipline.

The USA Triathlon Difference
USA Triathlon invests its membership dues – whether from annual members or one-day members – back into making the sport more accessible and safer for athletes, and in supporting the multisport community through education, resources and best practices for race directors, coaches, officials, athletes and clubs. This investment also ensures a consistent experience for all and maintains credibility and quality standards throughout our sport. Learn more about USA Triathlon's role in our sport.
About USA Triathlon
USA Triathlon is proud to serve as the National Governing Body for triathlon, as well as duathlon, aquathlon, aquabike, winter triathlon, off-road triathlon, paratriathlon, and indoor and virtual multisport events in the United States. Founded in 1982, USA Triathlon sanctions more than 4,000 events and connects with more than 400,000 members each year, making it the largest multisport organization in the world. In addition to its work at the grassroots level with athletes, coaches, and race directors – as well as the USA Triathlon Foundation – USA Triathlon provides leadership and support to elite athletes competing at international events, including World Triathlon Championships, Pan American Games and the Olympic and Paralympic Games. USA Triathlon is a proud member of World Triathlon and the United States Olympic & Paralympic Committee (USOPC).