USA Triathlon Weekend Notebook: Americans Headline Chattanooga 70.3 North American Championships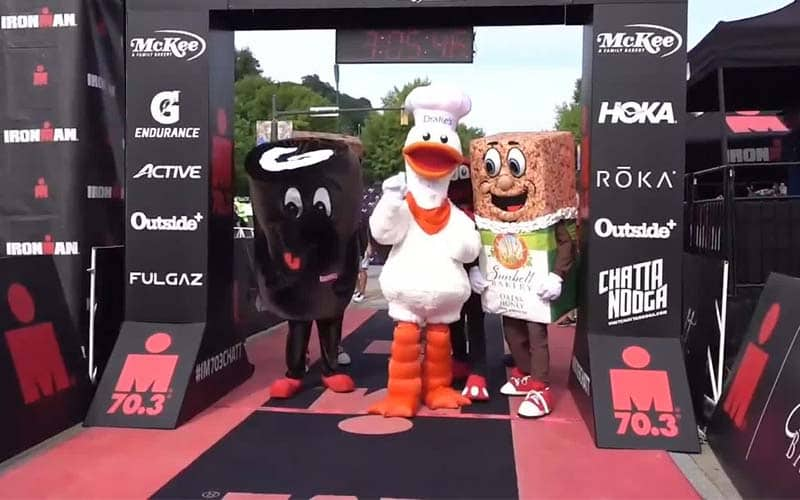 Sunbelt Bakery IRONMAN 70.3 North American Championship Chattanooga presented by McKee A Family Bakery
Chattanooga, Tenn.
Another weekend, another triathlon championship.
The past weeks have been beyond jam-packed with triathlon title events. From Multisport Festival to the Super League Arena Games, and the Ironman World Championships, a lot of crowns have been claimed in the swim-bike-run world.
But we are here for it!
This weekend was no exception as Chattanooga, Tennessee hosted the Ironman 70.3 North American Championships.
The U.S. showed up to play!
And so did the race mascots!
On both the men's and women's pro side, U.S. athletes earned the overall title on the half-distance course.
Jason West won on the men's side, finishing in three hours, 37 minutes and 15 seconds -- claiming it was "the biggest win of his career!"

Coming in second on the men's side was Matt Hanson, less than a minute behind West.
Rudy Von Berg then completed the U.S. sweep of the podium with a third place finish with a time of 3:39:53.
Another familiar face on the start line was Team USA Olympian Ben Kanute. He started out strong, getting a 15-second lead out of the swim (which is typical for the talented swimmer) yet was caught on the bike and couldn't recover the lead. He finished ninth overall.
Other top men's finishers from Chattanooga:
And yes, we are aware that the below photo is of a box of Brownies. However, Paralympic paratriathlete Chris Hammer enjoyed these brownies after finishing 25th in the men's pro field... because he is an elite pro athlete!
Only at the 70.3 Chattanooga race can you win a North American Championship and have your finish line tape held by a giant chocolate chip cookie!
Jackie Hering claimed the gold for the women, finishing in 4:02:35 as the lone American on the podium. Canada's Paula Findlay finished second followed by British triathlete Holly Lawrence in third.
Six other U.S. pros in the women's field finished in the top 10.
The countdown is on for USA Triathlon Age Group Nationals. Many states across the nation are hosting their state championships so athletes can qualify for Milwaukee. Here are a few states that had their state qualifiers this weekend:
Playtri Forth Worth Triathlon
Fort Worth, Texas
Fort Worth hosted the Texas State Championship over the weekend. For more information on this event, check out here.
St. Louis Triathlon
St. Louis, Missouri
MSE Racing hosted the St. Louis Triathlon, the Missouri state championship race. Information and results on this race can be found here.
Mighty Moraine Man Series
Harmony, Pa
The Pennsylvania state championship was hosted by the Mighty Moraine Man Series by Get Fit Families, LCC.
For more information on this event, check out here.