USA Triathlon Weekend Notebook: Slovakia welcomes a huge weekend of multisport racing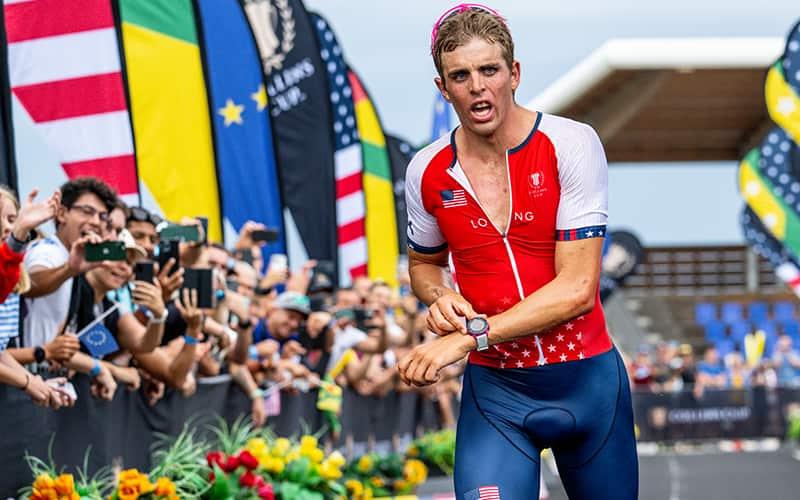 2022 World Triathlon Multisport Championships Samorin
Samorin, Slovakia
Central Europe was the main stage over the weekend as multisport enthusiasts from all over the world gathered to earn world titles in Aquathlon, Aquabike and Long Distance Triathlon.
The Samorin World Championships opened with a parade of nations, before athletes setting out to win a world title to bring home to their nation.
Aquathlon was first up, bringing the swim-run crowd into the spotlight. The U.S. earned six world titles amongst the age-group categories.
The Long Distance World Championships were held on Sunday, Aug. 21 with the course featuring a 2000-meter swim, a 79.8K bike and a 17.9K run.

Mike Wien (Boulder, Colo.) and Suzanne Mink (Washington D.C) were both victorious in claiming their respective age group titles for the male and female 70-74 age-group category.
In the Aquabike World Championships race, the U.S. earned eight age-group crowns and 18 total podiums on the 2000-meter swim and 79.8K bike course.

Ruth Hamilton (McLean, Va.), the eldest women's athlete for the U.S. earned two world titles in Samorin, claiming the F75-79 win in both the Aquathlon and Aquabike.
In total, Team USA walked away Champions as they earned 16 total World Titles wins in the three multisports and 38 age group athletes got to step onto the podium.
Collins Cup
Bratislava, Slovakia
Just 20 minutes north of where the Multisport World Championships were taking place in Samorin, the Collins Cup Triathlon, as part of the Professional Triathlon Organization (PTO) was taking place. The two events were in conjunction with one another.
The Collins Cup is for pro athletes racing to earn points for their global region and team. This Slovakia race had Team Europe vs. Team United States vs. Team International.
The U.S. had names such as Sarah True, Sam Long, Chelsea Sodaro and Skye Moench on the team.
While the U.S. lost the event, Sam Long had one of the more head-to-head battles when he went up against Lionel Sanders of Canada that ended in a sprint finish!