USA Triathlon Weekend Notebook: Spivey Keeps Super League Podium Streak Alive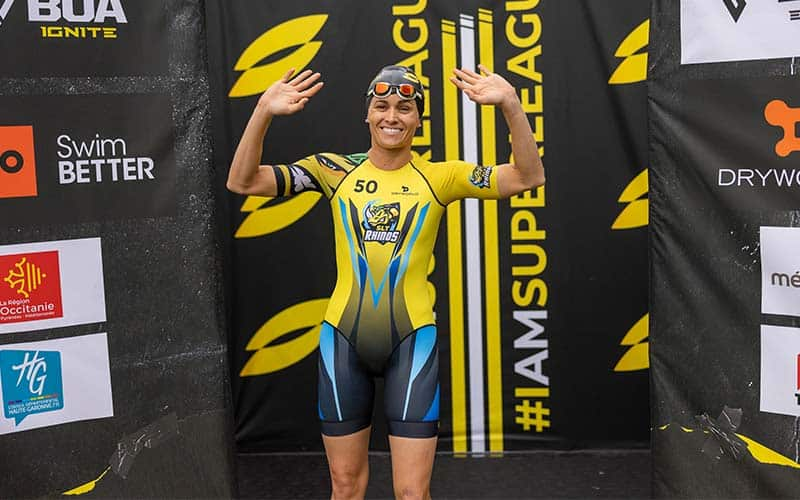 Super League Toulouse 2022
Toulouse, France
After a couple of weeks off from the Series, Super League returned back over in Europe for the Triple Mix event!
What format did the League have in store for our pros this time?
"The Triple Mix shuffles the disciplines over 3 stages with a 2 minute break in between each stage. Stage 1 and 2 are mass starts with Stage 3 a pursuit start. There are two Short Chutes up for grabs – to be taken on the third and final run. Athletes are eliminated from the race if they fall more than 90 seconds behind."
Sounds grueling - and it was!
But before the race action, athletes enjoyed some community time, inspiring young French athletes, signing autographs and getting to know local tri clubs.
After the nice day of getting to meet the fans, it was time for race action!
And there was lots of excitement from our U.S. athletes in the women's race. Taylor Spivey has been unstoppable this season. She has made podium in every single race this Series, so her success has almost created a sort of expectation that we will see her prevail again at every event.
But Spivey kept us all on her toes this weekend.
After some race mishaps (hey, it happens to everyone!) she found herself in last place. However, she clawed her way back to ultimately finish second overall and secure yet another podium. Now, with the finals in just three weeks in Saudi Arabia, Spivey is tied for first in the overall rankings with Great Britain's Georgia Taylor-Brown. It should make for a fantastic showdown for the overall Series victory! We will FOR SURE be watching! Will you!?
Summer Rappaport also raced for the U.S. in the women's event. She joined the Series late, just entering in the last race in Malibu, but she entered with power!
She finished eighth overall, but she won the overall swim podium (no surprise there since she is unbelievable in the water!)
Then in the men's event, Chase McQueen finished eighth. He has had a solid season so far racing his first outdoor Super League Series. He enters the final race of the season in seventh-place overall in the rankings and as a part of the Sharks team, who are first in the Team rankings.
XTERRA World Championships
Lake Molveno, Italy
For the first time in over 15 years, Hawaii was not the home of the XTERRA World Championships. Instead, we headed over to Italy for the best of off-road triathlon!
Over 800 athletes from over 55 countries competed at the event.
The elite podiums were shared by France, Italy and Spain, with Solenne Billouin of France winning in the women's event and Arthur Serrieres of France winning for the men.
The top U.S. elite was 15-time XTERRA national champion Josiah Middaugh, who placed 12th overall with a time of 2:50:05. And with family not far behind, his son Sullivan took 14th with a time of 2:50:44.
The top U.S. elite women was Suzie Snyder, who finished 11th overall with a time of 3:38:27