Q&A
Health and Wellness
Coaches
Triathlon Radically Changed My Self-Esteem — And Now I'm Sharing That with Others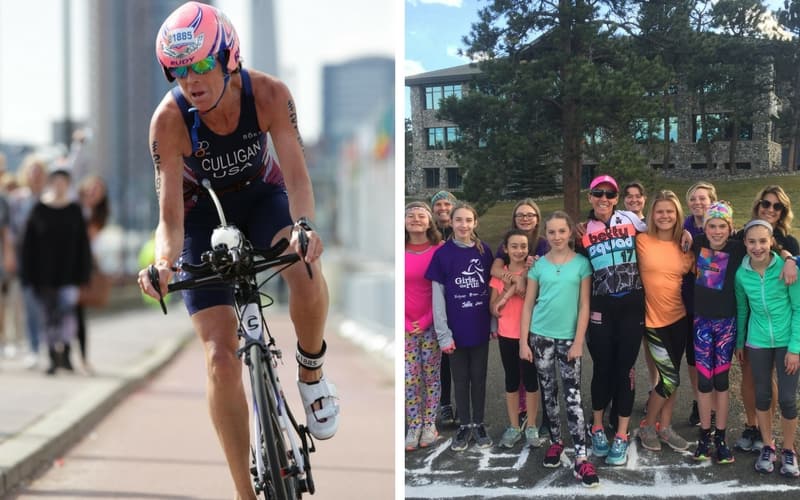 Courtney Culligan of Evergreen, Colorado, has competed in endurance sports for over 20 years. She's a USA Triathlon All-American, a seven-time IRONMAN 70.3 finisher and a member of USA Triathlon's Team USA, which is comprised of the amateur athletes who represent the United States at each ITU World Championship event. Her love for endurance sports is evident to everyone she meets, and she shares that passion as a coach and mentor for Girls on the Run of the Rockies. We caught up with Culligan to hear about her journey and how she's giving back to youth and junior girls.
USA Triathlon: How'd you get your start in triathlon?
Courtney Culligan: I've always loved sports. I grew up playing soccer, basketball and softball. I struggled with my self-image and a lack of self-confidence through those early childhood and adult years though. There is always a take away lesson from adversity. For me, it took many years to rediscover a sense of purpose and strength in my life. Ultimately, it came through my marriage to a wonderful man, my children and the goals I set for myself when my children were little.
I was devastated when my dad died of acute myeloid leukemia in 2003. I was just a few short weeks away from my due date with my first baby and I was on bed rest. I could not travel home to be with my father at the end nor could I attend his funeral. It was a traumatic event for me. I threw myself into my new role as mother to mask my grief. In the next three years, my husband and I had two more sons. I was on bed rest for six months with each pregnancy. Bed rest was very hard for me physically and emotionally. But, it taught me the importance of priorities, mental strength and focus. I had been busy and active my entire life. This experience gave me a new perspective on the power of will and the strength of self-belief.
I started running again when our youngest son, Tommy, was 6 weeks old. It was not a conscious decision. It was just something I knew that I needed to do. I suffered from post-partum depression after the birth of all our babies. I needed a physical outlet to release stress, process the grief I had held inside for far too long and establish a routine that gave me some quiet time to myself. I decided to register for a half-marathon and set some personal goals. I was determined to get back into shape. I wanted to feel strong, vibrant and energetic again. I wanted to have control over my emotions and be the best mother I could be. I knew that carving out a special niche of my own was important. For me, this was running. It was not easy after years of inactivity but I did it!
Soon after that race, I signed on to do a century ride for Team in Training to raise funds for the Leukemia and Lymphoma Society in memory of my father. I learned to balance the challenges of our home life with my love for running and cycling. I crossed the finish line at my first triathlon in 2011. One of my friends from TNT had talked me into doing a sprint triathlon here in Colorado. At the time, I thought it was an insane idea. But, as they say, the rest is history! I got hooked on the sport and I love all the magical things it has brought into my life.
USAT: What led you to become a Girls on the Run coach?
CC: I became a Girls on the Run (GOTR) coach because it is everything I ever wanted and needed as a young girl myself. I struggled for over a decade with eating disorders, depression and anxiety. Most of these feeling stemmed from something deep down inside me that did not feel good enough. I did not believe myself to be special, brave, independent or successful. I strongly believe that GOTR is a program that would have saved me from those years of loneliness and isolation. When I first heard about the GOTR program, I knew immediately that I wanted to become a coach and help support girls in my community as they worked through these challenging and confusing years. I am constantly inspired by the girls whom I coach. It is rewarding in every way and I am thrilled to be able to share personal experiences with them in the hopes of inspiring them to reach for their dreams. Plus, as the mother of three sons, it gives me much needed girl time!
USAT: How do you share your experience with triathlon and Team USA with your Girls on the Run participants?

CC: It is inspiring for the girls to see that they have a coach who has overcome challenges in her younger years and has gone on to represent Team USA as an athlete. This helps them understand that life is a journey. Obstacles can be overcome and dreams can be fulfilled with hard work, positive support, consistency and dedication. I am honored to be able to be a role model for them in this way. I share my adventures in triathlon in an informal manner at each practice through discussion. And, I always make sure that it ties into the lesson being taught for that specific week so that the message is relevant.
USAT: What does team work, camaraderie and building up girls and women in sport mean to you?
CC: To me, it means giving to others around you and sharing experiences that support one another. It means positivity. Surrounding others with an encouraging spirit and being willing to reach out to lend a hand when needed. It means fun and laughter and friendship. And, it means believing in others and supporting them so that they can truly believe in themselves!
USAT: How do you balance your life as a mother, coach, athlete and teacher?

CC: I used to think that to be a successful mother and wife, I had to focus 100 percent on my family. I quickly learned that this is a recipe for despair and burn out. I had to learn to let go of the "mommy guilt" and allow myself the time to be me — the Courtney who was not only a mother and wife but also the very important one who is also a daughter, sister, teacher, coach, athlete and friend. Balance is hard to find and even more of a challenge to maintain. That is one of my personal goals as a coach, to help my athletes find this balance for themselves so that their experiences are happier as they meet the rigors of training for multisport, nurture their relationships with loved ones and thrive in the workplace.
For my younger athletes, the responsibilities may not be the same but balance is still very important. There needs to be a happy mix of physical exercise, friendship, school, studying and fun! For most of us, it takes some time to discover a comfortable balance. It is a process and one that needs to be constantly realigned.
For me, I think the key is awareness of priorities and respect for myself and my loved ones. My husband will be the first to tell you that this past year our family balance got a little bit out of sync. There was a lot more traveling and focus on triathlon than in previous years. However, we both knew that this was a special year for me racing with Team USA in Rotterdam and representing the USA at IRONMAN 70.3 World Championship. Having had those amazing experiences, I am now focusing on rebalancing things for all of us. In our case, we are a family of five. I have an incredible husband and three amazing sons. And, everyone is busy! My boys have sports and activities and things they want to accomplish! We are a team and we work together to make sure everyone has those successes. It's not always easy to find the balance but it is extremely important for everyone's happiness.
Learn more about Courtney Culligan here. Learn about Girls on the Run at girlsontherun.org.
Sometimes the best inspiration comes from the triumphs and accomplishments of your fellow athletes. Submit your own story. Email us at communications@usatriathlon.org and include the story and any accompanying photos as attachments. Please include "My Story" in the subject line.