Men's Triathlon Makes its Paralympic Games Debut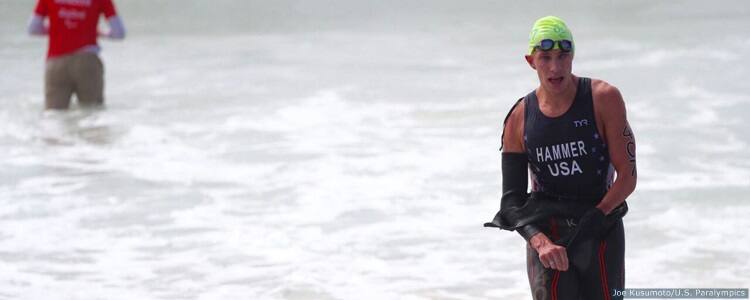 RIO DE JANEIRO — Mark Barr and Chris Hammer each logged fourth-place finishes on Saturday morning as triathlon made its Paralympic Games debut at Copacabana Beach, while Krige Schabort finished fifth.
Competing on a 750-meter swim, 20-kilometer bike, 5-kilometer run course, Barr (Houston, Texas) posted a final time of 1 hour, 12 minutes, 51 seconds to finish fourth among the PT2/severe impairment men. Barr was 16 seconds behind bronze medalist Mohamed Lahna of Morocco, who posted a time of 1:12:35. Andrew Lewis of Great Britain won the PT2 sport class in 1:11:49 and Italy's Michele Ferrarin was second in 1:12:30.
"It meant a whole lot to be able to represent the U.S. and to be the only amputee on the men's side was a huge honor, and an honor I don't take lightly," Barr said. "It was a historic day, and I'm proud to be part of it. The entire way people were putting up best times, and it was exactly what you'd expect the Paralympics to be, just everyone giving 110 percent. Unfortunately, I didn't make the podium, which would have been awesome, but I'm still happy to be part of the first Paralympic paratriathlon event ever."
Barr led out of the water for the PT2 men, but lost time in the first transition due in part to losing an essential piece of equipment for his prosthetic leg at the end of the swim. He posted the third fastest 5k run split among PT2 men to move back up through the field after the second transition, finishing fourth in his third career Paralympic Games.
"It's so different [than swimming]," said Barr, who previously competed as a Paralympic swimmer in 2004 and 2008. "Copacabana Beach is so gorgeous. Instead of being an enclosed building, you're out here in the elements. There's an awesome crowd, the whole course was lined with people. It was an awesome venue."
In the PT4/mild impairment sport class, Hammer (Salt Lake City, Utah) made up time on the bike and the run to finish fourth in 1:03:43. Germany's Martin Schulz won the gold in 1:02:37, with Canadian Stefan Daniel picking up the silver in 1:03:05 and Spain's Jairo Ruiz Lopez rounded out the podium in 1:03:14. Hammer was ninth out of the water but made up ground as he posted the second fastest bike (32:34) and run (16:36) splits among PT4 men to finish just off the podium in his second Paralympic Games appearance.
"I'm disappointed in the place, but I'm not disappointed in the race," said Hammer, who competed in track events at the London 2012 Paralympic Games. "I went as hard as I could on the day, and my competitors just had awesome races, so congrats to them. There are no regrets. That's all you can do, is just give it your all, and I did."
The PT1/wheelchair sport class was fast and furious, with the Netherlands grabbing the first two spots on the podium. Jetze Plat led from start to finish, winning in 59:31, two minutes ahead of his compatriot Geert Schipper who crossed the line in 1:01:30. Schabort (Rome, Ga.) finished in 1:03:15 for fifth, 90 seconds down from the bronze medal winning performance by Italy's Giovanni Achenza, who finished in 1:01:45. Though it was the debut of triathlon in the Paralympic Games, it was Schabort's sixth Games appearance after competing in five previous Games in the marathon.
"I'm used to a podium finish, but it still feels great, because there's no stage like the Paralympic Games," Schabort said. "I do know what it feels like to cross the finish line and you win a medal, and deep inside you really feel happy for these guys. To be here at my sixth Games is just a blessing to me and I enjoyed it. It's over for me now, it went too quick. I just have to enjoy every minute from here on until we go home. It was an amazing experience being here. I wish we could stay a bit longer, but I'm just fortunate and happy that I could share this with Team USA and the rest of the world."
The sport has evolved since the 2010 decision to add paratriathlon to the Paralympic Games program in Rio, and long-time athletes like Schabort noticed the change in speed on the race course.
"On the run, my run used to be really strong, but I just came off wheelchair racing a couple years ago. It's hard to keep it at that level because it's multisport now," Schabort said. "I don't think I've never done a triathlon where I don't pass someone, so it's also a sign that these athletes are going faster on the run than before."
The U.S. Paralympic Women's Triathlon Team will make their debut in the Paralympic Games tomorrow, Sept. 11, with races set to begin at 9 a.m. ET. To learn more on the 2016 U.S. Paralympic Triathlon Team, visit usatriathlon.org/rio2016. Find more quotes from the Men's Triathlon Team here.
Rio de Janeiro 2016 Paralympic Games

750m swim, 20k bike, 5k run
Complete Results
PT1 Men
1. Jetze Plat (NED), 59:31
2. Geert Schipper (NED), 1:01:30
3. Giovanni Achenza (ITA), 1:01:45
4. Bill Chaffey (AUS), 1:03:01
5. Krige Schabort (Rome, Ga.), 1:03:15
PT2 Men
1. Andrew Lewis (GBR), 1:11:49
2. Michele Ferrarin (ITA), 1:12:30
3. Mohamed Lahna (MAR), 1:12:35
4. Mark Barr (Houston, Texas), 1:12:51

PT4 Men
1. Martin Schulz (GER), 1:02:37
2. Stefan Daniel (CAN), 1:03:05
3. Jairo Ruiz Lopez (ESP), 1:03:14
4. Chris Hammer (Salt Lake City, Utah), 1:03:43
About USA Triathlon
USA Triathlon is proud to serve as the National Governing Body for triathlon, as well as duathlon, aquathlon, aquabike, winter triathlon, off-road triathlon and paratriathlon in the United States. Founded in 1982, USA Triathlon sanctions more than 4,300 races and connects with nearly 500,000 members each year, making it the largest multisport organization in the world. In addition to its work with athletes, coaches, and race directors on the grassroots level, USA Triathlon provides leadership and support to elite athletes competing at international events, including International Triathlon Union (ITU) World Championships, Pan American Games and the Olympic and Paralympic Games. USA Triathlon is a proud member of the ITU and the United States Olympic Committee (USOC).