Post-Race Quotes: U.S. Paralympic Men's Triathlon Team
Quotes from the 2016 U.S. Men's Paralympic Triathlon Team after competing in the sport's debut on Saturday. Read the race recap here.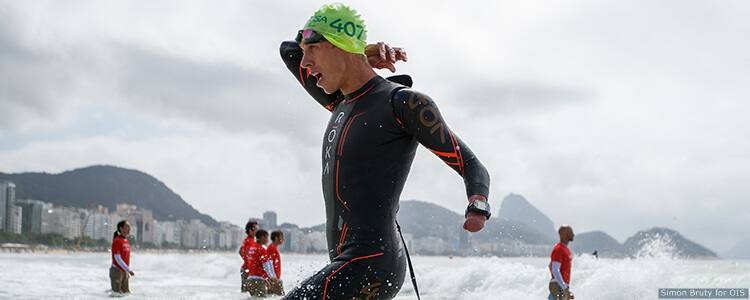 Mark Barr, PT2/severe impairment
On what it meant to compete in triathlon's Paralympic Games debut
"It meant a whole lot to be able to represent the U.S. and to be the only amputee on the men's side was a huge honor, and an honor I don't take lightly. It was a historic day, and I'm proud to be part of it. It was fast. The entire way people were putting up best times, and it was exactly what you'd expect the Paralympics to be, just everyone giving 110 percent.
On the competition

"[They competition was] more fit than usual. There were a couple of surprises. Unfortunately, I didn't make the podium, which would have been awesome, but I'm still happy to be part of the first Paralympic paratriathlon event ever."
On the venue and course
"Copacabana Beach is so gorgeous. Instead of being an enclosed building, you're out here in the elements. There's an awesome crowd, the whole course was lined with people. It was an awesome venue."
Chris Hammer, PT4/mild impairment
On finishing fourth

"I'm disappointed in the place, but I'm not disappointed in the race. I went as hard as I could on the day, and my competitors just had awesome races, so congrats to them. There are no regrets. That's all you can do, is just give it your all, and I did."
On his performance
"I got thrown around a bit on the swim. The swim is my weakness and I just put myself in a poor position from the get go, but I had a strong bike and my run was pretty strong as well, I just ran out of course to catch up. If it had been a little bit longer, it would have been different."
On being a part of triathlon's Paralympic Games debut
"I think when I look back on it, it's going to mean a lot more than what it does right now. Right now I'm still kind of bummed. I hope the sport continues to grow, and I can look back and know that I was a part of it."
On what's next after Rio

"I'm working on my Ph.D. — I'm almost done with that program. But it's going to be hard to walk away from triathlon, so I'll have to reassess some things. I'll probably take a few days to not think about it, but it's going to be hard to walk away. And I know there's room for improvement. Tokyo is four years away but it'd be nice to get another crack at it."
On the competitors and his support system
"I would just like to congratulate my competitors; they had awesome races. My teammates and my coaches, it's been incredible to have their support. My family and friends, back home and the ones who came here, it's just really humbling to know that so many people are so supportive of the journey that I was on, so thanks to everyone."
Krige Schabort, PT1/wheelchair
On finishing in fifth place in his sixth Paralympic Games appearance (previously in the marathon)
"I'm used to a podium finish, but it still feels great, because there's no stage like the Paralympic Games. I do know what it feels like to cross the finish line and you win a medal, and deep inside you really feel happy for these guys. I went over and they were so happy, and I thought back to my days and it was an amazing feeling. But to be here at my sixth Games is just a blessing to me and I enjoyed it. It's over for me now — it went too quick. I just have to enjoy every minute from here on until we go home."
On his race strategy and the growth of the sport

"My strategy was to be out of the swim as far as I could to the front of the main pack. I enjoyed the swim the most — it was almost the best part for me. It was choppy but I still enjoyed it. On the bike I was digging deep, but the other guys, you know, they're just faster. I thought I had a good race, but they just went faster and it's going to continue like this. In four years' time you're going to see a lot of guys a lot faster. The sport is still new. This was a great entry — you couldn't get a better entry for paratriathlon here at Copacabana."
On the run
"My run used to be really strong but I just came off wheelchair racing a couple years ago, so it's hard to keep it at that level because it's multisport now. I don't think I've ever done a triathlon where I don't pass someone, so it's also a sign that these athletes are going faster on the run than before. The run was boring in the sense that I couldn't pass someone, but it was still challenging until the finish line."
On what's next after Rio

"I hope I can do some coaching coming up in the next year or so. I've got three kids at home that need a lot of time with their dad, so I'll spend more time with them."
On the overall experience
"It was an amazing experience being here. I wish we could stay a bit longer, but I'm just fortunate and happy that I could share this with Team USA and the rest of the world."
Find more coverage on triathlon in the Rio de Janeiro 2016 Games at usatriathlon.org/rio2016.